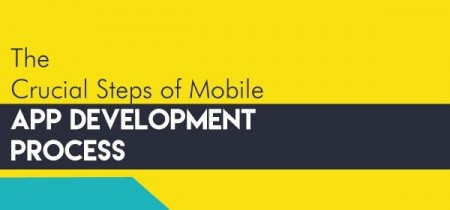 What are the crucial steps for mobile app development process?
The process of designing the Mobile App ranges from market research to development to delivery and support across a number of phases. It should be remembered that, indeed, all of these steps overlap.
Here is a close look into the major steps of the development process of an app.
1. Project Proposal
Before the proposal of your project, there should be a great deal of homework done to determine the purpose and validity of your idea. This is a very difficult task requiring expertise, experience, and exposure. The right knowledge of business, audience preferences, user stories, market trends, risks, etc are critical to accurately predict the success or failure of an idea. The clients could draw conclusions themselves if they have enough knowledge about the field or could approach a number of mobile app development companies with their project to get a clear picture.
2. Sketching Your Idea
Handrawn or otherwise sketches should be created that could depict your idea roughly. This would be your inceptive step in the documentation process and it lays the foundation for future UX designing. The sketch should include the approximate features that you want to include in your final product.
3. Developing a Strategy
This step is the planning phase, which forms the backbone of the entire procedure. The process is given a compact framework and implementational directions are set. You should schedule each phase in the project by allocating time and resources. Decisions about the approach, focus, and business model are taken during strategy development.
4. Prototype Building
During wireframing, the architecture of every single page is defined. Prototypes are created using wireframing tools like Balsamiq and Visio. This serves as a neat mock-up of what you have to develop in the end, along with visualizing user interaction by various demonstrations.
5. Defining the Back-end
The backend services that could support your app by linking them to the cloud storage, backend application APIs, and a lot of other features are defined in this step.
6. Testing the Prototype
Once the prototype is finished, testing should be done. You can approach your friends, colleagues, family members, and other experts that you may know, as well as attend an event or festival and meet strangers who have similar interests to test run the prototype and find any working defects or dead ends. Ask them for their honest feedback and suggestions for improvement. Based on this information, you could streamline the features and functionalities of your app before beginning to code.
BrillMindz Technologies is a global mobile app development company in Saudi Arabia, knows how mobile apps play a critical role in growing your business to new heights. For mobile device development specialists, BrillMindz updates information on fluctuating business conditions, which makes us special among our competitors. The goal of BrillMindz is not only to make our customers happy but also to make their business successful.
Contact us for more information:-
Link:-  Mobile App development company In Saudi Arabia
ph:- +971 50 282 6592          
email:- info@brillmindz.ae
Previous Post
Next Post