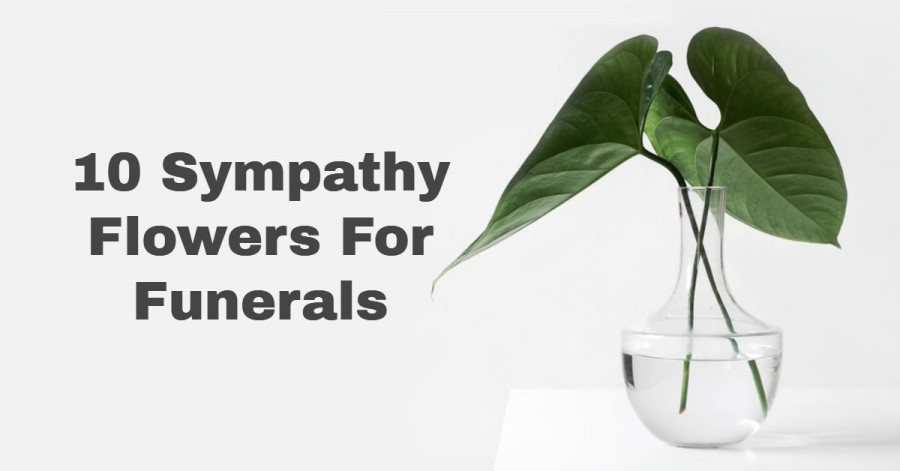 10 Sympathy Flowers For Funerals
Funerals create a somber mood, especially when close friends and family come together for a final send-off. If you know someone who's mourning the death of a loved one, consider getting them flowers to console them. 
However, you can't just pick any flower you come across. For these occasions, go for sympathy flowers associated with funerals. Learn more about these types of flowers and the best funeral messages to compose. Help them go through this difficult time. Most appropriate funeral flowers you can order include;
● Orchids
● Lily
● Roses
● Gladioli
● Carnations (white, red, pink)
● Chrysanthemums 
● Tulips
● Daffodils
● Iris
● Hyacinth
These remarkable flowers are symbolic and carry some meaning with them. For this reason, they are perfect for sending condolences. 
Orchids
Orchids are great sympathy flowers that communicate continued love, "I will always love you.' Pay attention to color. The best for expressing your sorrow for a female is white and pink. There are other types of orchid that you can explore. 
Get the help of a florist to determine the best ones you can select. They are elegant and long-lasting. You could send red orchids to symbolize courage if the person was in the military. 
Lily
Lily is a lovely flower that symbolizes rebirth and renewal. If looking to encourage and give hope to the bereaved, get them a bouquet of lilies. Many doctrines teach how life continues after death; thus, lilies are perfect for passing this message. 
You'll be letting them know that even though their loved one is gone, the spirit begins a new journey. The whiteness of the lily is a sign of purity and youth and can be delivered if the person that died was young. The white stargazer lilies are for portraying sympathy.
Rose
Roses are the most attractive of all flowers. Various roses carry with them different meanings, depending on color. For instance, red stands for love/passion, yellow friendship/joy, pink gratitude/admiration, orange desire.
 You can send white roses as sympathy flowers to convey funeral messages of humility and innocence. Since peach roses symbolize gratitude, you can offer them a thank you to the one that has passed on, especially if they had positively impacted your life. 
Show the family that you are together with them in this and support them by presenting yellow roses. As you can see, all of these roses can make the right sympathy flowers.
Carnations
Carnations have a sweet scent and can last a few days before going bad. Like lilies, white carnations represent something pure and innocent. To commemorate memories of the lost one, go with pink carnations. 
Other than picking one color type, try mixing various kinds to express the different emotions you feel. It'll make it beautiful and presentable at the same time. If you are honoring someone you loved, pick red carnations because they stand for sincere love. 
Chrysanthemums
Many societies across Europe and Asia opt for chrysanthemums for expressing grief. Some use them as funeral flowers and arrange them by the grave. You can choose white or a more bright color as all types are appropriate for this situation. 
Present them to the bereaved, especially if you have a close relationship. Because of their availability, beauty, and meanings, they are accessible at funerals. 
Gladioli
People associate gladioli with strength. They have long steps with numerous flowers. If the deceased was someone with a big personality and full of power, these are the best choice. 
They communicate integrity; hence can be used if the deceased was a police officer, lawyer, judge, or played any civic role. Look for a lovely bouquet and send it to the grieving family to help uplift their spirit.
Tulips
The various colors all have different meanings. Red tulips signify the deep love you had for the deceased. They make this list because of their simplicity, shape, and purpose. You can choose to go with white ones to symbolize eternity. 
These flowers show eternal love. If you were very close with the heart of the person, cream tulips would be beautiful. To show love and affection to a colleague or distant relative, then select pink tulips. We also have maroon-black tulips that signify strength and power. 
Iris
Iris flowers are not unique but also beautiful. Consider adding them to your arrangement because they carry profound funeral messages. They apply to both genders. 
The most appropriate colors for a funeral are white, purple, and blue. Avoid yellow, as they may communicate something else. Purple iris and blue iris are a sign of respect for the deceased, i.e., a soldier. 
Daffodils
These bright yellow flowers signify a new beginning, a fresh start. Gift them to a family that's in mourning to offer encouragement. They portray something positive similar to a rebirth. 
You can never go incongruous with these types of sympathy flowers to help them go through this challenging time with hope. Rather than lamenting about the loss of life, daffodils are symbolic of celebrating life. 
Hyacinth
When purchasing a bouquet of sympathy flowers, check out purple or white hyacinths. They are an excellent choice for expressing deep sorrow. Send blue hyacinth to a lost close friend to show your loyalty and true friendship. 
Don't get yellow hyacinths as they symbolize jealousy. Also, avoid pint and red ones because their meanings are not inclined to something sad. 
All these flowers express funeral messages deep sentiments of eternal love. Some symbolize death, grief, sympathy, or are a way to remember the departed. Show your support to the grieving family by getting them a beautiful, meaningful floral arrangement. They'll appreciate your kindness. If you have doubts about which type to choose, enlist the help of a florist.                                                                                                                                                                            
Previous Post
Next Post