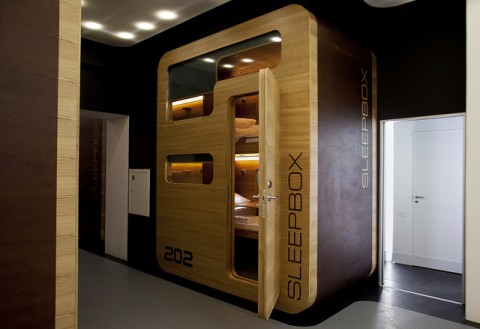 Top 7 Smallest Hotels From Around the World
It's really difficult to choose a vacation destination at times, right? This process is different for everybody. Several of us have a favourite resort in a specific place all picked out and have rebooked for next year nearly as soon as their plane has touched down back home. But there are some people who are indecisive and can never be one of those types of people. 
If you're one of those who have so much to see, you'll understand that the travel bucket list is extremely real. There are some destinations that are brand new to you and familiar cities where you haven't completely seen everything you've wanted to yet.
Although you have reached as far as choosing a destination, the next challenge is picking the right hotel accommodation which can be even tougher. There are so many things to consider. Are you looking for a hotel that caters nicely to children? Or do you like something that's strictly adults-only? Do you want to splurge on a big lavish suite or a little modest room? 
We're sure that most of you have already seen the tallest and biggest hotels from around the world. But now, it's the time to look at the small ones! If you want to experience cosy hotel rooms, we'll take a look at the top five extremely small, but perfectly comfortable hotels that are literally the world's smallest. 
The Pod Hotel, United States
Conde Nast Traveler
If you're looking for capsule hotels, this Pod Hotel strikes the balance of those general teeny-room hotels. This hotel brand in New York City shoots to do just that. 
There are two Pod Hotels in NYC, a city famous for business and commonly being pretty expensive. This is a hard combination for travellers, which is where Pod Hotels enter the picture. The motto of this Pod Hotel is, "stay in the heart of it all, without spending it all," thus the super-compact rooms. 
Some of their rooms can only carry one person, while others can sleep up to four. It's the definition of what the average traveller would want from a hotel room, just downsized. 
Sleepbox Hotel, Russia
Trip and Travel Blog 
These bite-sized hotels prefer to advertise the obvious that they're really pocket-sized right there in their names. This won't give you any false impressions of being huge. 
The Sleepbox Hotel can be found in Moscow and is the first capsule hotel in their country. It was properly crafted by a team of Russian architects to boast both form and function. But they are not economizing on the usual amenities here. 
Hôtel Des Académies Et Des Arts, France
Booking.com 
Want to experience a slice of French Fancy? Then this hotel is going to give you what the city of Paris is about: heaven of art and culture. Aside from that, Paris is home to a big amount of boutique hotels, each trying to give something to tourists a little different from all the rest. 
One of these amazing hotels in the Hôtel des Académies et des Arts which embodies the culture of France. It's complete with creative knick-knacks and decor. Its small size is what adds to its allure for any traveller. 
Hotel Punta Grande, Spain 
Uniq Hotels 
With its name, you may think it's glamorous. But it's not quite as it sounds! A grand hotel doesn't have to mean there are butlers, chandeliers, and guestrooms. The Punta Grande is grand in its own way. 
Located in El Hierro, Spain, you can find it on a small rocky outcrop that was created by eruptions from volcanoes in the Canaries. You can expect that it's not the busiest hotel around, with a total of four bedrooms, but it makes up for that because of its playfulness. The small four rooms are similarly decorated with items from shipwrecks in the area. We know! It's very unique, right? 
Volkswagen Beetle, Jordan
Business Insider 
This next hotel on our list isn't even a building at all! It's a crazy Volkswagen Beetle. Yes, you read it right. It's a car that was turned into a hotel room. 
It's owner, Mohammed al Malaheem, stripped the interior and redecorated the Beetle to create a small hotel that sleeps two persons. It's located in the middle of the desert in Jordan. His purpose is to show guests how lovely the region can be. He and his family are the ones who prepare the guests' breakfast, and they even have a lobby near the cave where he sells local goods. 
This may be a weird little venture, but it looks like it's going great and people are loving its unique concept. Al Malaheel is determined to add more Beetles into the area. 
Tubohotel, Mexico
ArchDaily 
Now, let's head to Mexico where you can get a similar sort of unique place that'll give you such an unforgettable experience. The Tepoztlan's Tubohotel is where you can find rooms that are made from tubes of concrete. Each room has space for a lamp and bed, facing a lush courtyard to provide guests with the feeling of being surrounded by nature. So when you really think about it, it's not just experiencing the concrete room, it's also about being engaged to nature. 
Kaiteki Hotel, Vietnam
Agoda 
Our last destination is in Ho Chi Minh City, Vietnam. This hotel was undoubtedly inspired by the traditional capsule hotels of Japan, but it has a more unique futuristic aspect. The pods offer air conditioning together with all the usual mod-cons if you are fine with the confined space. 
Previous Post
Next Post