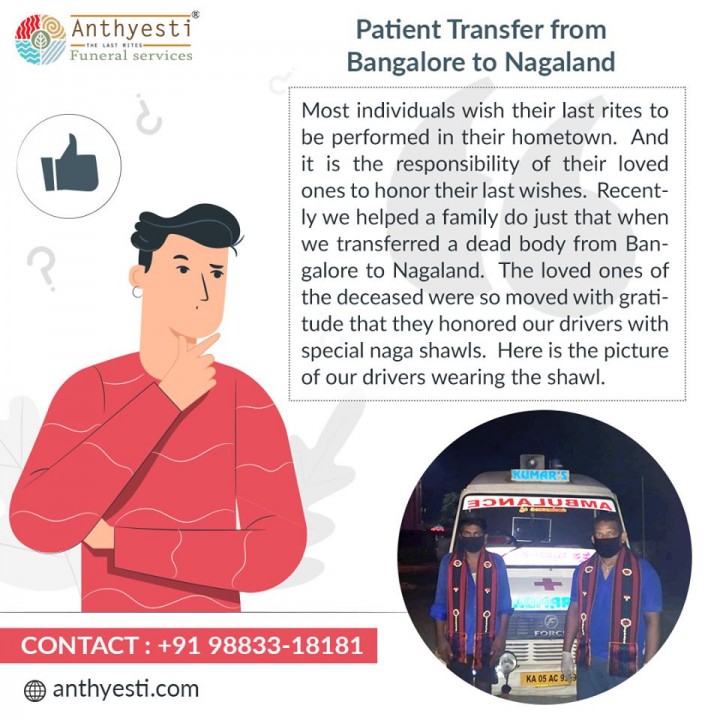 Ambulance Service in Bangalore
1. Dead Body Ambulance Services:
Anthyesti funeral services provides ambulance services to carry the dead body from hospital to home and from home to the funeral ground. Anthyesti, helps in with transportation of human remains carrying human remains both domestically and internationally. The human remains are transported by road, by train, and by air.
2. Medical Emergency Ambulance Services:
Medical emergencies cannot be predicated. In such a situation it is critical that the patient be transported safely from home to the hospital. It needs professional guidance. Anthyesti provides best medical emergency ambulance services that are affordable by all. Types of ambulances: When it comes to an emergency, you cannot take chances with life. You have got to take the best ambulance facility to transport the patient safely to the hospital.
Anthyesti provides various ambulances that come with different types of facilities. They are equipped to safely transport the patient to the hospital in an emergency situation. You can choose any of the ambulances as per your choice and preference.
1. Basic life support(BLS) or normal ambulance:
A normal ambulance is a basic life support ambulance. They provide the patient with pre-hospital support during the transportation to the hospital. It has all the medical equipment fitted such as blood pressure gauges, stethoscopes, thermometers, medical tapes, flashlights and blankets etc. This ambulance is used for patients with fractures, psychiatric patients, and other non- emergency patients.
2. Ac Ambulance with Oxygen Supply:
The air-conditioned ambulances (AC Ambulance) are equipped with oxygen supply, foldable stretcher, emergency lights, and sirens etc. 3. Advanced life support(ALS) or ICCU Ambulance with Ventilator Support: Advanced life support ambulance has paramedic on board. The ambulance is equipped with a ventilator, ECG, cardiac life support for patients in critical condition.
Cost of ambulance services:
The price for ambulance services starting from Rs. 1500/- for a normal ambulance to Rs. 6000/- for other specially equipped ambulances like the ICCU ambulance with ventilator support.
Dead body transport ambulance:
Call Anthyesti Funeral Services for Dead Body Van!
Death is uncertain but a truth of life. It can happen anywhere, and you need a vehicle to carry the body of the deceased. A dead body van is used for carrying the deceased person from hospital to home or from home to the cremation ground. In times of grief, it can be difficult for the family to look for a dead body carrying van.
Visit: https://anthyesti.com/services-in-bangalore/
Call us@+91 98833 18181
Previous Post
Next Post