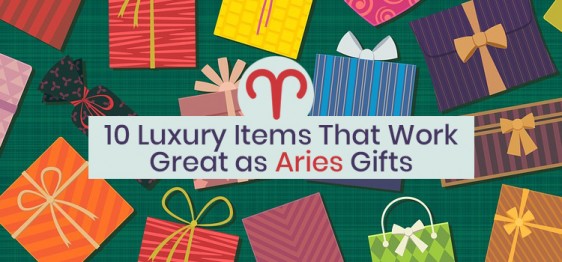 10 Luxury Items That Make Great Aries Gifts
Looking for a gift idea for your Aries boyfriend or girlfriend or spouse? Choose a gift based on their zodiac sign. This way, you can appeal directly to their personality type and make an impression on them. 
Aries gifts need to be practical and luxurious. Some thought also needs to go into the process of choosing them. Aries has a big ego, and a gift with an inbuilt 'Wow' factor will stroke their egos and make them warm up to you. The Aries compatibility with the equally energetic Gemini can be quite sound. Likewise, Aries are most compatible with many signs.
So here are some luxury gifts that the Aries person in your life will adore!  
1.    A red handbag:
Red is the color of Aries. As the zodiac sign of Aries, red is bright and bold and represents energy and passion. 
Aries women love to flaunt their luxury labels, and some do offer stylish red handbags. There is, for example, the Prada Small Double Tote or the Galleria Tote Bag. They make ideal gift options. Made of Saffiano red leather with gold finishes, these signature totes will make your Aries swoon with delight. 
Yet another choice is the Tory Burch Perry Leather Tote Bag. There is also a satchel style handbag in this brand collection that Aries will like. 
More options include the Stuart Weitzman Collette Shoulder Bag, which is smaller. It comes in a simple design of caviar leather in rouge red. The Hermes Herbag Zip Retourne Cabine Bag (rouge) is also a good choice. 
2.  An elegant notebook
Aries is very ambitious and friendly. With their busy social and professional schedules, they could do with a chic notebook to keep track of them. They can record their appointments in it, or make a note of their random thoughts and ideas. 
A notebook is a good organizational tool to help combat stress. When it comes to handcrafted luxury notebook brands, Smythson is one of the best. Their planners and travel journals are ideal to keep your Aries well-organized. Their leather notebooks with funny captions on the cover are very appealing. 
Made of soft calfskin, the Hermes Ulysse PM Notebook Cover features a secure snap closure and comes in a range of colors. Complete the gift by filling the notebook with an annual or quarterly agenda insert. 
Montblanc has an Italian leather cover, which comes in green, black, and Aries' favorite color, red. It is great for keeping a journal or jotting down creative ideas. 
You can also pair the luxury notebook with a great pen. Tiffany and Co. or Montblanc pens are some of the best brands in this category. 
3. A luxury trip
Aries natives love adventure. They are always seeking new experiences. Book a trip to a place they have never visited before, which gives them new things to explore. Ruled by Mars, they may prefer warm and dry climates to wet and cold ones. Machu Picchu is a great choice. They will also love the safari experience in South Africa or a cruise around the Galapagos islands.   
Ensure that five-star hotels are booked for the stay, as Aries is fussy about hygiene and world-class facilities. Before traveling together for the first time, check your sign compatibility. This will ensure that the trip will go smoothly and give you many memorable moments in each other's company.
4. A zodiac charm
Your Aries girl is most probably a keen follower of astrology. So a jewelry charm gift will work like a charm on her. Get her a Tiffany and Co. Aries zodiac pendant. 
It is a round tag charm with the Aries symbol. The charm can be attached to a Tiffany's bracelet or pendant chain. She will also love the signature blue gift box. 
5. Aries constellation necklace
For the astrology-loving Aries, this constellation necklace makes a stylish accessory. Made of the metal of your choice (gold, brass, silver, or rose gold) and cubic zirconia stones, this necklace will be cherished forever by that special Aries in your life.
6. A premium cookware set 
Many Aries natives, men, and women love to experiment in the kitchen. An elegant cookware set may get them to visit the kitchen more often and experiment with new recipes. 
The 20-piece Le Creuset set comes in some interesting colors that complement the kitchen design. The set comes with a Dutch oven, casserole dish, stockpot, skillet, and other tools.
Or you can gift stunning copper cookware set from a brand like Mauviel, Wolf, or Fleischer. Their sets are both beautiful and functional. 
7. A day at the spa
 Aries is one sign that loves to be pampered. And that is exactly what a spa does. So why not gift them a day at a nearby spa?. Book a massage, facial, manicure, and pedicure combo. With their high energy and active lifestyle, Aries needs to chill out once in a while. A day at the spa will relax and restore them so that they can play the game of romance with more elan!  
8. A high-end luggage set
For the adventure-loving Aries, a fine set of luggage is a must-have travel accessory. 
Rimowa's lightweight design is ideal. Their collection includes colors like blue, red, and charcoal. Small and large models are available, too.  
Louis Vuitton is synonymous with luxury luggage. The rolling luggage collection in their signature monogram print is a perfect gift. It is available in brown, black, and pink. 
Tumi, Globe-Trotter, and Smythson are some of the other premium brands in this category. 
9. Hero 7 Silver Go Pro 
This gadget will be a big hit with the adventurous Aries. GoPro devices are ideal for people who love the outdoors, like Aries. It is meant for capturing moments that a mere phone is not equipped to capture, thanks to its rugged and waterproof design. With this gift, your Aries lover will be able to share the most amazing pictures and videos of their experiences and explorations. 
10. A signature perfume:
With their fiery personality, Aries needs a signature perfume that goes with it. The Yves Saint Laurent Black Opium Eau de Parfume makes a good choice. Its fragrance is bold and feminine and has hints of vanilla, floral, and coffee. It also combines jasmine, patchouli, and cedar, which gives it a fiery vibe that is also fresh. 
Celebrate that special Aries man or woman in your life with any of the abovementioned luxury gifts. We assure you that they will appeal to their unique personality and make an impression on them. They will even appreciate the thought that went into them. 
If you are dating an Aries, you can also check out your zodiac sign compatibility to see if they will make a good partner for you.
Previous Post
Next Post