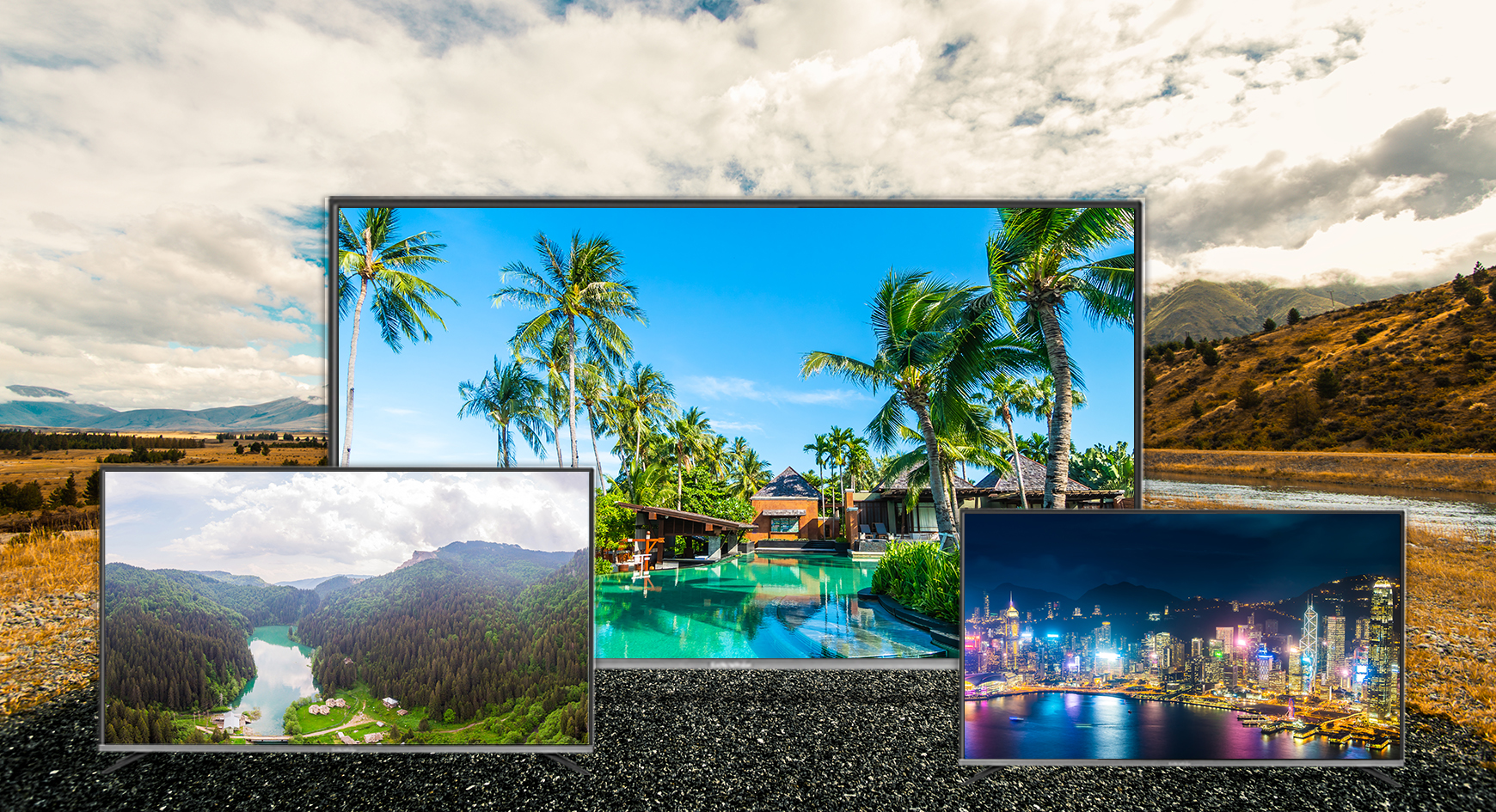 10 reasons to choose Televista LED TV
Televista is a renowned television brand of India since 1972 known for its great picture and sound quality. It provides quality products and effective services to its customers which have made it a synonym of television. No wonder, many people opt for Televista LED TVs.

1. Premium IPS Display
Owing to the IPS (In-plane Switching) Display, Televista LEDTVs produce higher display quality, with better colours and wider viewing angles.
2. Remarkable Clarity
Televista LED TVs produces crystal-clear images from every angle thereby offering viewers with superb features like rich colours and stunning details.
3. Perfect Black
TVs from Televista are equipped with the Perfect Black technology and hence display rich colours with accurate detailing and vibrancy. You get to witness the great contrast and deep black colours even if you watch it in a well-lit room.
4. Realistic picture quality & detailing
Feel the colours come alive on Televista LED TVs with its 4K HDR image precision and quality. It not only improves the picture details but also reduces the image noise. Since the resolution here is four times greater than a normal LED TV, the images on Televista LED TVs look as lifelike as possible!
5. True Colour Accuracy
Colours look bold and rich yet realistic and faithful on Televista LED TVs because the exact colour tones and shades are displayed on it. They produce images with higher colour depth and reproduce accurate colours.
6. Amazing Viewing Experience
With Televista LED TVs, you are bound to get an absolutely immersive viewing experience, thanks to their display's precision in depicting pure black images. The better image production coupled with a crisp and clear visual performance takes up more of your field of vision thereby drawing you in completely so that you get to experience a more truthful, and mesmerizing sight, sound and feel.
7. Amazing Sound
The extraordinary sound quality offers an enveloping soundscape for the users with a captivating surround sound effect.
8. Live Streaming
This feature enables you to stream everything effortlessly. You can watch videos on YouTube or finish watching your favourite shows on Netflix.
9. Smart TV
Most of the Televista LED TVs are Smart TVs that function via a new smart user interface. Their fast interface lets you stream music, videos, access Wi-Fi, run apps like your smartphone and transfer smartphone content to your Smart TV.
10. Complete 24 Month Warranty
The entire range of Televista TVs comes with a complete 2-year warranty. Isn't that wonderful? Off course, it is!
Televista is a Brand, which is well recognized, accepted and appreciated by the masses. The Brand with strong customer base since last 47 years is well established in Indian market. The brand since its inception is a synonym of television, which is being trusted for better picture quality and sound.
Taking the legacy forward the Brand Televista is now being manufactured and marketed by Raltronics Marketing India which is known for its Quality Controls & company is being honored by BIS certification given by Government of India. The company is having its own Manufacturing unit in outskirts of Delhi, heavy capacity of making more than 1000 LED per day.
The Moto of the company is to give quality products and effective service to its customers. The company has inducted bunch of professionals having vast experience of Consumer Durables who are determined in making this Brand success.
With a display resolution of 1920 x 1080 pixels and refresh rate 60 Hz, Sanyo FULL HD IPS LED TV has a premium slim design and 3 HDMI ports and 2 USB ports. It offers a 1-year manufacturer warranty. With the HDMI sound feature, you are bound to get a theatre-like experience right at home.
Previous Post
Next Post