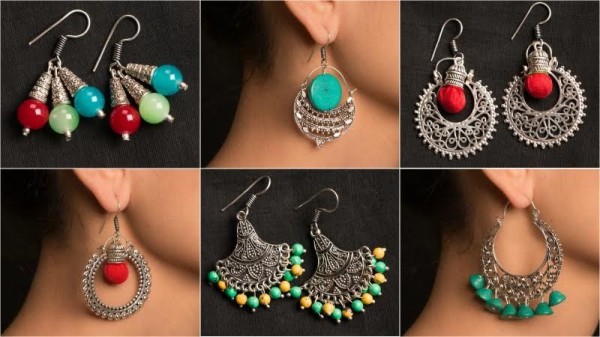 Shop For The Perfect Handcraft Earrings According To Your Face Shape
Nothing compares to the power of a pair of earrings when it comes to jazzing up a boring outfit or add a subtle whiff of glamour to your gorgeous party outfit. The right pair of earrings can light up your pretty face. And if you buy handmade earrings online that complement the shape of your face, then it can completely transform your beauty game.
So, here are our earrings recommendations for different face shapes to bring balance and harmony in your beauty.
Square Face
The length of your face is equal to the width of your jaw line which is also equal to the width of your forehead.
Celebrities with a square face: Kareena Kapoor and Angelina Jolie
Recommendation: Rounded earrings work beautifully for your face shape and juxtaposes beautifully with your sharp angles.
If you are a lover of danglers, then we would recommend you keep the length of the earring short.
Avoid: Earring that end right at your jaw line.
Our Picks –
Ocular hand painted earrings

2 AM charm earrings

Swirl hoop earrings

Lucid fusion hand painted earrings

Dhaaki – Bengal drummer hand painted earrings.
Round Face
Your cheekbones are the widest part of your face and your chin and jaw line is rounded out with very soft angles.
Celebrities with a round face: Chrissy Teigan and Selena Gomez
Recommendation: Square-shaped earrings will add a little bit of angularity to your face shape.
Thin and long dangling earrings also look very beautiful on your face by elongating it slightly. Your face shape can carry off really long earrings gorgeously.
Avoid: Circular earrings like hoops.
Our Picks-
Dreamland's dreamgirl

Unison hand painted earrings

Ganeshaya hand painted earrings

Poppy field brass earrings

Terra brass earrings
Heart Face
The widest part of your face is your forehead. Your face tappers down into a slender jaw line and a pointy chin.
Celebrities with a heart-shaped face: Deepika Padukone and Alia Bhatt
Recommendation: Heart-shaped faces benefit from adding a little volume to the lower portion of the face. Long triangular earrings are perfect for this purpose.
Earrings which have most of their weight and width at the bottom work beautifully with your face shape.
Avoid: wide short earrings.
Our Picks –
Atlas Brass Earrings

Fishing hook handcrafted macramé earrings

Willy Wonka macrame hoops

Black Gold Treasure

Bermuda hand painted earrings
Oblong
The length of your face is longer than the width of your face. Your forehead, cheek and jaw are more or less equal in width.
Celebrities with oblong face: Katrina Kaif and Kim Kardashian
Recommendation: wide earrings add a sense of width to your face. You can also work well with round earrings beautifully.
Avoid: Super long earrings which further elongate your face.
Our Picks –
Tangled hand painted earrings

Autumn blood and painted earrings

Handmade Vermella

Tennis Court Handcrafted Macramé Earrings

Phoenix handcrafted macramé hoops
Oval Shape
If your face is as long as it is wide with soft angles you are blessed with an oval face.
Celebrities with an oval face: Priyanka Chopra and Beyonce
Recommendation: You can rock anything and everything
Avoid: nothing
Our Picks –
Whatever your heart desires!
Now you can buy handcrafted earrings right from the comforts of your home. Khoj City is brimming with all kinds of earring for all kinds of face shapes and personal styles. Get shopping NOW!
Previous Post
Next Post