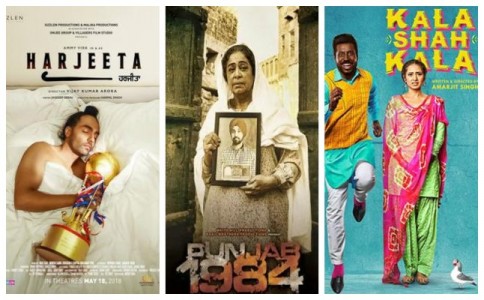 Must Watch Punjabi Movies That Will Leave A Never Fading Impact On You
Must Watch Punjabi Movies That Will Leave A Never Fading Impact On You
Punjabi cinema has always been known for comic films. People had a perception that Pollywood is just limited to comedy films, but with time the Punjabi industry grew a lot and came up with films that make the viewer appreciate the efforts of makers. Following are the Punjabi movies one must watch:
Punjab 1984
Diljit Dosanjh starrer Punjab 1984 directed by Anurag Singh is counted as one of the best movies of Diljit and Pollywood. The movie focuses on the riots of 1984 that is said to be the worst that Punjab has ever faced. Apart from this, the movie revolves around the story of a mother who is ready to do anything to bring her son back who was forcefully declared a terrorist. This film conveys a very emotional yet important message.
Qismat
Qismat has all the mix elements of romance, drama, and comedy. It is based on the story of a boy who returns to India and is head over heel in love with his neighbor but his family doesn't want him to lose his focus on a girl, and how the boy is left confused to choose between his love and his parents. The movie left everyone cry in theatres and was well appreciated.
Harjeeta
Harjeeta represents the story of Harjeet Singh, a hockey player who captained the team in the Junior World Cup. Harjeet was raised in a poor family who could hardly afford their expenses. This movie didn't get the success that it deserved but later when audience watched it on digital platforms they regretted their decision of not watching it in theatres. Harjeeta won two national film awards for Best Punjabi Film and Best Child Actor.
Sardar Mohammad
Tarsem Jassar starrer Sardar Mohammad is based on a story of a boy Surjit who was adopted by a colonel during the time of India-Pakistan partition. The movie shows the story of Surjit who started looking for his real identity after 19 years. The movie showcases the horrific incidents that took place back then in a serious manner with a twist of comedy.
Kala Shah Kala
Binnu Dhillon, Sargun Mehta, and Jordan Sandhu starrer movie 'Kala Shah Kala' is a love triangle movie that has another important element that is dark complexion. Lovely (Binnu Dhillon's character) is in love with Pammi (Sargun Mehta's character) who is in love with Jaggi (Jordan Sandhu's character) and avoids Lovely because of his dark complexion. The film has a deep message with a comic storyline. The audience had all positive thoughts about the film.
ALSO READ: NINJA SHARES POSTER OF THE FILM 'FER MAMLA GADBAD HAI'
Munda hi Chahida
A movie that brings out the obsession of Indian society for son is definitely Munda hi Chahida. The movie is based on the story of a man who is the only son of the family and has to look after his parents, sisters, and his two daughters all alone. He is very frustrated by all the stress of being a single son and wishes to have a brother to share the burden. He then takes a baba's advice and gets pregnant through surrogacy. Harish Verma and Rubina Bajwa were in the lead role and the audience loved their performance.
Waris Shah: Ishq da Waris
Waris Shah featuring Gurdas Maan, Juhi Chawla, and Divya Dutta is a story based on the era of Mughal empowerment. The movie takes us to the time when music was banned in India by Aurangzeb so that the people of the country don't lose their focus on God. It is a must-watch movie for people who love historic era.
Rabb da Radio
Tarsem Jassar's debutant movie Rabb da Radio starrer Mandy Takkar and Simmi Chahal in lead is a film based on the times of 80s and 90s. The film represents the unconditional love of family for God. It showcases the era of pure love that people had back then. Tarsem was well-loved for his work and the audience reviewed it as one of the best movies of Pollywood.
Which among them is your favourite?
Previous Post
Next Post