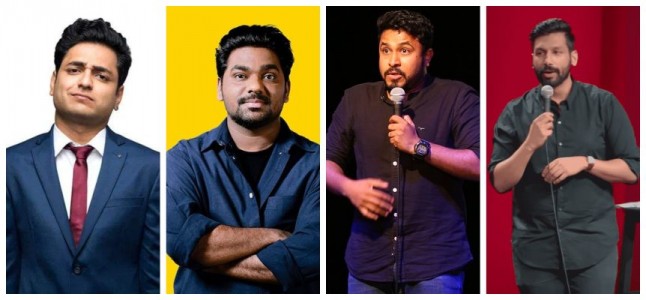 Top 10 Indian Stand-Up Comedians Who Got Famous Via YouTube
It will be wrong to say that the Internet is not powerful; rather the Internet is the most powerful weapon these days. Apart from social media websites, ages long YouTube is still hype among youngsters.
The YouTube industry has grown a lot in a few years in India and with that, a lot of young and fresh talent has got recognition. If we talk about a particular industry of standup comedy, it has created a sensation in India.
Stand-up comedy attracts a lot of views in the digital world.  There are a lot of people who work as a team to bring best of their ability, whereas there are a lot more artists who have made it on their own.
Here is the list of top 10 most loved stand-up comedians of India:
Zakir Khan
Zakir Khan who is also known as the 'Sakht Launda' of India got recognised in the year 2016, he was all over the internet with his hilarious comedy. Zakir has also hosted a show with Bollywood's superstar Akshay Kumar. He is a big name in stand-up comedy and now he is also working as a scriptwriter in various web series.
Kenny Sebastian
Kenny started his own show "Chai Time" which is not only famous in India but globally too. His show is counted as one of the best comedy shows in the digital world.
Abish Mathew
Abish is one of the most loved performers in the stand-up industry. He started his career by hosting several shows, and now he has his own show on YouTube as "Son of Abish" which was changed later as "Abish Mathew". He interviews other content creators in an amazing way.
ALSO READ: MOM-TO-BE KAREENA KAPOOR KHAN RETURNS TO MUMBAI
Abhishek Upmanyu
He is loved for his perfect comic timing and hilarious comebacks. Abhishek's relatable jokes are appreciated the most by the audience which also attracts more and more views on his videos. In recent times, he has gone famous among a lot of people.
Kanan Gill
Gill started his career with movie reviews and with no time gained a lot of popularity. Afterward, he tried his hands in the field of stand-up comedy and succeeded too. The sets of his videos gain a lot of appreciation.
Anubhav Singh Bassi
The guy with the most factual and relatable comedy is Anubhav Singh Bassi. People eagerly wait for his videos and the moment his video is up it gets a lot of views in less than an hour.
Biswa Kalyan Rath
Biswa also started with movie reviews; afterward, he started stand-up and got a lot of appreciation from the audience. Now he is also working in multiple web series as a scriptwriter.
Kaneez Surka
If we talk about female stand-up comedians Kaneez is the most loved female content creators. She is known for her intelligence and cranky behaviour that she brings in her comedy.
Akash Gupta
The artist who is loved for his style of dialogue delivery is Akash Gupta. He has gained a very genuine fan base because of his different style of presenting himself.
Kunal Kamra
Last but not least Kunal Kamra is famous for his factual comedy. His scripts are mostly based on Indian Politics. His style of presenting the truth about politics in the name of comedy is very unique.
Which among these is your favourite?
Previous Post
Next Post