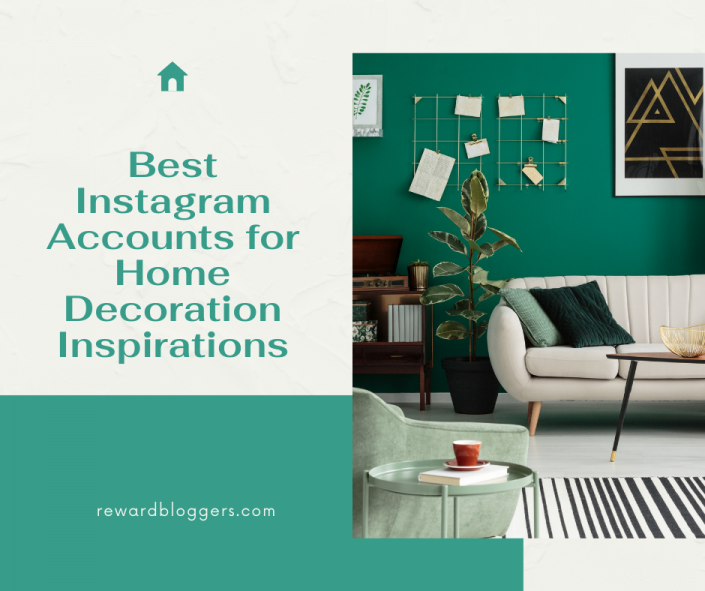 Best Instagram Accounts for Home Decoration Inspirations
Who does not want a beautifully decorated home? But sometimes it seems we are out of ideas. In those instances, we look outside for creativity and inspiration. What better place to look for than Instagram? Like all other genres, you will also find numerous accounts to get home decorations Ideas. These ideas will no doubt help you transform your living area into your patio. 
Let's have a look at some of them to have a round-up of accounts to provide you with ample ideas for your dream house. 
@Designseeds
The first one on our list is this account. These ideas are being followed and liked by more than 150k people all over the world. if you are unable to decide what colors to use while painting your house, this account is a must-visit for you. 
Emily Henderson
If you want to get ideas from some famous interior designers then you need to follow Emily Henderson's account for mesmerizing decor designs. Her décor does not always feature expensive products from big stores. You are good to go keeping up with your budget.
@thishouse5000
Do you love to surround yourself with plants around you? Follow this Instagram account to creatively include plants either fresh or artificial in all spaces of your home. The creative adjustment of plants with the overall theme is mind-blowing. 
@Homepolish
The next account on our list is followed by more than 1.5 million Instagram followers so you are looking at something which is already well-liked and appreciated. When looking at the ideas on Instagram one would want to slip onto that beautiful world. Yes, it is that kind of Irresistible.
@Ateliervime
Are you a fan of vintage and French décor styles? Do you see the creativity in going back in time? Here is your inspiration to satisfy your search. They feature handmade furniture which is unmatchable. 
@the_seasoned_home
Looking for designs that can work for all seasons. On this Instagram account, you will see designs that you can pull off in all the seasons. On top of that, you will see ideas to modify the décor to include seasonal festivals such as Christmas. 
@Christiesinc
Your pocket might not allow you to buy at this auction house, but it does not mean you can't get inspirations to make adjustments with your current furniture and décor pieces. This is the best account to get ideas for those who like old styles and vintage touch to their house.
@elledecoration_nl
When you look at this account you will most certainly want to make unplanned changes in your home. that is how tempting these décor ideas are. They make you go a little off the budget. But what is better than a comfortable house to give you peace of mind. 
@biggerthanthethreeofus
Are you looking for ideas to transform your house within the budget? Visit this account by Ashley Mayes. She has a way with home décor. Her ability to remain within budget yet give a new transformational look to the house is mind-blowing. She is no miser in sharing her ideas with her more than a hundred thousand followers on Instagram. Her Instagram profile is filled with clean and beautiful yet minimalistic designs.
@thistle. Harvest
Are you a book lover looking for ideas to beautifully present your book collection? Do you want a classy yet un-library-like look? Visit this account by Hannah Briggs. You will find all the inspirations for your book collections. Adding-on you will have ideas to adjust greenery in your house. Here is the place to get inspiration for a healthier and knowledgeable life.
@designsbyjeana
Are you someone who prefers some glamour and lights reflecting from crystal centerpieces and mirrors on the wall? You will get unlimited ideas from this account. You will find a beautiful combination of colors to go with your wall hangings and chandeliers.
@houseofhanesinteriors
For all the home décor lovers, this account by Ashley Hanes is a must place to visit. She has the uncanny ability to mix and match decor and furniture from different eras to create beautiful designs. By going through her Instagram, you will never lack inspiration. give a try and enjoy the comfort and beauty. 
Conclusion
A home is a place that gives both physical comfort and peace of mind. Sometimes our mind needs some change. The Instagram accounts mentioned above are good sources for you to get inspiration for a new and transformational look at your house.
Previous Post
Next Post