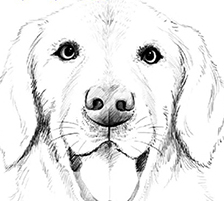 Happy Paws Doggy Daycare First Post!
Your pet's home away from home
Happy Paws Doggy Daycare is a loving doggy Daycare facility, where all smaller dog breeds are welcomed for a fun-filled and interactive stay!
Happy Paws Doggy Daycare is situated in Sunningdale, Umhlanga and is run by Clive and his fiancé, Saskia, from their beautiful home premises. The couple are avid animal lovers and have been surrounded by beloved fur kids since their childhoods. The pair have tons of experience with animals, and so much love to give to all the furry companions that come to their day care.
Socialising- Whether your dog is a little shy or the life of the party, we'll make sure that they get a healthy amount of socialising with both humans and other dogs throughout the day. Socialising is a very important aspect of any animal's life, and at Happy Paws, your pet will make friends for life!
Constant Supervision- We understand that one of the biggest reasons that you'd leave your furry friend at a doggy day care is that they won't be lonely. Dogs really do pine for their owners when they are left alone, so we make sure that your pet is under constant supervision and is given loads of attention!
Fun & Games- Happy Paws is far from being boring! We have tons of games in store to keep your pet entertained and stimulated. We believe that interactive games are very important to a dog's overall health and happiness, and we love having happy pets around!
Exercise- What dog doesn't enjoy a good old fashioned walk? At Happy Paws we take your pet for two walks a day to allow them to enjoy the fresh air and have a change of environment. All walks are done on leashes and are under professional supervision.
Relaxation- As much as we'd love to play with the pups all day long, we know that they need a little bit of resting time (usually after their exercise) so that they are not over-exerted. We provide all the doggy day care attendees with a clean and comfy space to nap.
Updates- We know that your furkid is very important to you, and could very well be your best friend! So we make sure that you receive at least a few updates throughout the day, letting you know how your pet is doing and even sending you a photo or two of their day!
At Happy Paws Doggy Daycare, we know that every dog is special and means the absolute world to their owners, therefore we offer a place that is safe, loving, caring, fun and healthy to cater for all of your dog's needs.
Your dogs are treated like they part of our family. Our commitment and mission to you is to provide a safe environment for your pet, where they can socialise with other friendly dogs and be active to burn off that excess energy.
Looking for an Interactive and Fun Doggy Daycare in Durban? Let Us Help!
Don't leave your dog at home alone, or locked up all day, while you're at work or running errands. Let our experienced staff cater to all your furkids' needs, and you can enjoy the peace of mind that they are in good hands and in a fun and interactive environment.
Benefits of Daycare
Dogs are social animals and love to interact with other dogs. Many behavioural problems come from boredom, and unspent pent up energy, that dogs feel when left alone for an entire day.
For our little furkids, when we leave the house without them, a few hours to them can feel like forever and they can get very frustrated. At Happy paws Doggy Daycare in Durban, they get to have fun, play, interact with other dogs and, get plenty of exercise.
So don't leave your little one at home all alone, let them be active and stimulated throughout the day at Happy Paws.
Article By: Happy Paws Doggy Daycare
Previous Post
Next Post