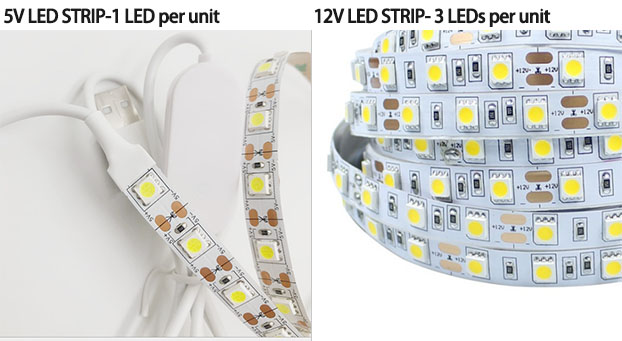 3 differences between 5V and 12V LED strip lights
Both 5V and 12V are the most common driving voltages for LED strip lights. Some people might wonder: why there are so many different driving voltages for the LED strips? Which is better and should we choose? So let's look at their 3 differences before we jump to conclusions.
1. Driver
The LED driver can be power supply, transformer, adaptor, battery pack, and so on, which can provide electric power for the LED strips. 12V DC regularly should be produced by the specific AC-DC transformer, while 5V is more common in life. The battery pack of 3 dry-batteries, the USB port of the computer and TV, the charging treasure, etc. can be used as the driver of 5V LED lights.
2. Components
The components of the 5V LED strip and 12V LED strip is the same except the PCB. A single unit of the 12V PCB contains 3 SMD LEDs and that of the 5V PCB contains only 1 LED. Therefore, the minimum cutting length of the 5V LED strip is shorter.
3. Applications
As mention above, 5V LED strip lights are can be driven by some small portable power supply devices and USB ports. It's easier to integrate into other products such as bikes, PC cases, TV backgrounds, and so on. And 12V LED light strips are used more decorative lighting and commercial lighting projects. Most of the LED strips used in homes, offices, showcases, shops, signboards, etc. are driven by 12V DC, which are more stable and durable, and the accessories are cheaper.
In conclusion, the result of 5V vs 12V LED strips is a draw. Both have their advantages and application areas. The choice should be made according to our requirements and applications.
About MLDR®
Shenzhen Mailederun Technology Co., Ltd. (Hereinafter referred to as the MLDR®) is one of China's leading LED lighting manufacturer with a specialty in flexible LED strip lights, rigid LED strip lights, LED grow lights, LED rope lights, and other LED lighting products. In addition to supplying China's domestic market, MLDR® also strives to provide energy-saving and environmentally-friendly LED lighting products to customer worldwide. At present, our products have been sold to the USA, Russia, the UK, India, UAE, Turkey, and other countries and regions.
History
Shenzhen Mailederun Technology Co., Ltd. was founded in Shenzhen in 2008. At that time, it was mainly engaged in wholesale trade of LED flexible strips and LED rigid strips. After years of development, our company has a factory and an exhibition store, with independent research, development, production and sales capacity. Our product lines also became more abundant, including LED strip lights, LED grow lights, aluminum profiles, and other lighting fixtures and accessories.
LED Strip Lights
We have more than 10 years of experience in the field of LED light strip, developed a variety of product series such as low voltage LED strips (5V/ 12V/ 24V DC), high voltage LED strips (110V–130V AC/ 220V-240V AC), flexible LED tape lights, rigid LED bar lights, etc., which are widely used in decorative lighting, advertising lighting, and commercial lighting.
LED Grow Lights
The LED grow light is a kind of artificial light source which takes the light-emitting diode as the light source and satisfies the light condition needed for plant growth. In 2014, MLDR® has set up LED grow lights production line, manufacturing LED bar grow lights, UFO LED grow lights, LED grow strip lights, and COB LED grow lights.
OEM/ ODM Services
MLDR® has professional production lines, experienced technical team, and complete supply chain system, which ensure that the customized requirements can be met.
Warranty
MLDR® provides warranty for all LED strip lights, LED rope lights, LED grow lights, and other LED lighting products it manufactures and supplies. The warranty period is 2 to 5 years started from the date of purchase. Please refer to Warranty Policy for details.
Previous Post
Next Post