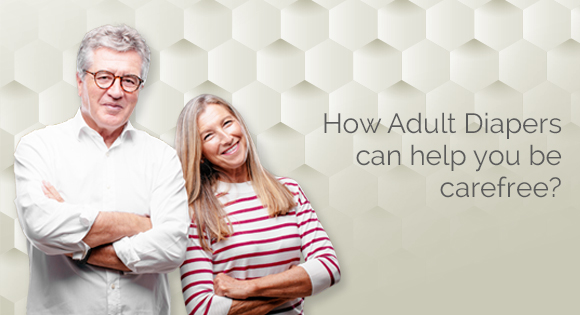 Comfort, ease of access and prolonged absorbency: how adult diapers can help you be carefree?
Have you crossed 60?
Welcome to another important inning of your life, where you begin to become a child again! You might need assistance with health care and daily activities besides a lot of love, social and personal attention. Incontinence can be one of the areas where you would need extra care. While it can be an embarrassing situation to deal with, it also hampers any elderly's confidence. Going for long walks, travelling or even comfortable sleeping can be a big obstacle considering multiple visits to the washroom at night.
Adult diapers might be your last option considering a few factors around the product. But Thanks to Dignity Adult Diapers for men and women, which makes the elderly life easy and hassle-free. From moderate to heavy incontinence, these diapers for senior citizens act as super absorbers. These diapers should be the addition to every old buddy's life hack. Our inner pants from Dignity are the finest solution for the weak bladder problems, anywhere & anytime. From the irritating discomfort experienced during the day time to the sleepless nights, these are high-quality absorbent adult diapers in India which can ease you with so many worries.
Its time to live your life with 'Dignity' yet again. Here's how our products can help you:
You are free to travel anytime anywhere -
Has travelling outside your town now become a dream for you? Don't fret anymore! Our Dignity Magna adult diapers are your perfect travelling partner. With up to 8-10 hours of absorption, with a wetness indicator, alongside a dry lock core for improved capacity & extra care for skin dryness.
From waiting in the line at airports to the taxi transfers, every single obstacle is about to disappear from your way as soon as you are going to use these adult diapers. Get ready to explore new places and gather new experiences with our products designed for your comfort and ease.
Doors open to your favorite bar, club, or any otherfavorite place
Diapers from Dignity are granted with so many qualities that seniors can wear any of their favorite dress or outfit with great confidence. Now, a passionate senior citizen, who loves to go to bars and clubs, like you, does not need to be standing in the bathroom lines again and again.
Say hello to long walks again!
Morning or evening walks can be a task, especially with incontinence. Just not anymore! As you now have the prolonged absorbency and leak-proof adult diapers, which means long walks in nature made stress free! It's time to welcome your good days.
Promises for full night sleep
Waking up again and again for pee breaks result in sleepless nights and whole-day-frustration? Our overnight diapers are crafted for the hassle-free sleep with up to 12- 16 hours of protection. A high-performance technology designed especially for moderate to heavy incontinence. Dignity Adult Diaper is the perfect absorbent for providing blissful sleep overnight.
So walk, roam, eat, and sleep with a range of our leak-proof diapers. Leave all your incontinence worries to these varieties of diapers available at the online store of dignity adult diapers.A small amount of leakage is another symptom of the beginning of incontinence.
While incontinence is irreversible, it can be controlled and dealt with via various mediums. One of them is to use Adult diapers, especially overnight or while travelling. While it's a myth that diapers are not very comfortable, they are rather very helpful even with heavy urine leakage.
Adult diapersare also very comfortable and aid the ease of access with the fact that they are disposable and are designed keeping in mind the ease of access for the elderly.
Previous Post
Next Post