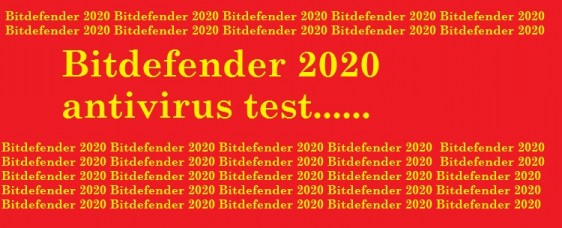 Bitdefender 2020 antivirus test
Bitdefender 2020 is the product line of a Romanian cybersecurity company with many years of experience in this sector and a reputation as powerful and effective antivirus software. This area includes Antivirus Free Edition, Antivirus Plus, Internet Security and Total Security.
Each offers quality malware protection and advanced features that vary by package. With a free 30-day trial, all products can be fully tested before a final commitment is made, and you don't even have to leave your credit card information.
Bitdefender Antivirus Free Edition 2020
Bitdefender's core consumer product, Bitdefender Antivirus Free Edition, provides critical security, including effective virus protection and insecure website blocking.
Bitdefender Antivirus Free can be downloaded on Windows, Mac and Android platforms. To run it, all you have to do is enter your email address to create a Bitdefender account, configure the application and you're done. Although it is very simple and easy to use, the application can take a while to scan your device, especially since there is no quick scan option that can search for areas of infection most likely in minutes or less.
Bitdefender Antivirus Plus 2020
The commercial range starts with Bitdefender Antivirus Plus, which has the basic functionality of a password manager, a secure Safepay browser for online banking and other transactions, protection against top-level ransomware, scanning Wi-Fi networks, scanning for vulnerabilities and removing safe files. It also includes the free version of Bitdefender VPN, which allows up to 200 MB of daily traffic.
Users can choose between a slower, full scan of the system, a quick scan that checks only for the most common infection points in 30 seconds, and other customizable scan options. With File Explorer integration, you can activate file scanning from the context menu. You also get a bootable rescue environment that can remove even the most persistent malware. Different analyzes can be performed at the same time. Analyzes can be adjusted with the "Manage Analysis" tool.
Installing Antivirus Plus on your device will automatically add Bitdefender anti-tracking extension to Google Chrome and Firefox. It also works in Safari and Internet Explorer. Firefox and Internet Explorer also receive the wallet extension (password manager). Chrome users will be asked if they want to install it in their preferred browser or not. However, the program also installs a number of other background processes, services, drivers, etc. it can drain resources and affect performance.
Bitdefender Internet Security 2020
Bitdefender Internet Security key is the product that, in addition to all the features of Antivirus Plus, comes with a range of parental controls, a smart firewall, a spam filter, and protection against hackers that you can use to control application access to your webcam. and monitor microphone usage to see which apps are currently using your microphone and to prevent apps from doing so without permission. If you have enough specialized knowledge, the firewall can be changed in detail. Rules for ports, protocols, IP addresses, etc. are defined.
Buy bitdefender antivirus controls offer options like limiting your children's screen time to desktop computers and cell phones, limiting the use of certain applications, and monitoring and blocking calls and messages. Users who want more can upgrade to Bit defender Parental Control Premium to get features like cyber bullying detection and management, as well as requests for phone numbers and addresses.
Internet security is based on Antivirus Plus with tools like smart firewall, spam filter, webcam / microphone protection, and parental controls, while world-class global security provides protection The most comprehensive antivirus available, with a focus on powerful blocking of malicious websites. It costs resources, but can be expected from such a powerful platform.
Previous Post
Next Post