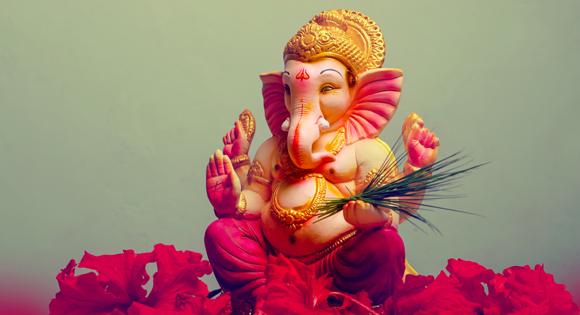 Home Decorating Ideas for This Coming Ganesh Chaturthi
One of the most important festivals of Hindus, Ganesh Chaturthi is celebrated with full enthusiasm and devotion every year in India.
The festival is all about decorating homes and idols of Lord Ganesha. Every house is decorated with lightings, flowers, and amazing offerings to the Lord Ganesha. Everybody brings an idol of Lord Ganesha at home and keep it in the cleanest place of the house until the festival ends. Not only in India but the NRIs living outside India also celebrate and enjoy this festival.
How to decorate home during this festival?
First of all, you need to find a cleanest and most peaceful place to establish the idol of Lord Ganesha. North-east corner of the house is considered the most appropriate place to establish the idol. And you need to set-up a raised platform to keep idol and other offerings like flowers, lamps, and Ganga Jal. Now, perform rituals as per Hinduism.
Decorate Home During this Festival
Paint Ganpati on Walls
You can decorate a specific home wall with decals to offer a theme look. All you need to choose among colours available in markets to beautify your house. You can use a decal, printed with Lord Ganesha's picture to feel the spirit of the festival. Painting your wall can also be an option to render a fresh look to your home.
Lord's Ganesh for Home Decoration
Decorate your home with hangings
Also, you can decorate your home walls and ceilings with flowered garlands and little bells in a usual manner. People in India decorate their houses by hanging torans, made of Ashoka or mango leaves with a combination of flowers. The garlands of marigold flowers can be hanged on doors. People also make some unique decorative items prepared with coconut and banana leaves.
India Decoration on this Ganesh Chaturthi
Stay creative with Rangoli Colours
Decoration cannot be completed without making Rangoli at the entrance of the door. Or it can be created beautifully in the room where the idol of Vinayaka placed. You can use a good combination of colours and flowers to create an outstanding Rangoli design at home.
Decorate with stylish Diyas and Candles
It can be a lamp, candle, or any electronic lighting item in the shape of Ganesha. Electric lamps or Diyas can be kept in so many patterns and series to decorate or lightening the house.
Decorate with stylish Diyas and Candles
One can buy some of the decorative items online related to Ganesh Chaturthi If you not good at creativity and even do not have much time to decorate the house. You can order from shopping portals like Amazon or Goodease to offer a classy festive look to your home.
All of us would love to put our innovative approach to the look of the dining hall if not bounded by budget and time. We do not want to keep it simple and boring. One can spend more time eating if the dining space's appearance comes a bit attractive. But the question arises, how?
Do not worry. Here are some sneaky tricks to update your dining room's look without demolishing its interiors:
Be punchy with little balloons
Render a quaint and fanciful look with a chandelier made in the form of bubbles. It should not be huge. All walls should be painted in white.
Go Vintage with textures
Place a dining table with all chairs knitted with strings. You must hang two or three rattan pendants of your choice. Having big windows will offer a relaxing feel to your space.
Lights in pattern or series
Imagine your dinner is lightened-up with multiple strings of tiny lights. Keep all of them colourful to punch-in a vibrant look to your dining space.
Previous Post
Next Post