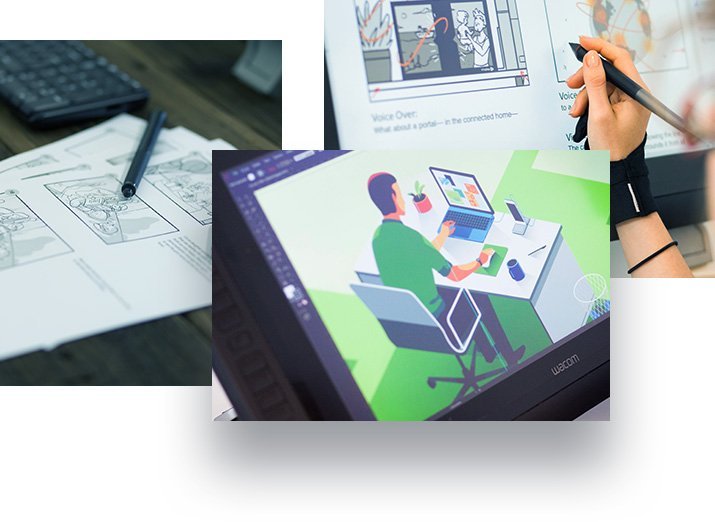 Here's Why Your Video Script is All Wrong!
Animation videos have become quite popular in the business world – from making educational to brand description videos. Countless consumers have claimed that they loved to watch animated videos to learn about a product or service, rather than huge blocks of text.
According to a popular survey, 45% of companies and marketers will be adding their brand's content to in 2020. The reason is because consumers prefer watching authentic lower quality videos than high-quality videos which seem artificial. Not only that, but animation service is also budget-friendly and can come in any virtual sizes.
Due to this, companies are now turning towards video animation to increase the success of their marketing strategies. However, some brands claim they have not gotten good results from using video animation to collect traffic.
Imagine this, as a brand you have invested time and effort on making animated videos for marketing. However, they did not give you the results you had initially expected. Well, turns out that it is not the animation that is not working, it is actually the script!
There is no denying that the audience need to first process the script before they can understand what message or story your brand is trying to convey. If the script is not well-made then chances are that it might not work on your audience at all.
Then again, do not give up yet because Vidnado has listed professional tips down below that will help you make the correct script for all your video marketing strategies.
Was the Script Written Professionally?
What many people do not realize is that a good script connects to the audience on an emotional level, and make them want to involve themselves to the brand more. However, a poorly written script holds no meaning in the eyes of viewers. Instead, it will only waste your time and effort.
Whether it is an animated video belonging to a business giant or even a startup, a good script is an essential aspect of video-making. And although creating a script may need to be done in a complex set of steps, it is still the backbone of a video. Your viewers will need some content to look at in order to get the message and connect to your brand better.
Additionally, a script is the ground work for animators, illustrators, voice actors, sound technicians, and producers. They will need a proper script to look at in order to make the animation 'come to life'.
However, how can you tell if a script is well-written or not? To help you out, has listed the reasons below:
The narrative of your animation video should be constructed in a logical sequence. For example, there are three steps that any narrative script or essay should follow: start, middle, and end. In other words, it should introduce a problem, find a solution, and let the audience know that your company is offering it. If your video lacks this sequence then your narrative structure is weak.
While it is important to let the word about how good your company is and what services it offers, it can be a bit too much if your narrative only talks about that. Viewers are more concerned about finding a solution to their needs than about your company. A good animated script focuses on its target audience, their struggle and how the company's products or services can be a good solution for them. Consumers will relate to your brand more if the video is talking about them.
If you have a message that is too generic or boring to explain then the first thing to do is to be clear about your brand and its message. The biggest problem these days with animated videos is that most brands get so caught up in to catching the viewers' attention that they fail to get the point across. A good animated video should catch the audience's attention while delivering a clear, easy to understand message.
It is important to remember that while there are many types of animated explainer videos, your script should have a specific style of narrative in mind. The narrative should match your brand and its marketing goals. If you are unsure, consulting a video animation company can help you out.
Too Much Information
Adding too much information in a video is a bad idea, especially if your animated video needs to convey a certain message to your audience. If the video is too long or has too much information included in it then it will become boring and confusing. Moreover, your audience will find it hard to process. For a business this can be a big mistake.
With each generation, the attention span in viewers is getting shorter and consumers are demanding to get a watch-time of 2-minutes or less. Which makes delivering a clear message to your customers a priority.
An explainer video must be to-the-point and direct when it comes to giving viewers information. Both the animation and script should be direct. To make sure, you need to decide what points in the script is the most important. Once you figure that out, you can leave the rest.
For a successful video marketing strategy, a video should be no longer than 2-minutes. Any longer than that and you can bid a fraction of your target audience good-bye!
Be Unique!
An animated video should be able to show what your business is all about, through fun characters and voice-overs. After all, it is more than just showcasing your brand's potential, it is about conveying its aims and goals to your audience. However, you cannot do this if you are trying to deliver a generic message.
An idea that has been circulating around the Internet may not be a good material to include in your animated video.
While it is essential to include elements that your audience can relate to, it is not good to include the same idea as other brands. The reason is because since a majority of people have already gotten a fair idea about what the message of the content is, they will not want to look at it again through your video. Creating something unique that only your brand can have is a good investment. Not only will your audience find something new to look at, but they will also appreciate your uniqueness.
Correct Distribution
Sometimes, a video does not attract the expected amount of attention because of external reasons. For example, the way of distributing it to the world.
An animated video is a great marketing tool – if you know how to use it. This means that you need to work hard in distributing it to proper channels. You have to do more than just posting it on Youtube or your business website. And yes, while these platforms are essential for marketing, you can get more views if you distribute it through other channels as well.
For example, create pay-per-click ads. Videos can be used to make eye-catching ads that can you're every viewers' attention.
Other than that, you can link your video in various blog posts and make sure it includes your email subscription plug-in. By using this tactic, you can double your views!
Good Quality
While having a good script, voice over, animation and directing is important, you also need to ensure your video is in high-quality. These days, high-quality videos stand out from the rest because honestly let us face it, video content is one of the most very popular things these days. Every online viewer prefers to watch videos all day, rather than read blocks of text. Which is why, every company makes sure to create video marketing content in order to attractive their audience.
However, this means that you need to create the best possible content to compete against other brands. And what better way to stand out than to make highest quality videos?
Additionally, the quality of your video defines how people will view your brand. A poor quality video will make your products and services seem low-quality as well. This not only will be a waste of money but it will also ruin your brand's reputation.
Surround your brand with professionals that have years of experience in making video content. Trust us, this investment will repay your brand for years. Moreover, it will also help your brand look extremely professional and fresh.
Conclusion:
Making video animation may be difficult, but it is an excellent marketing strategy that will guarantee you millions of viewers and thousands of potential customers. The only catch is that you need to make sure you are delivering a high-quality video to your audience.
When it comes to making video content for your marketing strategies, you need to have professional script writers, animators, and editors to guarantee success. Cheap vendors who promise to provide you good content do not work anymore as it is better to invest properly than to ruin all your hard work within a couple of minutes.
Previous Post
Next Post