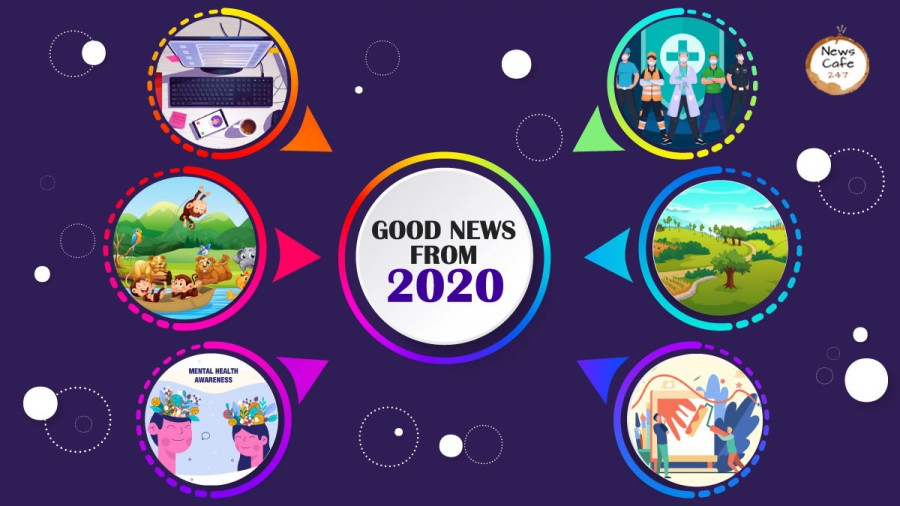 Was 2020 all about bad news? – Sorry! We disagree! Know why?
Since and when we have entered into the year 2020, all we hear are adjectives like – worst, bad, poor, problems, and similar. However, are we sure that the year that let corona play with our peace is so bad that nothing good even touched its hand? We are sorry, but we disagree, and we are here to prove our point with the same.
Dive in for the proves against the fact that 2020 was not so bad as we are portraying it to be! Let's begin.
Work From Home Finally!
Remember the days when asking to work from home, sending a mail to your manager, was a deal in itself? Since then, we had come a long way when the bosses were naturally convened that we can work from home. They also thought we were even more productive in that. We all loved to sit in our comfort and finish our tasks. Didn't we? Ask yourself.
 Drastic nature healing –
Hands down! We are all proud of this change by any means or so. The pollutions level dropped significantly. If NASA believes India was showing 30 to 40% of better changes in terms of pollution. Also, Delhi was 60% recovered from its pollution, just in one week of the lockdown. Wow! Isn't it?
Improvised Mental Health Awareness –
 Mental Health is a matter of concern in India. We are dealing with the issue for time and forever but were never serious about it until this year when the worst pandemic shook the world and took us all by a big storm. This was when we all were sealed in our houses and had to deal with and understand our mental state while being locked.
 This brought a big change in our understanding of the mental issues we all face. Different blogs, videos, and more were made on mental health in this situation when isolation was the new normal.
We know different heroes now, and we call them warriors –
Doctors, nurses, medical staff, police, maids, delivery executives, CRPF, and so on are so proud of them now like we were never before. Now we know the actual meaning of the word – HERO. Even in the deadliest of situations, they were the ones who were not ready to back foot. We know their value now, and hence this is not just good but best in this year.
Animals claimed their territory –
For a fact, we all know how is to be caged, and now we even realize the fact that caging an animal was never something we should have done. An ode to a similar activity, while we were caged – tables turned, and animals found their territory in the land back again. They roamed on the streets; less population made the seashore dotted with fishes that swam in full power and happiness. All in all, it was a good year for speechless beings.
We are truly a Skilled India now –
Dalgona coffee, online short courses, knitting, painting, dancing, etc. – we are officially the jack of all trades. Getting skilled involves time, and when we were home, all we had was 'time.' Hence, when the time was the 'be all' – we could explore what we like doing. Skilling ourselves became a good deal. We are all proud of learning at least one or the other thing, completely or remotely.
Brands proved why they are on top –
Zomato, Swiggy, Flipkart,  Amazon,  Big Bazar, Big Basket, and many more such names came out in the open and diligently helped the masses. From being the top providers to seeing a low and then rising as helping hands in delivering necessities to people locked was something they did and proved their supremacy like never before.
Concluding lines –
We hope that we have made our point for the right that not all was so bad this year. Finding optimistic things in bad times is what makes us good people. Even this we have learned from this year. Do comment and tell more amazing things that happened this year. We will be waiting to know more positive things about this going year.
Actual Content Source:- https://www.newscafe247.com/was-2020-all-about-bad-news/
Previous Post
Next Post