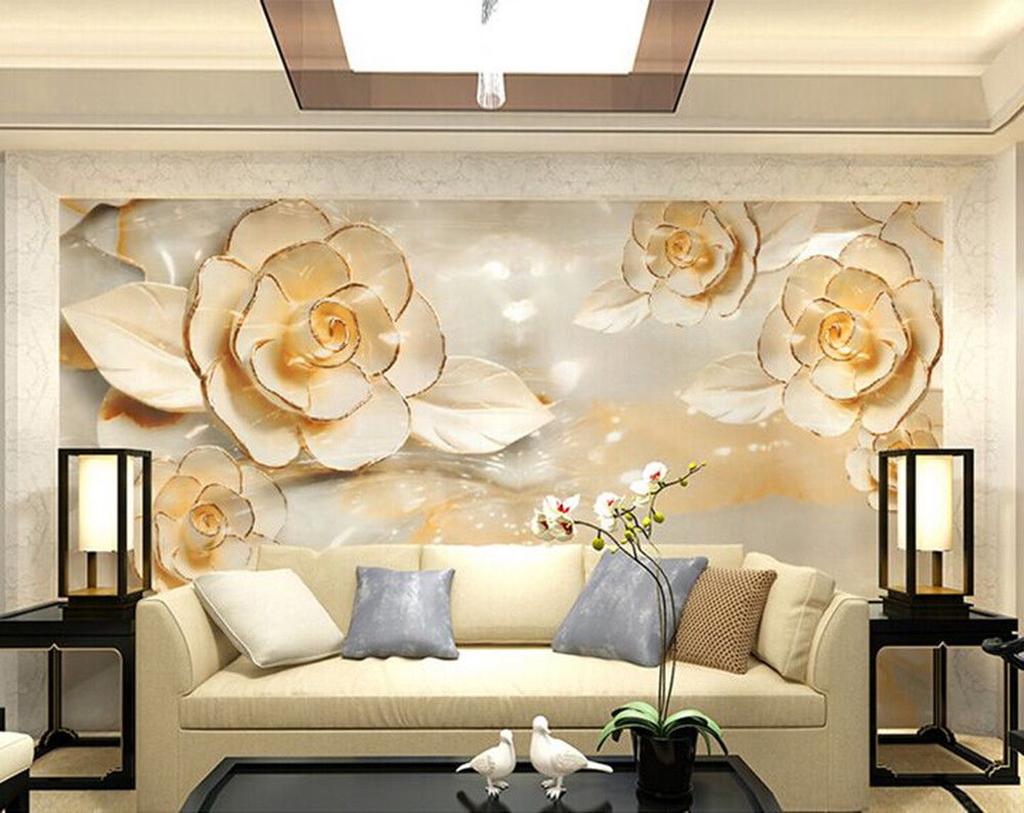 6 Wallpaper Ideas Guaranteed To Dazzle Your Guests
Your living area is the first room that guests see when they visit your house. This makes the living room décor an essential part of your interior decoration scheme. In many ways, it sets the tone for what to expect from the other rooms in the house – in terms of looks, colour and feel. Home owners can either choose a relaxed and soothing vibe, or they can go with a vibrant and gregarious look for the living room. Wallpaper designs for living room, with their wide variety of designs and textures, can serve all your decorating needs quite easily.
Here are a few ideas for your living space that can never go wrong.
Floral Patterns
Floral wallpapers with dark backgrounds look quite arresting on first sight. The bold shade brings in a warm vibe, while the darker tones add texture to the walls. They create a relaxed and comforting vibe. The dark colours on your living room walls might surprise some guests, but the floral designs create a soft and calm ambience. It looks sophisticated, but at the same time cosy.
Tropical Prints
Oversized big leafy prints look brilliant in your living room. The dark green leaves and lush foliage are a great way to bring in the essence of outdoors into your personal space. They are a nod to sunnier days and instantly make your room feel brighter. If the living room is small in size, tropical patterns help to create a sense of more open and wider space. Large palm leaves on the wall make for a captivating sight. They evoke a fresh and welcoming feel; as well bring in some drama to the space. Tropical-styled wallpaper designs for living room also come in small repeat patterns that are soft and muted in appearance. They bring in a cosy and relaxing vibe to the room.
Attractive Stripes
Wallpaper designs with stripes come in horizontal, vertical and diagonal patterns. They bring in an understated elegance to your living room. Colour-wise, the stripes can be tone-on-tone or in two contrasting shades. Striped wallpapers are an easy way to add some colour to a minimalist styled living room. Pick out bold stripes in two different colours to add a visual impact to the room. Vertical stripes make your ceiling look taller, while horizontal stripes make the room feel wider and more spacious. While choosing a pattern, home owners must keep these factors in mind.
Geometric Patterns
For those who like order and symmetry, geometric patterns shall be the first pick for your wallpaper designs for living room. Classical shapes like triangles, circles, or polygons add an interesting twist to your home walls. The well-defined lines and shapes offer an elegant sophistication to the space. Geometric patterns have a visual pull which brings in a soothing and relaxed vibe to the room. They look modern and contemporary. A plush velvet sofa with a statement-making rug can complete the whole look. Give your living room a retro glamorous look.
Paper up the Ceiling
Wallpapering your ceiling is no doubt an odd choice, but it will also have the maximum impact. Mostly while decorating, home owners give all their attention to the wall decor, furniture and furnishings. But they forget about the ceiling, the fifth wall in the room. Home owners can try this unusual route of papering up the ceiling in your living room, and surprise everyone who comes to the house for the first time. Sometimes, doing the unexpected can create remarkable decor ideas. Wallpapering the ceiling also allows home owners to go with a very modest and simple decor for their living room walls. But remember, pick a pattern that does not overwhelm you. It must be soothing, something that creates a pleasant vibe. Tiny florals or nature-inspired prints might be a good fit.
Shimmering Metallics
Metallic wallpaper designs for living room are a glamorous choice. The wallpaper surface has a metallic sheen to it, making it look luxurious and elegant. They give a timeless feel. Metallic wallpapers bring in a sense of grandeur which makes the room appear larger and brighter. The living room feels classy and stylish, with lights reflecting off the glossy walls. Textured surfaces look the best for metallic wallpapers in the living room. They create an opulent vibe.
Previous Post
Next Post