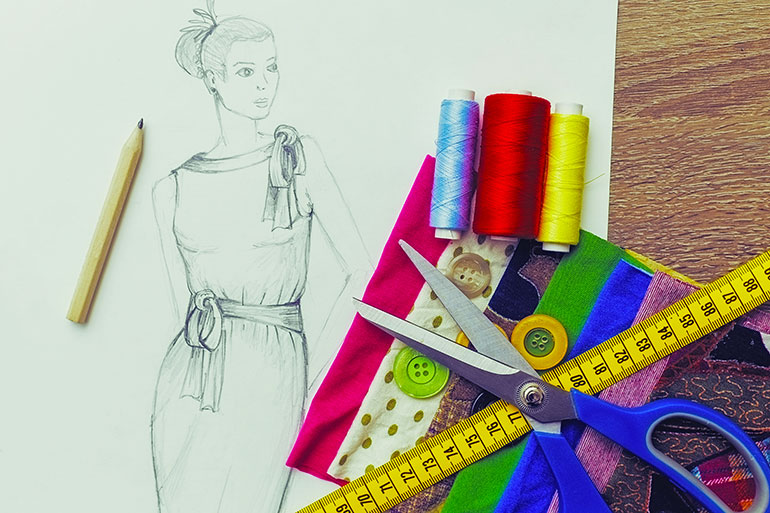 How Do you become a Fashion Designer
How to become a fashion designer?
Fashion Designing is an aspirational course which is much loved by students these days. To become a fashion designer, It involves art, design, sketching, drawing and a lot of creativity. Unique designs that suit the modern-day is essential these days. There are a few little things that you should follow to develop a successful career in fashion designing. This article will also tell about the most reputed international universities ideal for fashion designers.
This stream of study has become highly demanding and competitive. To become a fashion designer requires plenty of other aspects other than just a bachelor's degree in fashion designing. Aspirants of fashion designing are expected to have potential knowledge in Visual Arts, Graphic designing and general designing too. You can begin to lay the foundation for the course right from your high school. This will give you good exposure and a clear idea to face the requirements for a fashion designing degree. Here are some of the things you can do.
Begin with basic and fast sewing techniques and take up economic classes.

Learn about the different colour variants, tints and shades by drawing and painting.

Practice with visual design software like Adobe Photoshop, Corel Draw, Xara, Serif Draw Plus.
Keep yourselves updated with the latest designs on magazines, rb_blog and books.
These are some tips that you can follow till the end of your course To become a fashion designer. Acquiring every single detail about the field you are interested in plays an important role in moulding your career.
Important Key steps To become a fashion designer
Broaden the base of people

- Meet new people and friends while you study in the field of fashion. Taking up internships during your holidays is the quickest way to get with people.
Find your interest in the fashion industry

- There are multiple options for you to choose from. You may be interested in designing templates for women, men, kids or for parties, occasions and many more. Know what interests you the most.
Seek the right degree and courses

- Getting the degree that is appropriate for utilizing your interests will create a refined path for you.
Establish your business

- There are jobs like fashion consultant, fashion journalist and many more that highlight your passion. On the other side, there are jobs like merchandiser, the brand manager which will aim in creating successful fashion establishments. These can prove to be ideal if your goal is to develop your own business for fashion too. This is an emerging arena for fashion designers.
The top picks to develop a valuable bachelor degree
Graduating with a bachelor's degree in fashion designing from renowned universities around the world.
When you are interested in becoming an iconic designer and when you want to establish yourself as a successful personality in the field, you need a degree. A bachelor degree in fashion designing from a good university is prominent. This will give you clarity with concepts of design, history of fashion, sketching, drawing, clothing textiles, management and conducting fashion events and costume designs.
The Fashion Institute of Technology, New York

LISAA School of Design, France

University of the Arts London, UK

Southern New Hampshire University, USA

ESMOD, Paris
These are some of the famous institutes To become a fashion designer for getting your fashion design degree.
Getting a Visual Arts degree for widening your knowledge about fashion
Visual Arts is a multidisciplinary course that deals with various topics like professional photography, painting, collage and drawing. You can learn a lot from doing this degree that enhances you as a fashion designer. It will make you aware of new techniques that can be later implemented along with fashion designing. Studying Visual Arts in countries like Italy, France, Canada, Netherlands, and the USA has great value. Cambridge School of Visual and Performing Arts too is one of the popular universities.
A bachelor's degree in Art History will help you

To become a fashion designer.
History of arts is essential to understand fashion more easily. This is because you will learn to implement new designs according to the needs of today's world. There cannot be any other better way to comprehend the fashion choices of people without understanding the trends from the past. Some courses like Philosophy of Arts too help you to do the same. Arts History degrees are the best from Australia, Canada, Paris and the U.S.
Master the techniques of graphic designing
Graphic designing is evolving in every field of study these days and fashion designing is no exception. There is always an increasing demand for designers who are trained with graphics when compared to the rest of designers. You can very well combine your fashion designing degree with graphic design because many universities offer courses that deal with both. Graphic design involves design research, techniques to adopt shapes and surfaces graphically and more that can be used mainly for fashion purposes alone.
Universities providing such courses include:
Stanford Summer in the USA

European Culture Arts Academy

The University of the Arts London
Hope these details and tips help you To become a fashion designer. design your own career for the future in Fashion designing.
Previous Post
Next Post