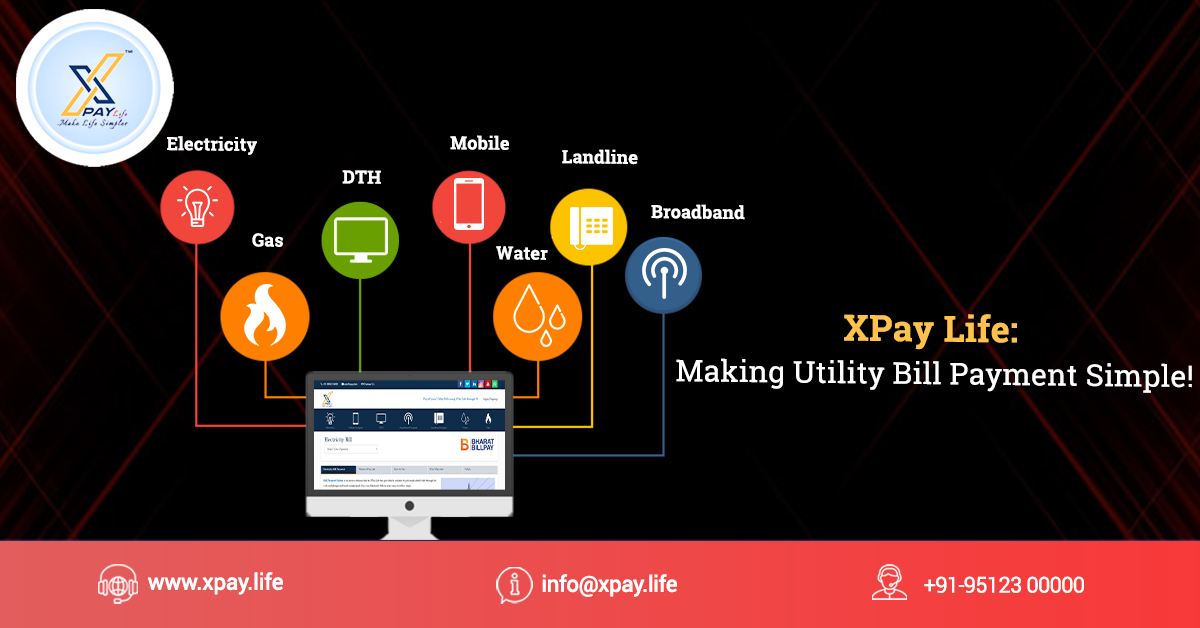 Pay your utility bills online with XPay life app
Who does not want to take rest at home after the working hours or does not wish to spend the leisure with friends and family? Everybody craves for that. But what if there are some other works which do not let you fulfil this wish and force you to leave the comfort of your home? Payments of the utility bills is such kind of a work which cannot be avoided anyhow and also cannot be given much time due to the hectic work schedule. So, we need a solution which will provide us freedom from the irritating offline bill payment hustles and bustles. The most pertinent solution regarding this problem is to opt for an online bill payment app. But the internet, now-a-days, is flooded with numerous online bill payment apps with each of them claiming to be the best service provider. So it is natural to suffer from perplexity while choosing the right option. But, you do not need to scratch your head anymore as we have arrived with the best solution. Just pick up your smartphone and download XPay.Life from Google Play Store or App Store and make it the medium of paying your utility bills in a jiffy.
XPay.Life is India's first blockchain secure payment gateway. It offers a full spectrum of utility bill payment through Touch Screen Kiosk, Web portal, Mobile App for iOS and Android, PoS Device and Mobile ATP Van. It also accepts cash as well as popular digital payment methods such as UPI, Credit and Debit card, Visa, Rupay and MasterCard through its Touch Screen Bill Payment Kiosk. Moreover, it provides AI based reminders for all utility bills payment so that the users can be updated regarding the approaching due date.
Broadband has become the most famous uninterrupted source of internet today and people urge for it. That's why Xpay.Life provides the most suitable way to pay its bill on time so that a seamless broadband service can be enjoyed by the customers. It provides service for all the major operators across the country. For instance, if you are using BSNL broadband, then BSNL broadband postpaid bill payment can be made effortlessly through this online payment gateway without moving an inch from your place. Just provide the required details correctly and complete the payment.
Water being the most important element after air, the availability of it is essential to run a house smoothly. So taking this need into account, XPay.Life introduces the most comfortable way to make online water bill payments within a few seconds without visiting the water supply office and waiting in a long impatiently. Thereby, it provides you the opportunity to utilize the free time in some other productive work or to enjoy with your friends and family. So, in short XPay.Life also spreads happiness. Isn't it?
On daily basis we use many equipment which need electricity supply to run. But, it also demands payment on time to keep itself available for us. So, XPay.Life also caters to the need of having a quick bill payment electricity facility. You can make the bill payment anytime and from anywhere you want just by completing three easy steps. Select your operator, payment mode and click 'pay now' button. A bill payment confirmation message will be sent to your registered mobile number or email ID on immediate basis.
Along with the aforementioned facilities, XPay.Life also offers to make an effortless DTH recharge. If you are a customer of dish TV, then an easy dish TV recharge can be made through this amazing online bill payment app in a snap right from the comfort of your home.
The sole aim of this all in one facility provided by XPay.Life is to reduce our pain of going through the offline bill payment processes and to save our time, energy as well as money. It also uses blockchain technology to ensure safety of every transaction. Looking at its advanced features, don't you think that it is the best bill pay app for Android and IOS? So, do not think much and make use of this portal to clear all your utility bills and facilitate yourself with the best service knocking at your door.
Previous Post
Next Post