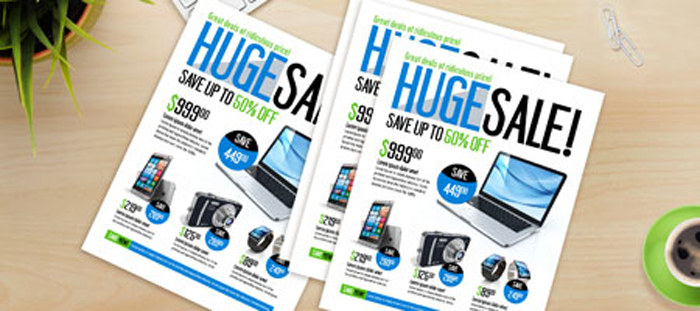 Flyer Printing
Print Fast presents the premier Online Printing Platform for obtaining personal, promotional, commercial, and informational print products at the lowest prices!
We are a proud Canadian own and operated print company. We provide full service design, print, signage and promotional products to personal and business customers. With over ten years of experience and latest technology, we are one of the leading print service provider.
We are able to supply your company with every possible printing and promotional products. You will pay the low price for the fast turnaround. We offer one hour service for many of our print products.
Our mission is to help your brand reach your customers with high quality marketing materials. Feel free to give us a call and one of our customer support staff will be happy to assist you.
1. Color Palette:
Too much information is the worst thing you can have in a flyer. The headline must be short and to the point. A headline should be something that can instantly grab the customer's attention and encourage them to read more. Try to keep your headline to two lines at most. Never forget to put a draft in front of some colleagues and check out their response before sending your flyer for print purpose. Also check that the headline must grab the reader's attention?
2. Too much information:
If you would like to promote a new product, then it is mandatory to include the name, a price and a few key points. Don't start to write a full story on the great benefits of it. Your customer will just want to know how much it is and what it does. Your customers live busy lives so they expect quick information. This means only include key points that a reader can easily scan down through and digest it.
3. Too much color:
A little color is enough for flyer printing. Too much color can make your flyer confusing, especially if you use lots of color in your text. Try to stick to colors that complement each other and work well with your brand image and your logo. When it comes to text in your logo, a consistent approach is always the best way. Try to use the same colour for all the text although you can use a different colour to help make a heading or price or special offer stand out.
4. Low quality images:
Use only high quality images for flyer printing. Low quality, pixilated images can make your flyer look bad and can cheapen the way customers see your brand. Infact, low quality images are not good at all for brochure printing, calendar printing etc. Avoid copying images straight from the website as they will be lower quality. You must only use quality stock images for a product.
5. Poor Spelling:
Poor grammar, spelling as well as wrong information is the things we have all come across at some stage when looking at a flyer. Be sure to proof your flyer at every stage of the design process and get your colleagues to double proof it before going for the final print. Never forget to check the more sensitive information like dates, prices and contact details as once they are printed, the only way to change them is to print again.
Why waste the time visiting your printer when online help is at hand? Print Fast brings you the one-stop shop for all your printing needs and more.....
- Large range of popular products for creating Business Card, Envelope, Letterhead, Greeting Card, Postcard, Flyer, Poster, Brochure and many more.
- Thousands of pre-loaded templates and customizable products. Let our professional experts create custom print products for you.
For more information visit our website
Previous Post
Next Post