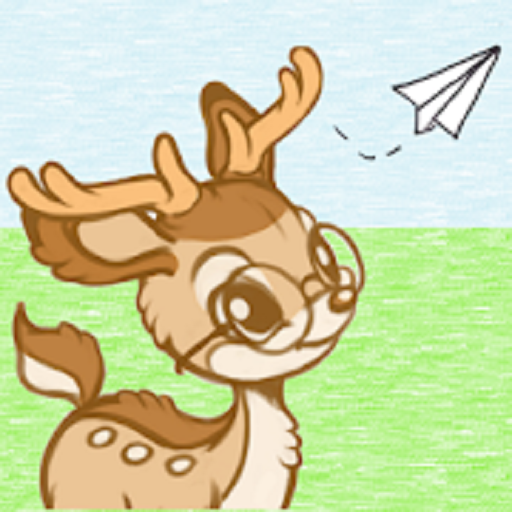 Little Deer Engineer and the Paper Airplane
Welcome to the world of Little Deer Engineer!
By encouraging parent-child bonding through engaging stories, Little Deer Engineer's apps promote children's mental, linguistic, and emotional development and lay a foundation for better social, academic, and problem-solving skills.
HoneyDee Labs creates interactive story apps for children about a little deer engineer exploring beginner STEAM concepts with his forest friends. Adults read them to children, ages 3-5, on smartphones and tablets, while kids play along by touching movable elements.
STEAM: Science, Technology, Engineering, Art, and Mathematics
With the goal to stimulate well-rounded child development in a safe, positive way, the apps are interactive so kids may engage with reading through touch, but also encourage parents to read with their children.
Stories on the go!
· Touch and tap through interactive cinematic scenes
· Read entertaining stories with Little Deer's delightful forest friends
· Listen to calming background classical music
· Enjoy vibrant, fully hand-drawn illustrations
· View clear, colorful text for easy reading
· Explore charming, imaginative landscapes
· Follow Little Deer's adventures independently; each story is stand-alone
In select stories, children can do simple projects and experiments with Little Deer's easy-to-follow instructions at the end.
Little Deer Engineer and the Paper Airplane
Little Deer is a budding engineer who lives in the Land of Willow Trees. He has a whimsical workshop where he likes to examine, research, and build things. In this story, his best friend, Mechanic Monkey, sees a real airplane fly high in the sky and Little Deer Engineer decides to make a paper one. Follow along in their quest to assemble materials and make a paper airplane!
About HoneyDee Labs
HoneyDee Labs is a tiny company located in sunny Texas, creating an interactive, delightful world of little forest animals, STEM topics, and adventures in learning.
With the advancement of time, many scenarios have been changed now. There are many ways to develop the mental ability of a child by teaching him or her some creative works. Little Deer Engineer is one of the apps that provide this strategy.
The main purpose of this application is to give rise the opportunity to the child in raising the development in terms of better social academic & problem-solving skills. The app is helping in the development of a kid with the help of interesting stories.
Key features of Little Deer Engineer:
Touch & tap gaming scenario
Colorful graphics as per the taste of kids
Hand-drawn illustrators
Readable text that helps in making the reading easy
Different steam like science, engineering, technology & arts
Imaginative landscape
Each story is stand-alone
Independent adventure in the app
Working on this app:
Talking about the app, there is a simple & easy working of the application. It works on touch & tap concept. Initially, there will be story mentioned on the screen which parents need to read their kids. After completing the story, there will be instructions. These instructions will teach a kid how to make the airplane through the paper. You could also on & off the music as per your choice.
If talking about the story, there is a little engineer deer, living in the land of willow trees. He also has a workshop in which he builds things & research. His monkey friend, one day see a real airplane in the sky. After this, the little deer decide to make the airplane with the paper.
Benefits of using this app:
Developing the mental ability of the child
Understandable & easy app
User-friendly application
Good graphics
There is fully hand-drawn illustration
Colorful text for easy reading
The Benefit of this app:
The application is mainly beneficial in terms of development. The app is helpful for those who want to have their kid to enjoy fun & the development of the mental level. This helps in promoting the great awareness in kid about the development. It's the best combination of fun & gaining profit in terms of development.
Final Words:
Little Deer Engineer is a classic game app that provides the right platform of teaching. The application is the right place for kids to develop their mental ability. It's useful & helpful application that I would like to recommend to every parent.
Previous Post
Next Post