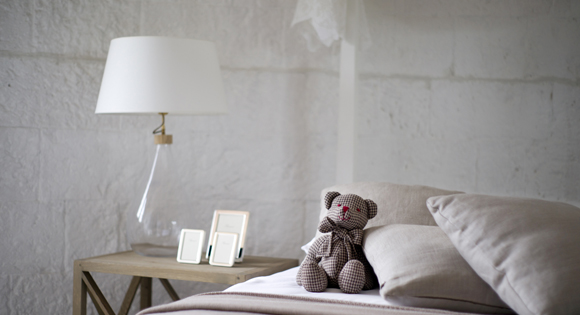 8 Trending Bedside Table Lamps
A room, where everything is settled and placed beautifully except the table lamp - is not a justice to the interior beauty of your room. Whether you are sitting with your partner or reading your favourite book, the light of your table lamp always pleases to your mind. Here are some suggestions to choose a lamp of your need:
Atollo Table Lamp
The beautiful Atollo Lamp is an incredible piece of art versatility. The dim light and unique form make this designer room lamp perfect choice for your house.
Perimeter Table Lamp
Improve your house's style statement with this futuristically designed Perimeter Table Lamp. This stunning table lamp comes in classic white & grey, white, black, and blushing hue.
Goodease BedroomWooden Table Lamp
Goodease presents an incredible table lamp made with the contemporary and modern designing approach. Made from wood, metal, and fabric, this table lamp surely adds a charm to your bedroom.
Karl Johan Glass & Marble Bedside Lamp:
Designed by Danish designer Signe Hytte, this lamp is a wonderful combination of smoky glass and black marble. With the dimensions; 9 inches tall and 9 inches of broadness, this small bedroom lamp fits perfectly with your bedroom requirement by leaving an outstanding impression.
Bamboo Table Lamp
Standing on a tripod, this Japanese Bamboo Table Lamp is a perfect addition to your bedrooms interior. This distinctive bamboo lamp is good to purchase if your room captures the retro-themed look.
Cube Shaped Concrete Table Lamp
Far from the boring design, Cube-shaped table lamp is an innovative combination of contemporary concrete and old-fashioned Edison bulb. Looks like expensive and premium, this table lamp comes under your budget.
Playful Art Table Lamp
No modern design can be better than a design made by using playful art. This cool table lamp made from plastic showcases your creative personality to the visitors.
Playful Art Table Lamp
Moon Lamp
Designed with a dappled surface that pictures the craters and valleys on the moon, this amazing bedside table lamp offers soothing and relaxing light during your sleeping hours.
Lit your dining room with Lanterns
You must have seen these Lanterns in English streets. These lights add a vivid retro style to your dining room.
Try to be Vintage
From the table lamp to the sputnik pendant, keep everything old-fashioned and inclined to the vintage style. A crystal chandelier can be more vintage add-up to your eating space.
Add some paperwork
Bring a paper pendant to your dining space, particularly in the shape of a donut. The lighting idea would not burden your pocket even.
Go back to 60s in the current
All white, laminated table with simple folding chairs around it, accompanied by enough lighting makes it easy to get a nostalgic look. A wood chandelier in multiple crosses with linen shades transforms it to complete retro.
Dine with Coastal Vibes
The shell chandlers hanging on a natural-coloured wooden roof draws attention towards coastal vibes. Sounding with breeze reminds you of relaxing on the beach.
Lights in pattern or series
Imagine your dinner is lightened-up with multiple strings of tiny lights. Keep all of them colourful to punch-in a vibrant look to your dining space.
Sprinkle colours and paintings on your wall
A dining room, where a modern square table in white is placed to glam-up the look of your dining space. A sky blue coloured sofa is settled in a corner to add a glance of Bar.
Running out of decorative ideas?
You can find appropriate decorative items to modify your dining space in your budget. Visit Goodease.in to explore the world of wonderful creations that can lead you to your dream home.
Previous Post
Next Post