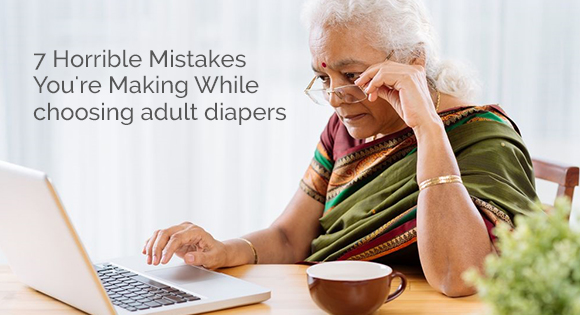 7 Horrible Mistakes You're Making While choosing adult diapers
Imagine going out on a stroll on a beautiful sunny day, with a sudden urge to visit the washroom which might be a long walk away and all you can do is wait because your adult diaper might lack few of these qualities. Besides leakage issues wearing wrong adult diapers may lead to serious problems such as rashes, leakage, and infections. As there are so many brands making quality unisex adult diapers, it is still recommended to be aware of making a few mistakes before purchasing them. From the right size to its long-lasting protection, every safety measure can help you avoid critical situations like leakage, rashes, and irritation.
Let's check-on the mistakes you do while purchasing adult diapers:
Not assuring the size
The size of the adult diaper is the first thing to consider. Rough measurements may get you a diaper of the wrong size, which may lead to the issues of leakage, rashes and uncomforting. Instead of purchasing a packet of diapers, one must purchase a single unit to confirm its size first. Dignity keeps varieties of sizes including Medium, Large and XL to fit everyone's need.
Forget to check absorbency level
Level of absorbency is another factor you should consider before purchasing adult diapers. A wide range of adult diapers is available to solve different problems related to faecal or urinary incontinence. Usually, diapers have three absorbency levels; Low, Medium and Heavy. People, who are suffering from heavy incontinence, may choose adult diapers that offer 12-16 hours of protection.
For better absorbency, you can choose among these three adult diapers at Dignity:
Magna adult diapers: Designed for extended use for involuntary urination or defecation, these diapers last up to 8-10 hours and they come with wetness indicator.
Premium adult diapers: Designed for extended use for involuntary urination or defecation, these diapers protect up to 10-12 hours and they come with wetness indicator.
Overnight adult diapers: Designed to offer hassle-free sleep, these diapers last up to 12-16 hours.
Odour Protection
Controlling the odour depends completely on the material used in making of adult diapers. An adult diaper will be declared of no use when spreading the smell out to others. Brands like Dignity ensures complete odour protection when you are out and meeting others.
The comfort level
How can we forget comfort level when talking of using adult diapers? Comfort should be noticed first while purchasing the diapers for your beloved elders. Fitting properly to the thighs & waist, least of least irritation, and no leakage confirms a complete comfort level of adult diapers.
How easy to wear?
Complications while wearing adult diapers may lead to irritation. You must choose a diaper that is easy to wear or fit. Checking on the wearing type may avoid 'fitting problems' later.
Choosing a brand that make diapers in hygienic environment
You are making a big mistake if you are not choosing the right brand while purchasing an adult diaper. A brand like Dignity promises for comfort, leak-proof, and odour free protection for hours. Dignity uses hi-tech machines & complete hygienic environment to produce germ-free diapers. Moreover, the doctors approved non-allergic and completely skin-friendly fabrics are used to produce adult diapers at Dignity.
Choosing a brand that make diapers in hygienic environment
Choosing the right type
There are reusable diapers also available in the market. Don't choose reusable diapers because they are extremely unhygienic. When it comes to diaper you should always opt for disposable ones which can we used and thrown away after single use. You must consider all these things before buying adult diapers online or any other physica
l
Previous Post
Next Post