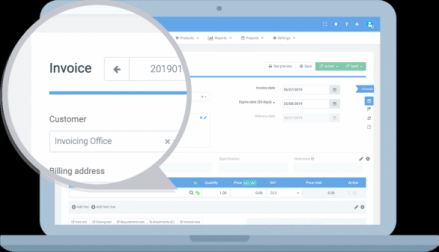 Creating an Invoice is now gone easy via the use of Example Invoice
If you are starting your business venture, you must have known about all the important aspects of conducting business. It starts with bidding or quoting for a deal or project to your potential customer to finalize that deal, and initiating service production. It ends with a successful business operation, which leads to the most vital point of your deal that is the payment generation for your service. All of your hard work must be well documented via this invoice and presented to your customers. Hence, the importance of generating and managing the whole invoicing procedure properly is very important. Referring to an example invoice is an easy way to have a clear idea of how to generate an ideal invoice.
The need for an invoice is to create a clear detail regarding the cost of the service offered or provided from the side of the service provider to the customer, payable under certain specific conditions and dates. It is an essential process of generating revenue for the company and the business.
Invoicing, when done right, can result in a long term, on time, smooth professional business relationship with your clients that is beneficial for both parties.
An example invoice must contain some specific essential details. A format consisting of specific and serial invoice numbers, date of the service, details of the service or product or deal offered, the costing or rate as decided by both party's approval, inclusive of all taxes, rate of tax applied, date or time limit for payment, mode of payment, details of your customer with their contact number, and details of your company, contact number with your valid registration number are prerequisites of an ideal invoice. Below is mentioned the ideal structure of an example invoice including all these details.
1. Details of both parties: Your company details with full name, logo, address, contact number, invoice number, registration number, and dates should be added in this part. Details of the client should also be included.
2. Body of the invoice: It must include details and numbers of services or products offered to the client, or used by the client, pre-decided cost, or rate of work with tax details, payment details, mode of payment, rules of payment, a period of payment, any discount or terms and conditions.
An invoice can be created either manually, or online. Traditionally, the invoice used to be generated by manual formatting and printing. In the case of a small scale business person or freelancer, the whole invoicing procedure, management, tracking, and reminders were quite a lengthy task to maintain with limited manpower. Presently, in the era of the digital transformation of trade and commerce, an emerging new trend of E-Commerce is shifting the whole customer and service provider interaction towards a digital platform. Cashless, paperless automated quick invoicing communication and transaction methods are becoming beneficial due to their time saving and automated nature.
There are online service providers who offer their customers a wide range of curated, easy to use, professional invoices that are usable in daily business transactions. Invoice Office is one of them, it offers downloadable templates of some default example invoice, which are completely free of cost. Visit the website, you can thereby easily create invoices that are specifically curated to suit your business need properly.
Previous Post
Next Post