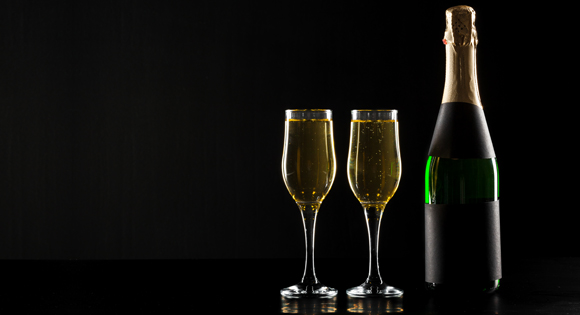 10 Champagne quotes to jazz-up your next party
The moments of celebration just gets doubled with the 'popping open' of the champagne bottle. Be it to the New Year celebration or the marriage anniversary excitements, a glass of champagne is always a great way to cherish the best moments of life. And revising famous Champagne quotes said by the famous personalities may add sparkling moments to your festive occasions. Have a look at all of those quotes pitched by some famous personalities across the world:
Quotes by Writers & Philosophers
Writers and philosophers have always something best to say with their logical and philosophical approach. Let's read a few interesting quotes delivered by them:
"Champagne is one of the elegant extras in life." –Charles Dickens, English novelist
"Too much of anything is bad, but too much champagne is just right." –F. Scott Fitzgerald, American novelist
"Champagne, if you are seeking the truth, is better than a lie detector. It encourages a man to be expansive, even reckless, while lie detectors are only a challenge to tell lies successfully." –Graham Greene, English novelist
"Champagne is one of the elegant extras in life." –Charles Dickens, English novelist
"Pleasure without champagne is purely artificial." –Oscar Wilde, Irish playwright and novelist
Champagne Quotes by the famous icons
Even the famous icons have something interesting to say. Check the quotes framed by those icons:
"Champagne is the one thing that gives me zest when I'm tired." –Brigitte Bardot, French actress
"There comes a time in every woman's life when the only thing that helps is a glass of champagne." –Bette Davis, American film and theatre actress
Champagne quotes by the famous politicians
Politicians are not behind from constituting some great quotes on champagne. Let's check them out:
"I drink champagne when I win, to celebrate… and I drink champagne when I lose, to console myself." –Napoleon Bonaparte, French statesman and military leader
"Champagne is the only wine that leaves a woman beautiful after drinking it." –Madame de Pompadour, French court member
"Remember, gentlemen, it's not just France we are fighting for, it's champagne!" –Winston Churchill, British statesman and former Prime Minister of the United Kingdom
As we all know and understand the design of a champagne glass, do not forget to hold an authentic and stylish one while saying your favourite champagne quote. If you are out of champagne glasses or coffee mugs in your house, you must prefer visiting Goodease or Amazon to choose the best ones.
Designing our bedrooms with so many online home décor items can be the most difficult task of all times. Moreover, it is more difficult to get home décor ideas in India. Since we are not professional designers or interior decorators, we must take the help of the experts.
Let's enter the magazine of the world's best bedrooms; consisting of simplicity, perfect combination of colours, and sculptures & creative objects placed properly in every corner of the room. Here are the top convincible designs, you can take inspiration from:
1. Light & Mono-coloured
The popular TV show 'Sex and the City' Creator Darren Star's New York City bedroom is featuring peaceful colours, velvet rug on the floor, and headboard made of Tout fabric.
2. Ocean Modernity
Taking the popular design of Delphine Krakoff, our guest's bedroom can be designed with modern beach vibes like oceanic paintings, fanciful little wooden side table, and a rounded headboard wrapped in a light white or blue colour.
3. Modernity touched by Industrial Design
Take a simple headboard-less bed, matching nightstands of dark colour, white-painted interiors, and a black & white palette to render an industrial modern design to your room.
Previous Post
Next Post