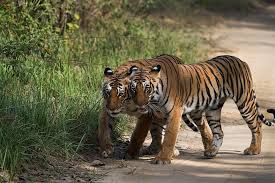 Why Visit Corbett National Park.
Whenever we think to visit somewhere so first question comes in our mind that why we should visit there? Why it is famous? And if we talk about Corbett national park so it attracts tourists from different parts of India and abroad in a huge amount. The significance is that there are a whole lot of flora and fauna variety alongside 500 different variety of avifauna which includes some of the most beautiful migratory birds as well as resident avifauna species. Grapevines are also to be marked as some of the major attractions of the region. The fauna in this region marks the presence of leopards, barking deer, hog deer, sambar deer, chital, sloth, Indian grey mongoose, Himalayan black bears, yellow throated martens, otters, Indian pangolins, Himalayan gorals, rhesus macaques and langur.
Whereas the Corbett National Park is also famous for its rich floral diversity too which also includes more than 500 different species of plants which are witnessed amongst the thick Sal, Sissoo and Khair groves. Chir pine, Banj Oak, Kanju, Date Palms, Jamun, Amla, Bel, Kusum, Mahua and Bakli. There is also a number of flowers such as the big red blooms, flame of the forest, bright orange flowers, madaar or the Indian coral, scarlet red flowers and amaltas found in this National Park.
Ramnagar: a lot more than just a gateway to Jim Corbett National Park
Many people will easily identify Ramnagar as a tourist destination; however, for wildlife lovers, it is a place that serves as a gateway to one of the most well-known national parks in India—Jim Corbett National Park. This small bustling town in the Kumaon region of Uttarakhand witnesses a huge influx of tourists every year because of the easy access it provides to this park. Ramnagar itself is easily connected with major cities like Delhi, Lucknow, Nainital and Ranikhet for some of them you can get rail and for some of them road services are here. The nearest airport is at Pantnagar which is about 90 km far from Ramnagar.
Despite the fact that Jim Corbett National Park remains the supreme drawer of crowd to Ramnagar, it is by no means the only attraction to be enjoyed while in town. Both Nainital and Ranikhet are so close to Ramnagar that with a day or two to spare, it is easily possible to explore at least one of these destinations. Follow this guide to explore what all you can do while you're traversing to this charming town of Ramnagar.
Ramanagr is well known as the 2 gateway of Kumaun so it makes it more famous to visit. Join us and have an experience of corbett park.
I am a nature lover many like you. I admire the great natural gift bestowed on India. Well, it has such a wide variety of flora and fauna. Jim Corbett National Park is known for its tigers and dense forest. It is in Uttarakhand, India and named after renowned tiger hunter turned conservationist Col. Jim Corbett. Corbett is a vast landscape really it impressed me. I was happy to notice deer roaming here and there and birds in flocks commuting without any fear and prejudice. Well, those who wish to go for tiger sightings have to seek permit and also arrange for a jeep.
This national park offers a number of lodges. But, my sincere advice is to book your space in advance. It is always good to book a guide- though. It is such a great sight to watch dawn and dusk - both times, when nature offers some very great surprises Alas, I did not plan my trip properly; otherwise, I would have taken many photos and shared with all. If you are searching a best place to visit and feel wildlife in India so being an experienced and nature lover I would recommend you corbett national park this is really a great area to visit and enjoy the wildlife.
Contact Us :
http://www.jimcorbetttour.online/
Mobile : 8477880359
Address:
Ranikhet Road Ramnagar lakhanpur chungi Nair Asthan Mall,
U.K. 244715
Previous Post
Next Post