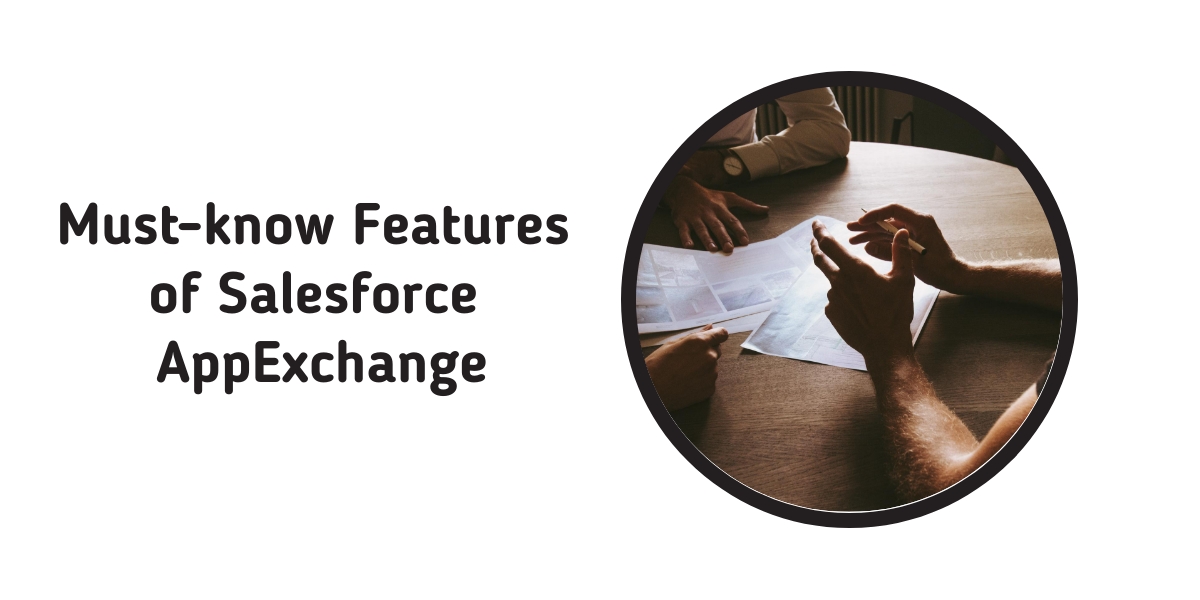 Must-know Features of Salesforce AppExchange
People knowing about Salesforce CRM must be aware of the platform of AppExchange and how it is helping them to get the right app on-board for their business enterprise. For those, who are not aware of Salesforce, AppExchange can be defined as the platform which helps them to enhance their sales and other business processes with thousands of applications which may help them to serve better. It allows you to browse for the right application, give it a free trial and then decide whether it is worth the try or not.
The blog highlights the most important features of the Salesforce AppExchange. Continue reading, and have a look:
1) Exploring as per the departments-
So, as we are aware of the fact that there are numerous categories in which apps can be categorized. Now, the new feature of this vast platform gives you an opportunity to explore the required services or applications on the basis of their department. It would make your work much easier than before and would save you time as well.
2) Smarter & better experience-
Now, it provides you with more personalized experience than ever before. It means you can access the things you want in a much smarter manner without wasting much of your time or money. Opt for using the Salesforce AppExchange platform now to avoid any obstacles in the pathway to your success in a long-term manner.
3) Easy Navigation than Ever Before-
AppExchange now provides you with a privilege to go for easy and better navigation so that you can go for smart searches that will help you fetch the right results in a comparatively lesser period of time. Intelligent search options are always appreciated by the people because it lets them work efficiently increasing their work productivity simultaneously.
4) Lightning-fast Components-
So, with the lightning ready Salesforce CRM, we now have the lightning-fast components on the AppExchange platform too. It helps you carry out your respective projects at the speed of lightning on a regular basis so that you do not miss out on important updates any time of the year and stay ahead of your competitors in the market.
5) Personalized collections-
So, the personalized collections by Salesforce AppExchange offer you the ability to find solutions as per the industry you work for. It allows you to carry out smart searches for the right solutions which you are looking for. Also, it makes you discover new possibilities to stay ahead in this competitive market.
So, these were a few new features of the updated AppExchange platform by Salesforce so that its users are never left behind in this fast-paced world. Apart from the above-mentioned updates, there are various other reasons as well which proves the fact that why you need to get on-boarded with it now if you haven't yet to make sure that you make your business achieve the greatest success in the coming years.
Factors why Salesforce AppExchange is important:
These are the factors proving the importance of the AppExchange platform which may help you out to get on the top in your respective industry-
Establishing a better connection with the community

Providing with top integrated solutions

Your one-stop platform for business solutions

Can be easily navigated through its vast ecosystem

Gives you the ability to overcome your weaknesses
So, last, but not least, it can be concluded that Salesforce AppExchange is the ultimate business solution for you if you wish to achieve your goals in the long-term in a sustainable manner. Moreover, if you are not equipped with its required knowledge as needed, then you must make a decision to opt for the required Salesforce Consulting services as earliest as possible to make the most out of it.
Previous Post
Next Post