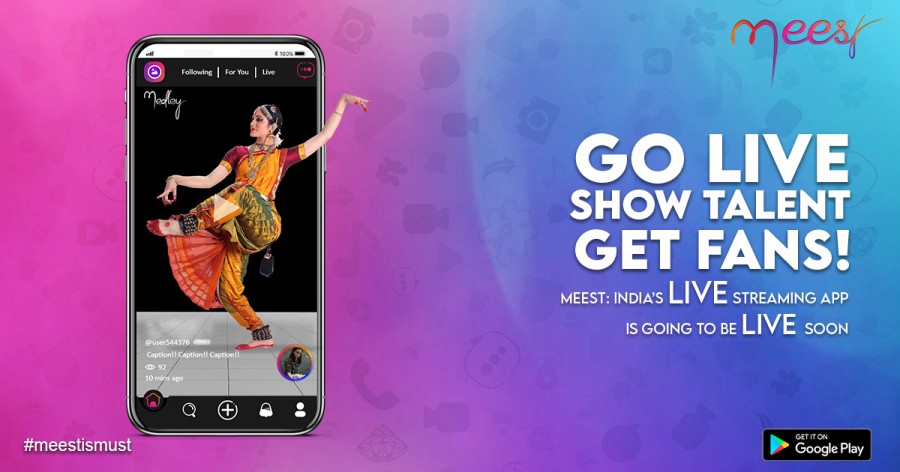 Go Live with the New Meest, Live Streaming App
Meest4Bharat mobile application brings you closer to the people and things you love by letting you stay connected with friends, easier than ever. Here you can share updates and photos, engage with your followers, stream unlimited as this is also a live streaming app.
Meest is a Must when it comes to create and share short videos. You can discover, watch, like, comment, and interact with all short videos in a dedicated space in Explore segment for free.
At Meest4Bharat we perform with the best technology to make app usage smooth and friendly for all our users. This app is a completely original Indian app for Indian audiences/users. Our hard work and efforts keep this short video sharing, social sharing, live streaming, and audio calling app enjoyable and safe place for everyone.
Capture and create your own funny short videos with the latest filters and tons of cool stickers. Be it your own video or something you love – easily share with your friends and family or set as your social media status. Create profile, upload videos, watch live streams, follow existing creators, like videos and share videos - all in one tap.
It allows its users to share an opinion, show the real talent, connect to the known and make new friends. This app tends to make the mark of an Indian entity so that we can be independent of westernized and insecure applications. Now everyone can showcase their innovative self, get featured all around with multiple features on this Indian video sharing app.
Also, you can report something that you feel offends our Community Guidelines right from the app. Learn about our best practices on Meest4Bharat in our Community Guidelines.
APP FEATURES
Free Chatting with your friends
Skip exchanging phone numbers or using other mediums to your ping your friends and enjoy free & unlimited chatting on Meest application. Avoid SMS fees, Use Meest chatting feature to message friends and family for free.
Free Audio Calling App
With audio calling feature of Meest app, you can talk to your friends and family for free, no matter wherever they are. Meest voice calls use your phone's Internet connection, instead of your cell plan's voice minutes, so you don't have to worry about expensive calling charges.
Stay Connected with the loved ones on video call
Keep your friends and family close with free chatting on live video. Host group video calls with up to 8 people, with high-quality video calling in this app.
Go live with your followers on live streaming app
How about doing live streaming and becoming a social media influencer right now? Meest helps you to seamlessly connect with your fans all over the world without a hitch. No matter just showing talent, you will get support, gain fans, receive gifts, and make friends here.
Search & Explore More
Meest also helps you keep up with the latest news and current events around the world. Follow your favourite celebrities, brands, news sources, artists, or sports teams to follow their newsfeeds, short video content, watch live videos on live streaming app and catch up the latest happenings no matter where you are on your best short video sharing app!
Lip Sync App
Create short videos by adding your lip sync videos to a large variety of audio and music.
And Much More
Engage with your audience by sharing posts with interactive filters & cool stickers.
And this is just the beginning.
Join the Meest4Bharat community and be a part of the next short video revolution! Meet talented artists and gain millions of followers! Whether you like dance, music, sports or anything – there is something just for you. Easily create, edit and your videos with in-built music playlist and tons of cool filters & special effects. What are you waiting for!?
Meest4Bharat is made in INDIA for INDIA by an INDIAN
We would love to hear from you. Complaints, feedbacks, or suggestions – reach out to us at [email protected]
To be the first user of India's only multifarious app Meest. Visit our website Meest4bharat and pre-register for receiving thrilling experience.
Originally Published: https://medium.com/@meest4bharat/go-live-with-the-new-meest-live-streaming-app-bf03094ad664
Previous Post
Next Post