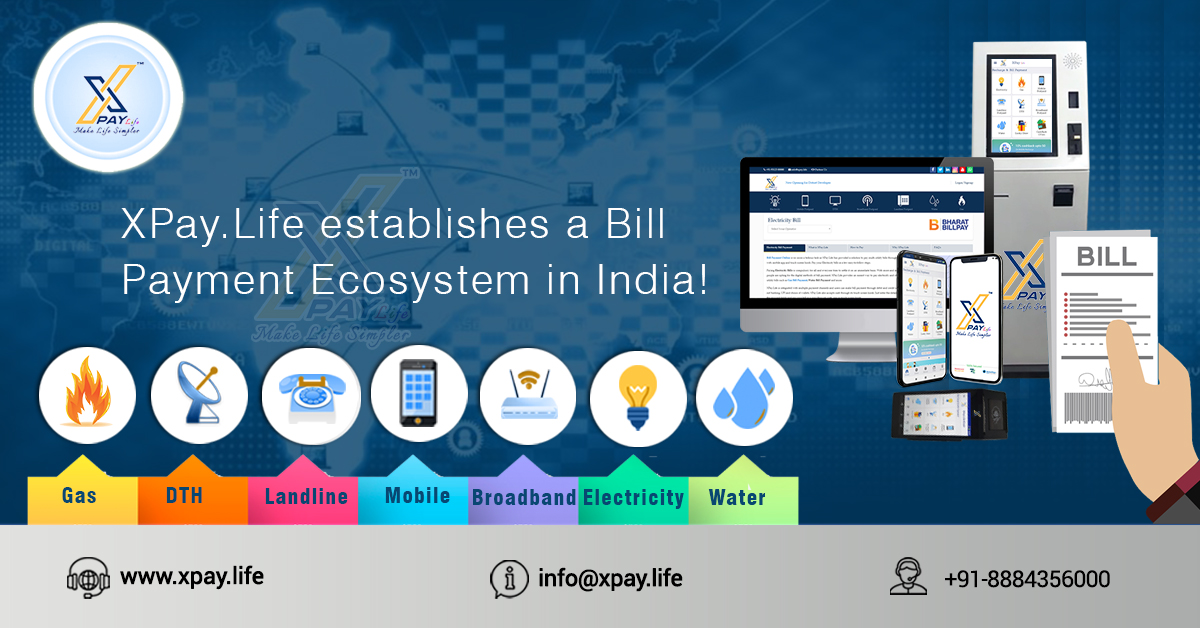 Pay your utility bills through XPay.Life and make your life simpler
The major services such as Electricity, gas, water, telecom facilities etc. help us run our daily life without any problem. Without electricity, we won't be able to use many important equipment which will create a lot of hurdles for us. Without gas, food cannot be prepared. Without water, we cannot even think of imagining our life. Without the telecom services how will we speak to our loved ones? So, can you see how badly can the interruption of the main services affect us? That's why, at any cost we have to ensure the timely payment of the utility bills, whether you do it or get it done by someone else. But, visiting the respective premises to clear the bills and waiting in a long queue is not something which we really appreciate. The appreciation is given to those which, rather than increasing the human-efforts, aim to reduce it. The online services do that only. The shopping websites, the navigation apps, the digital payment methods which include cards, PoS machine, net-banking, QR code etc., the online bill payment apps have made everything easier and faster for us. So, we can choose an online bill payment app to make the bill payments. But there are many of its kind each of which claims to be the most reliable service provider. So, which one to trust? Don't worry as we are here to lead you to the right choice. Download XPay.Life from Google Play Store or App Store and make use of it.
XPay.Life is India's first blockchain-enabled most secure payment gateway. It offers a full spectrum of utility bill payment online through Touch Screen Kiosk, Web portal, Mobile App for iOS and Android, PoS Device and Mobile ATP Van. It also accepts cash as well as popular digital payment methods such as UPI, Credit and Debit card, Visa, Rupay and MasterCard through its Touch Screen Bill Payment Kiosk. Moreover, it provides AI based reminders for all utility bills payment so that the users can be intimated regarding the approaching due date.
An easy DTH recharge facility has also been included in the list of facilities provided by XPay.Life. Whenever a 'tonight deactivation' message shows up at your television screen, don't get tensed or you don't need to call someone else to do the recharge on your behalf. Just pick up your smartphone, download XPAy.Life and do the recharge immediately through it and keep entertaining yourself without visiting the operator physically. XPay.Life also renders appealing DTH recharge offers which will compel you to visit this portal again and again.
If you are a BSNL network user, you can effortlessly make BSNL postpaid bill payment online through XPay.Life as this online payment gateway encompasses all the major operators across the country including Idea, Airtel, jio, Vodafone and so on. So, install this amazing bill payment app in your smartphone and make your postpaid mobile bill payment within a few seconds just by completing a few easy to follow steps which incorporate the selection of operator, mode of payment and at the end, clicking of 'pay now' option. Can your mobile bill payment be easier than this?
Can you imagine your life without water? Not at all possible. Isn't it? Water is mandatory to keep ourselves healthy, or to be more precise, to keep ourselves alive. So, to make the service available at home, the bill payment should be done on time. That's why, XPay.Life introduces the way to online water bill within a few seconds without stepping out from home which saves our time, energy as well as money to a great extent. You can do it anytime and from anywhere you want.
Along with the aforementioned services, XPay.Life provides you the opportunity to pay electricity bill online within a few seconds. There is no more need of visiting the electricity office to clear the bill. Now, you can pay the amount through XPay.Life mobile app right from the comfort of your home without going through the offline bill payment processes.
Online landline bill pay facility is also provided by XPay.Life in order to help those who still use the service. Though the emergence of mobile phones has decreased the usage of landlines, it is still used at offices, homes and stores. So, XPay.Life provides this provision for your convenience.
Therefore, do not waste your time. Make your life simpler by using this online bill payment portal to clear all your utility bill payments.
Previous Post
Next Post