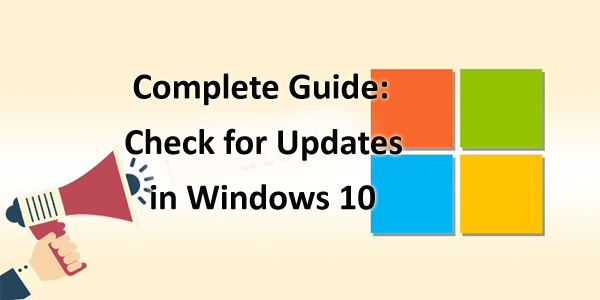 Complete Guide: How to Check for Updates in Windows 10
Looking to keep your windows up to date to the latest modifications and improvements, update your windows with built-in functionality. If you are not sure about how to check for updates or how to update your Windows 10, we will help you with that. Read through the article to know the latest developments regarding Windows 10.
Well, Windows 10 has a Setting of automatically updating the Windows to the latest version. But, it can be turned off and doesn't work well sometimes. We will help you through this post to download and install Windows 10 updates on your PC.
As we have mentioned earlier that Windows 10 is set to automatically download all the updates to your PC and make it faster and more secure. But in the Windows 10 pro version, the update can be turned off. No, need to worry about that, you can download and install the updates manually on your PC.
Here is how you can check for updates manually on your PC.
Check for Updates (Windows 10)
You have to open the settings app on your PC and then click on the Update and Security option.

After that, you have to click on the Windows Update from the left sidebar.

On the page, you have to click on the Check for Updates button.

It will check if there are any updates available from the Microsoft site and it will list the updates available to you.

Now, you have to click on the Download button to update your PC to the currently available updates.

The system will download the updates and ask your confirmation to install it on your system.
You can click on the Details link to see the nature of the updates made available to you. You can also click on the Learn More link to know more about the process of updates and why they are important to you. It will also list the updated version, you could use that to search for it on Google and get the precise details about it on the Microsoft website.
Using the Update Assistant
Microsoft team has also developed an update assistant for Windows 10. You could use that to keep your windows up to date all the time.
Basically, Microsoft Update Assistant is used to download and install feature updates on your device. Feature updates are the most important updates in the Windows cycle. The feature updates offer new functionality and update some core security features as well. Which is why most people prefer to install this type of update as soon as possible.
When you install the Windows assistant on your device, you'll get the update automatically. You can also periodically check for updates after installing the update assistant windows 10 if you don't want to wait for the update assistant. If you want to enjoy the latest stuff from Microsoft, you should be installing Windows 10 on your system. Update Assistant is one of the best utilities produced from the Microsoft team, you should definitely use it.
Once your update is windows 10 completed or you have any query related to Windows 10 update. then, you can visit the Official website from a web browser. our expert's team provides 24*7 help for any situation.
If you want more information about the updates windows 10, click on the Learn more link. Every update comes with a KB number. Here you can see complete details about update KB3103688 being offered. You could find on your favorite search engine using this KB number.
Relevant results about the update windows 10 are sure to be offered, you can visit here: https://getassist.net/purchase-install-activate-microsoft-office-365/
Previous Post
Next Post