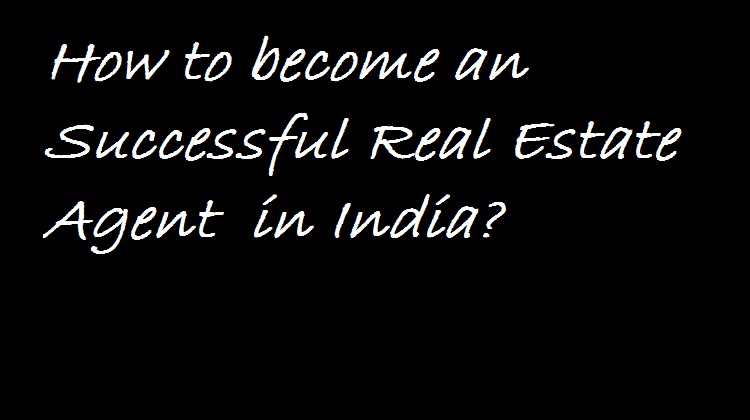 How to become a Real Estate Agent in India
How to become a Real Estate Agent in India
If you have the vision to buy a dream house or plan to sell one of your properties or if you are in the process of becoming a middleman for people who want to buy or sell a house, then feel excited to read through this amazing information that would help you to gain recognition as a better Real Estate Agent. Sounds interesting right?
With the boom in the Real Estate industry, the role of the Real Estate Agent is attaining its own heights as many real estate agents are able to set their own hours for work and they see a lot of scope for making an income. With lack of time for home buyers and sellers, these agents are on a high demand.
Becoming a successful real estate agent needs an impeccable blend of
Communication and the ability to list down facts convincingly,

Good network – to find a continuous stream of clients

Knowledge about real estate procedures – to get the license

A way with people in authority, builders and all those who matter
This guide will tell you everything you need to know about the challenges and essentials of being a real estate agent, as well as important tips to help you get off to a strong start.
Choosing the right platform :
Choose this as your career if you have the zeal of pursuing it. As buying a home is one of the major decisions in every person's life, and as agents, you play an important role in finalizing the deal. So if you're highly confident in providing the right choice, go for it!
Buying, selling or renting property is something almost every person goes through. So, every person you meet could be your potential client. Make sure you create a positive impact that people remember your name for the future. Perseverance and patience will surely pay. Get in touch with developers for whom you can act as agents. You may use the online portal as a great source to get contacts of various builders as well potential clients
To avoid and safeguard people from fraudulent dealers, having a proper Real Estate Agent license is important. While this varies from one state to other, ensure you get a proper license to gain the confidence of the other person and to earn your reputation. For this, you have to register in RERA (Real Estate Regulatory Authority) to market projects registered under RERA.
Make the Realtor/Real Estate Agent Decision
While the terms may sound similar, both these persons are middleman helping the parties to finish their deals. Although both must be licensed to sell real estate, the main difference between a real estate agent and a realtor is that the latter is a member of the National Association of REALTORS.
The product here refers to the house or the property that you deal with. Get full details of the property from the developer or the seller so that you can stay confident about the property. Learn to market the best positive facts about your deal. Online real estate websites are one of the greatest sources that will help you with this.
Get to finish off the deal that you have taken upon. Play smart by not over exaggerating on the property. Rather, bring the real picture which will actually gain the confidence of the other person. Take them for the site location which will make your work simpler. Never put them under pressure which may even lead to you losing the deal.
Most agents won't involve in registration as the core job of an agent is to connect the buyers with developers and take their cut. So plan your commission according to the work done by you. Never charge too high or too low. Price them according to the property and the current trend.
Finally, know the actual process involved as the repetition of all the above is sure to make you a successful agent. You may also start your own company or develop and market yourself to become a successful and well known Real Estate agent. Get reputation as good agent and your work is half done, publicity from the word of mouth is what is most important for people in roles life a real estate agent.
Lastly, buying a home is a big decision, and people don't want to take a risk on their choice. In short, real estate agents are the ones who are going to make the life of buyers simple and our life simpler.
Previous Post
Next Post