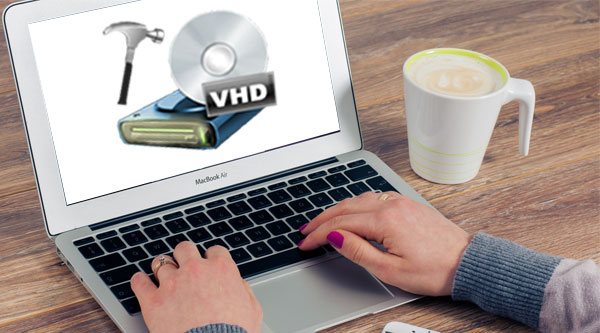 How to Recover Files From Unformatted VHD File – Know Step by Step Solution
Virtual hard drive or VHD files are very important system files, and it is used by Microsoft virtual pc. Therefore, VHD and VHDX files make it possible for multiple Operating Systems to exist on a single computer. It is the best tool for developers. They can test the same application on various Operating Systems without any issue. By using users don't need to get a second hard disk. Users don't even have to partition the existing hard disk into multiple volumes.
How to Create VHD or VHDX File
Creating a VHD and VHDX format file is easy. But before you begin, you need to specify the reason for creating one. According, you can create the VHD file with the disk management features. Here's a look at the method
Create a VHD File with Windows Disk Management feature
Simply follow these steps:
Go to the Desktop. Right hit on 'My Computer' and then hit on 'Manage'.

Hit on 'Disk Management'.

Hit on 'More Actions' on the right side of a window and then hit on 'Create VHD'.

A generate and connect Virtual Hard Disk window will open. Browse the needed location for saving the VHD file.

Define the file format and choose from 2 options – 'Dynamically Expanding' or 'Fixed Size.'

Then hit on 'OK'.
The Virtual Hard Disk will be generated accordingly.
How to Recover Files from Unformatted VHD File
VHD file is also prone to errors. There is various reason behind to make your VHD file formatted to here we will know few reasons behind VHD file data loss.
Virus Attacks.

Storage Media Failure.

Software Malfunction.

Improper System Shutdown.
For this reason, your VHD file makes it inaccessible. If you are suffering from these issues and want to recover files from unformatted VHD files then, read the below-mentioned steps that will helpful for you.
Recover Files from Unformatted VHD File by Using Professional Software
There is various data recovery software available in the market that claims 100% data recovery of deleted, corrupted, and formatted data from VHD files and VHD or VHDX related data which is no longer in the recycle bin. But there are still a few cases, where recovery becomes impossible. In these cases, you can easily use the professional SysTools VHD Recovery Software. It has the ability to recover files from the unformatted and formatted VHD files. Software is capable enough to recover data files from formatted VHD or VHDX partition.
Prominent Features and Benefits of Using This Utility
Now we will discuss the best features of this utility that makes recovery easier.
Recover Deleted, Corrupted, and Dismounted Files and Folders
This application fully focused on to recover deleted, corrupted and dismounted files and folders from VHD files. It recovers all types of data such as photos, videos, audio's, personal and professional documents, etc. This software can recover permanently deleted data by pressing shift+delete button. It supports to recover all file formats.
Recover Formatted or Unformatted Data From VHD and VHDX File
This tool is capable enough to recover data in the original structure or state. By using this utility users can recover files from the unformatted VHD files. It is easy to use technical and non-technical both users can use this utility without any hassle. It supports to recover dynamic and static VHD or VHDX of FAT (16, 32) & NTFS file systems. There is no limitation of size by using this utility.
Compatible With Windows Version
Users can install this software in any version of Windows. VHD Recovery Software supports to recover all versions of Windows such as Windows 10, 8, 7 and all below version.
Steps to Recover Files from Unformatted VHD File
Here are the few simple steps to recover files from unformatted VHD file:-
Download and install the software on your Windows machine.

Then, hit on the Open button from the tool menu bar.

Navigate to the location where users have saved their virtual hard drive (VHD or VHDX) and browse. But the virtual disk should be unmounted.

Here the tool will give you various options, choose the needed one. Permanently deleted data recovery from the virtual machines. Check Advance Radio Button and from Scan type. If entire partition deleted from the virtual disk, then check the recover deleted partition checkbox.

After completing the scan procedure the tool will give you the preview of restored items in software pane. The Deleted partition will be highlighted by red color, as you can view below.

Now hit on the Save button from the software menu bar and give the location to save restored files. And finally, go to the location and view deleted virtual hard disk files in a healthy state.
Summing Up
In this post, we have discussed how to recover files from the unformatted VHD file. This post have told you SysTools VHD Recovery software. You can try this software and recover any types of data lost from VHD or VHDX files. Now it is your turn to take decisions wisely.
Previous Post
Next Post