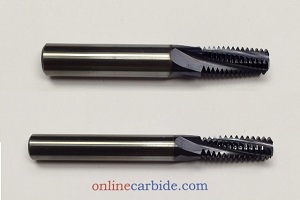 Online Carbide Tapered End Mills Cost Less
CNC machines and other machine shop equipment use Tapered End Mills to save time on their piecework. Due to the increasing complexity of mill work and the demands being placed on machine operations to create curved interior surfaces and hollowed-out spaces within the machined piece, Tapered End Mills make it possible to create these hard-to-create results.
Many CNC machine operations require a "long reach" tool which can make the desired curves and voids with greater ease, however, the longer the reach of the tool, the more deflection which can take place as the tool is being used. This is where Tapered End Mills make a big difference. Because of the design of the tool, the tapering of the steel making up the tool adds to the resistance to deflect or "bow" under pressure. That means the workpiece will have cleaner cuts, less debris accumulation on the End Mill, and the tool will last longer.
Online Carbide manufactures the finest Tapered End Mills available on the market today. The company offers the following styles and specifications in End Mills:
Standard End Mills - sizes from 1/16th inch >> 1 inch in 1/16th inch increments
2 & 4-Flute SQ
2 & 4-Flute SQ - TiAlN
2 & 4-Flute Ball
2 & 4-Flute Ball - TiAlN
2 & 4-Flute Long SQ
2 & 4-Flute Long SQ - TiAlN
2 & 4-Flute Long Ball
2 & 4-Flute Long Ball - TiAlN
TiAlN = Titanium Aluminum Nitride
Variable End Mills - sizes from 1/8th inch >> 3/4 inch in 1/16th inch increments and all have TiAlN coating.
End Mills For Aluminum - sizes from 1/8th inch >> 3/4 inch in 1/16th inch increments and all are 37° Helix with 3-Flute design and have Zirconium Nitride (ZrN) coating.
6-Flute End Mills - sizes from 1/4 inch >> 3/4 inch in 1/16th inch increments and all have Aluminum Chromium Nitride (AlCrN) coating.
The true value behind Online Carbide's Tapered End Mills is the factory direct prices customers pay. By selling factory direct, Online Carbide is able to bypass the middleman and the high markups they put on the products they handle. Sometimes that markup can be 40% to 50% more or higher. Added to the factory direct prices is the free shipping customers receive when they order $250 or more in products. In today's world, that can add up to a lot of money really fast. Low prices and free shipping definitely get people's attention, but it is also the quality of the products and the professionalism of the staff that keeps them coming back for more.
Online Carbide's customers know they can trust in the quality of the products being extremely high. Online Carbide manufactures all their machine tools with a raw steel mix that includes 10% Cobalt Micrograin. When it comes to Carbide cutting tools with the best and longest lasting edges, nothing beats Cobalt Micrograin and by adding a 10% mix of it to the steel, Online Carbide removes any doubt as to the quality of their engineering or construction of the tools they sell. When you're in the market for top-shelf Tapered End Mills, Online Carbide is the place to go.
Top quality carbide cutting tools at manufacturer direct pricing.

Buy with confidence. Made in USA using premium 10% cobalt micrograin material on our CNC grinders. Why pay more for a brand name? Our tools are as good or better at much lower prices.

Combine items to lower shipping cost. Free shipping for orders over $250.
Order Online Today

Paypal, Visa, Mastercard, American Express and Discover Accepted
onlinecarbide.com is a great site to buy your thread mill supplies shopping
Previous Post
Next Post