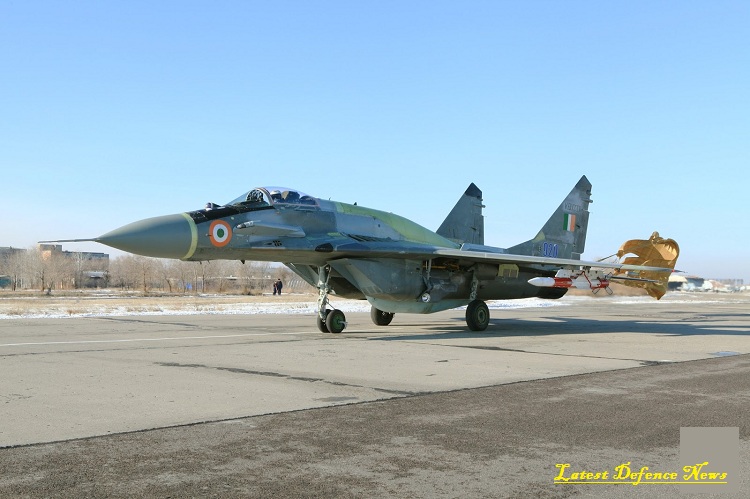 Indian Air Force Plans to procure Mig 29 Upgraded Combat Fighter Jets
Indian Air Force is Planning to Urgent Mig 29 Upgrade Combat Fighter Jets
Indian Air Force , which is facing the big shortage of Fighter combat aircrafts. After the 36 Rafale Deal completion and big issue of Rafale Deal raised by Opposition party in India , Specially by Congress Party President, Mr. Rahul Gandhi.
Still, Rafale Deal Issue is going on and has been raised by Rahul Gandhi everywhere . The Indian Air Force has talked with Russia for an emergent procurement of Upgraded Mig 29 fighter jets which can be urgently delivered with short notice.
Indian Air force asked to Russia for 21 Mig 29 Combat aircrafts. Actually, Indian Air Force wants to create one more squadron of Mig 29 fighters aircrafts. Which were purchased in 1980's. Mig 29 is the second number aircraft after Sukhoi MKI fighter aircraft at the frontline war. Indian Air Force calls it as "BAAZ". Mig 29 is very powerful aircraft of its generation. He had played a vast role in Kargil War with Mig 21 and Mig 27 at height of 15000 feet in the sky. Mig 29 had a big role in the winning of Kargil war to defeat Pakistan army at the high altitude. It proves its capability in so much High altitude critical area.
Now, Indian Air Force has asked to Russia advance and Upgraded Version of Mig 29 combat Aircrafts with Short Notice offer.
The cost of one Mig29 aircraft will be 285 crore with its weapons System , Training and other supporting equipments for new squardon. The Total Deal can be of approximately 6000 crore. Also, The Mig 29 Deal can be Govt to Govt pack deal negotiation. In Govt to Govt Deal, There is no chance of weapon dealers or arms dealers. It is Direct Govt of India to Govt of Russia.
This Mig 29 Deal Cost is very less cost in case of Rafale aircraft Deal which was near around 1600 crore.
Indian Air force will get more power with 21 Mig 29 aircrafts. Now , Indian Air Force strength attenuated with 31 squardon of aircrafts and air force has a need of 42 squardon. And Also , In next 3 -4 years , it can be decreased upto 20 squardons because of going offline of Mig 21 and Mig 27 aircrafts. At this Situation , If Indian air Force is getting 21 Mig 29 aircrafts at an urgent order, which will good for India and Indian Air Force.It will boost the power of Indian air Force in the against of its enemy area.
Mig-29 aircraft will be transformed into full-formed aircraft of "MiG-29 upgrade" standards by Russia. Right now, Indian air force had three squadrons of MiG-29 - a twin-engine single-seat air superiority fighter aircraft. Govt of India had signed a deal with Russia in 2008 of Upgradation of Mig 29 with the cost 3,842 crore Contract . Indian Air force has already upgraded half of the MiG-29 fighters.
The 21 Mig-29 aircrafts which Indian air force is planning to purchase will be upgraded with new weapons and avionics. This up gradation will upgrade to Mig-29s from an air defence fighter into a far more lethal all-weather multi-role fighter jets. With the new air-to-air refueling feature, an upgraded MiG-29 can cover more considerable distances compared to the previous legacy aircraft.
Hope, you loved this nice defense update with Indian Air Force. Please share and comment in comment box regarding your opinion for Indian Air Force.
Previous Post
Next Post