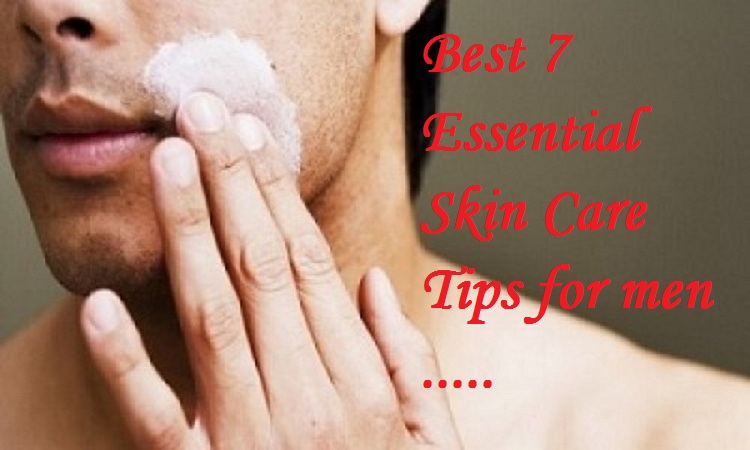 Best 7 Essential skin care tips for men
7 Essential skin care tips for men
Skin care is a vital part of all our lives and men are no exception. In fact, men need more concern for maintaining their skin. This is because of the variety of skin types men are having. It is one of the important parts of the body that is a reflection of the age and maturity. It becomes essential for men to choose suitable products according to their needs. Right from selecting a good shaving cream or razor can make a difference. Choosing skin care products and using them effectively is what men want. Here are some amazing skin care tips for men that cannot be missed.
We will discuss the simple techniques to follow while you shave and about the things you should focus to avoid excess oil or acne. Also, healthy skin is something that will make you radiant and ageless. These skin care tips will give you that perfect skin you want.
1. Create an impression
A first impression is made about you with the way you look or dress up for work. An appealing and charming impression makes a good impression. You need to give extra care for your skin to look vibrant and fresh always. It just cannot happen with one simple razor, normal bar soap or some aftershave alone. Your skin definitely needs more than that. It is the best decision to avoid the use of chemicals in the first place if your skin has a lot of pores. Also, your skin sweats a lot making it look oily. It is thick and tough too, hence exclusive men's products that are natural is essential. On the other hand, you may buy really good skin care products for you but the right usage of them is equally important. Let's find that right now.
2. Avoid shaving against your grain
This skin care tip goes unnoticed by most of the men. Shaving against the growth of the facial hair is not recommended to avoid unnecessary inflammation on your skin. The effects of shaving against the grain cause the uprooting of your facial hair follicles hence creates an inflammatory zone on your face. As your skin is generally thick, this mistake is done by most of the men. This gives a clear and complete shave look yet it isn't very good for your skin. So start shaving towards the growth of your facial hair that is along the softer side. This does give a clean shave without causing any damage to your hair follicles.
3. Go for a wet shave
A dry shave is never a good option for men as has increased chances of causing cuts or wounds. Sometimes it intensifies acne and ingrown hairs too. So that is a big no. Lather your skin with water first and then start to shave every day. Make use of quality shaving creams or gels to begin. There are several shaving creams available in the market for you. While using them, ensure to leave them on your skin for a few minutes before starting with a razor. In case you have sensitive skin it is recommended that you do your shave during a shower or immediately after that. This is because your skin is more soft and easy going after a shower. And do avoid using an aftershave lotion. Aftershaves are only for fragrance and it makes your skin softer is just a myth. Men with sensitive skin can opt for a mild moisturizer than going for aftershaves.
4. Select the ideal razor for you
Razor is the next important aspect among your shaving regimen. Choosing one which is the best suited for your skin is essential as there are various types of razors available. You can get razors with the different number of blades or can get battery powered razors too. Men with sensitive skin can always use razors that are simple and has less number of blades. Men who are prone to get acne or have ingrown hair can use razors that have two blades. They can completely avoid using battery powered razors as they cause splintered skin. If you are allergic for nickel blades, you can use titanium blades. And men worried about using razors multiple times can opt for advanced razor blades.
5. Moisturize your skin
Usage of natural oils for skin every week acts as a good moisturizer. If you have oily skin by nature, you can wash the oil after some time with a mild soap. If you feel your skin is dry, choose good moisturizer on damp skin. An oil-free and a non-comedogenic moisturizer will be ideal for men. Avoid using creams as they can block your pores. Do not apply a lot of moisturizer on your skin too. They are very suitable for winters while you can use it in minimal amounts for summer.
6. Check for products that trigger acne
Your skin tends to look oily, that's why you have more chances of getting acne. So your skin care products and shaving creams must shield the skin from acne. Skin care products that have specifications like non-comedogenic is best to protect your skin. Oil-free products are also effective but using 'non-comedogenic' shaving creams or skin products can give you great protection. Men having a moderate skin can use cleansers or face washes that are non-comedogenic.
7. Use gentle sunscreens
Another prominent skin care tip for men is sun protection. Even during winters, there is UV radiation and protecting your skin necessary. In winters you can use the sunscreen lotions that are having a moisturizing effect.
The sun rays can affect your skin while driving the car, riding a bike or just stepping out.
Select good sunscreens with at least SPF 30 or depending upon your skin type and use them on a daily basis. Also while choosing a sunscreen look for the ones that are non-comedogenic.
These methods can give you supple and vibrant skin every day. These little skin care tips can prevent your skin from getting damaged wherever you go.
Previous Post
Next Post