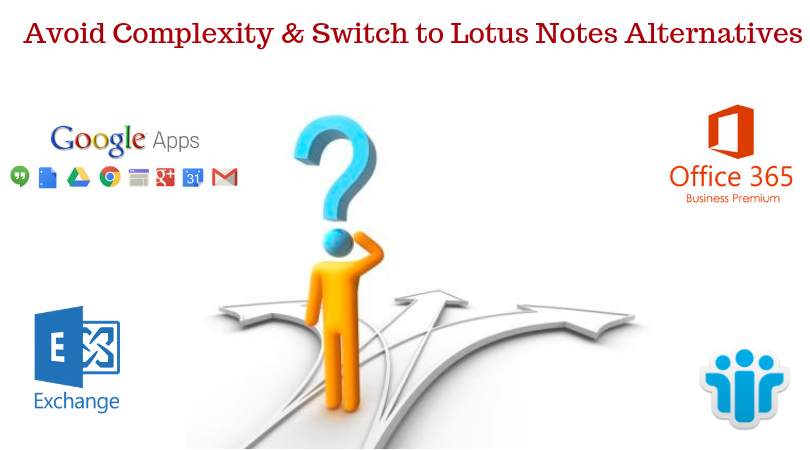 Avoid Error While Migrating From Lotus Notes to Outlook 2019, 2016 with Lotus Notes Migration Tool
Lotus Notes is one of the old email client application and provides its services to world for nearly two decades without any glitches. Lotus Notes was of the first email client which provides the functionality such as collaboration with the team, groups, web forms etc. These feature make it more robust and suitable match for large number of business range from Royal Bank Canada and port of Gabon, Africa was some of them. Later on integration with the domino server, it become more powerful. But what are main reasons due to which user looking for the solution to switch from Lotus Notes to Outlook 2016, 2013, 2010,2007 & Office 365.
End of Lotus Notes As Premium Email Application – Rise of Outlook/Office 365
There are so many reasons for the retirement of Lotus Notes as email application in large organizations. Some of them are mentioned below
Require More RAM Cycles: As the size of Lotus Notes client application is more. So it require more drive space for configuration and more cycles to perform best. Addition of such type of hardware in an organization is somewhat difficult. On the other hand application like MS Outlook with Office 365 does not require enough space and RAM for proper functioning.
Synchronisation Issue: Lotus Notes plays the role of client application while Domino act as the server in the client server architecture of Lotus Notes Domino application. Due to poor internet connection or with less bandwidth, there is sync issues arises which results in improper email communication and other services also get affected.
Designing Issues: Lotus Notes is unable to read messages composed in Hyper Text Markup Language or Cascading style sheets. Therefore, it is very difficult for managing the rich text emails format received by the users.
End User Issues: The real user or consumer unable to perform out of the box due to high complexity of the Lotus Notes. Moreover, Lotus Notes store its mailbox data into the NSF file format secured with the user.id file makes its incompatible with other applications.
These are some of the loopholes in Lotus Notes which forces user to look for alternative application such as Outlook with Office 365. As Lotus Notes creates NSF database to store mailbox which is incompatible with almost all the applications. Then How to Move from Lotus Notes to Outlook 2016, 2013, 2010, 2007 is only question hanging in the mind of Lotus Notes user. There is no need to worry as we will discuss the most desired and best rated software for the conversion of Lotus Notes to Outlook in the next section.
Lotus Notes Migration Tool to Export Emails from Lotus Notes to Outlook / Office 365
As there is manual solution available for the migration of IBM notes to MS Outlook. But the technical verification of the manual yet pending. So, the use of the manual solution is not recommended to switch from Lotus Notes to Outlook. However, user can try Lotus Notes migration tool to convert NSF archive to PST. The tool work like a stand alone application or one man army for all migration either of Lotus Notes or Domino server. Let's discuss some of the top features of the software
Perform Bulk Conversion of Lotus Notes Emails to PST
Lotus Notes Migration Tool supports the bulk conversion of Lotus Notes emails to Outlook PST. Thus with the help of software user can process multiple Notes database file at a time which ultimately results in time saving.
Offer to Save Contacts in Separate PST File
Best Lotus Notes Extractor software allows to save contacts in distinguished Outlook PST file. This simply indicate that at the end of migration process, user have two Outlook data files, one which contains data of other contacts and second one which contains only contacts.
Translate Canonical Name to SMTP Format
This is one of the main feature that software provides for the proper management of notes database. The tool automatically convert canonical names into SMTP format as per the names.nsf file.
Selectively Export Notes Database Items
Lotus Notes user has the freedom to export selective data from Lotus Notes to Outlook to minimize the data redundancy. To accomplish same, Lotus Note migration tool provides option to export data based on date. It also offers to remove duplicate contacts based 12 different attributes.
The Last Few Words
In the past, there was no other application which can compete with Lotus Notes in terms of features and other collaboration functionality. But with the passage of time, thing changes drastically with the evolution of latest technology. Now a days, there are so many application which are far better than Lotus Notes. Some of them are Office 365, Exchange Server, Google Apps, Zoho etc. In the above article we have discussed the solution to export Lotus Notes to Outlook 2016, 2013, 2010, 2007 and Office 365.
Previous Post
Next Post