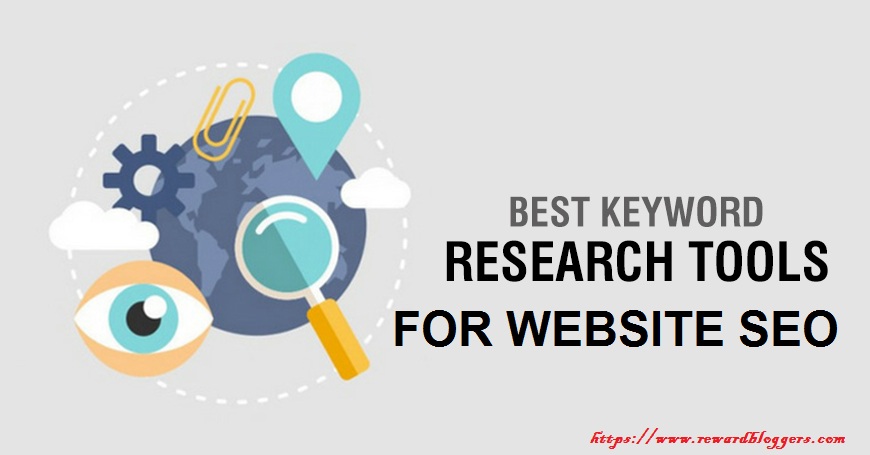 10 Best Keyword Research Tools for Seo
10 Most Prominent Keywords Research tools
Today, we will share 10 most prominent keywords research tools available online with you. We all are aware of the fact that today we are living in the era of digitalization and because of the comprehensive use of digital tools businesses are growing and they have got the gateway to international markets. And to market the products and services and to showcase their respective brand values people have started making their own websites and they are using all the digital marketing tools to promote their businesses and goods.
In terms of getting more coverage and approach to the right customer market one needs to rank high in the Google and other search engine lists. So that when someone asks for any service or product the business link should come on top. And to make it happen effectively they need to work on the use of most common yet productive keywords. Now, it takes real efforts of a person to find out appreciate keywords. And to help produce better and sensible words some of the online tools help.
10 Online Tools to Generate Keywords:-
KW Finder – KW Finder is a powerful tool for searching the right keywords for your website content. It is capable of providing large body keywords. Which helps the professional to make most of those words to rank high in the Google's list. With the help of this tool you can match the difficulty level of keyword research and positioning.
Google Trends – It is a unique tool for the better results on keywords research. You can find out the most usable words here. And not only this but you can also look for the performance behavior of a particular keyword that if, it is gaining any popularity in among readers or not and accordingly you can choose your right keywords. It is very useful to generate the keywords for YouTube account holders.
MOZ Keyword Explorer – MOZ keyword explorer is a great source of generating generous keywords for your website. It provides you list of dedicated and subject oriented keywords for use. And not only this but it also shows you a performance graph of Priority and CTR. Which is actually very useful for you to understand and have an idea that how these keywords are going to rank in the Google Search Engine.
Keyword Snatcher – Keyword snatcher is a great tool and is available for a very reasonable cost. It is a product of Mr. Jonathan Leger and is famous online because with the help of this tool one can get the extraordinary keywords from Amazon directly as it provides an open gate for this provision but google keyword collection is limited. Therefore, it is a best tool for keywords generation.
SEM Rush – It is a very different kind of Best keywords research tool. With the help of this tool you will not get the direct keywords by putting the main subjective words but to get the researched keywords you need to put the existing same nature of website's URL here and this tool will list the main keywords and it will also show all those words which are having high ranking already. Therefore, it is very useful to cross check the competitor's performance.
Soolve – It is an amazing Best keyword search tool and is very famous among professionals as with the help of this unique tool you can list the number of keywords from the various search engines like google, yahoo, you tube, amazon and bing etc. It provides a very beneficial feature to it's users that you can save all the researched and shortlisted keywords in the vault and later it can be saved in CVS format for further use.
Google Search Console– This tool is very famous among SEO professionals and they strongly recommend and use this tool. The major feature of this tool is that it provides a comprehensive report of most commonly used keywords and which having high ranking among all the search engines. Google search console is not a regular keyword research source but it has multiple uses. If you use keywords searched through this source it will help you to rank up your website in a very short span of time.
Google Keyword Planner – This tool is considered to be the best among all the other keyword research sources. The major feature of this tool is to show you the list of bidders doing high bids for which all selective keywords. And by using all this information and making the best strategy for your website can help you get your website ranking among the first pages in the google list. The interface of this tool is very user friendly and easy to use and you find the unique and significant results.
Ahrefs Keywords Explorer – This tool helps users largely to get the website ranked high on the first pages of search engines. Ahrefs keywords explorer is recently updated and now it is loaded with amazing features like it provides a detailed report of major keywords used by the different domains and how they rank in the list of google. Not only this but it also shows the direct competition among the websites on the first page for top ranking.
Jaxxy – It is among the famous tools used for keyword research. Jaxxy also shows the list of keywords used and their ranking on the search engine lists. It also provides the information that which all words are generating huge traffic for the websites. Apart from these features you can expect unique keywords to be found here to use them for your website and to help your website rank high on the first page of google and other search engines.
All the above mentioned 10 most prominent keywords research tools are famous and unique in their own respect. And by using these tools to find the appropriate keywords for your website can help you to get your website ranking among the first top links. Therefore, these tools are highly recommended to find the productive keywords. And even you can get the detailed report of the performance of the specifically researched words and even you can judge which all keywords are generating great traffic for the existing websites and you can make plans for your website accordingly.
Previous Post
Next Post