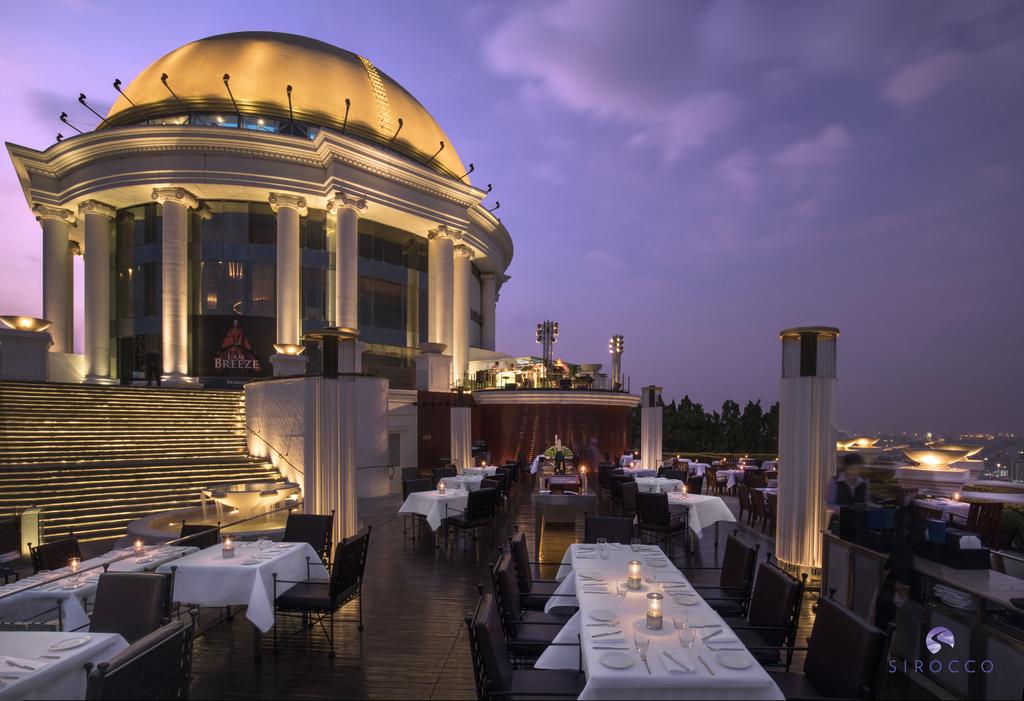 The 10 Best Resorts in Bangkok
Visiting Bangkok, Then You Should Know The Top 10 Resorts Of The City
Bangkok, the capital city of Thailand is inherited with more than eight millions of people, and you can easily encounter with many local and favorite attractions. Bangkok is one of the wealthiest city in the world with high development and is concentrated with many things to do and to explore.
If you are planning to visit Bangkok for your holiday trip with your family and friends than staying is not a big deal to hold with, as the city is encircled with many categorized hotels, motels, resorts, and lounges, etc. In this specific article, I will be guiding you to explore about the Top 10 Resorts Of Bangkok.
Best 10 Resorts Of The Bangkok To Stay In:
1. Lebua at State Tower:
Whenever you are looking for best and luxuries resort to stay in Bangkok, Lebua Resort is the leading one delegated with world class suites and rooms. Even many resort rooms are also featured with kitchenette and private open balconies which gives a beautiful view of the city.
The roof is all inherited with bars, and beautiful dining open areas serve guest with mouth water multi-cuisines and many types of beverages as well. The Lebua hotel and resort in Bangkok is also known for its professional services and offerings with pleasing spaces, and conference rooms.
Amenities:
Apart from comfortable rooms and suites, the resort is also spacious with private lounges with all advanced featured facilities to stay cozy and comfortable.

Excellent feasting places, cafes, bars and restaurants in Lebua premises are somehow also acclaimed with delicious cuisines and scrumptious beverages.

Because of its world-class facilities, Lebua is awarded and listed with honors as The Best International Hotels for Business Travel' in the Reader's Choice Awards, 2017: Tripadvisor - Certificate of Excellence 2017, Seven Star Global Luxury Award 2014 – The Signum Virtutis (The Seal of Excellence) in 2014 and many more.
Other Facilities:
The resort is featured with swimming pool, business center, fitness center, spa and more.
2. Shangri La Hotel:
If you want to stay in five star and world-class service resort in Bangkok, then Shangri La Hotel is the lively destination for you to stay in. It is all based on the banks of the Chao Phraya River. The resort is all featured with comfortable and elegant decor rooms and suites with a count of 802. The blend of classic decor, and modern comforts, Shangri La Hotel, is an urban yet traditional place to escape to stay in.
Amenities:
The resort is all uniquely designed to provide classic royalty to its customers with advanced luxuries in rooms and suites, ensuring the maximum of relaxing and rejuvenate. The available rooms and suites are categorized into deluxe, deluxe river view, deluxe balcony, deluxe premier, premier suite, executive suite, executive river view suite, specialty suite, presidential suite, etc.

The resort is also composed of fine dining places, bars, and lounges with multi cuisines and beverages. Horizontal cruise, Next2 Cafe, Salathip, Shang Palace, Chocolate Boutique, Volti Restaurant, and bar are some dining areas in Shangri La Hotel.

The Lobby Longue, River Side Longue and the Long Bar some exclusive bar areas where you can enjoy the finest beverages.

The most prior amenity is that the resort is just 40 minutes away from Suvarnabhumi Airport by a connected expressway.
Other Facilities:
The resort is inherited with outdoor swimming pools, business and meeting centers, clinic, conference halls, spa center, beauty care center, non-smoking rooms, huge parking, helipad, safe deposit box, and unique facilities for physically challenged customers.
3. The St. Regis Bangkok:
If you want to experience the magnificent beauty, decor and luxuries services than the St. Regis Resort is one of the ideal places to stay and enjoy your holiday. The hotel/resort is all encircled with cozy rooms and suites with breezing indoor and outdoor environment as well.
At the St. Regis Bangkok you can entertain and enjoy with your family and friends with world-class room services, and fine dining and other amenities. The best part of this significant resort in Bangkok is that it is just 35 minutes far from Suvarnabhumi International Airport.
Amenities:
The St. Regis Bangkok is featured with 288 visitor or guest rooms including 51 suites heritage with a comfortable environment, extravagant decorations, and other refined modern luxuries.

The resort offers 24 hours room dining services and other fine dining separate areas in resort premises as Viu (Multi cuisine restaurant), Jojo (Italian Delicacy dining place), The St.Regis Bar, Decanter Longue, The Longe, Pool Bar, Zuma and more.
Other Facilities:
The resort is also crafted with Spa and Fitness Center, Recreational Areas, Business Centers and Meeting Halls, Conference and Wedding Halls, Swimming Pools, Golf Course, and disabled facilities as well.
4. Hansar Hotels And Resorts:
The hotel is all entitled with 5-star luxuries and comforts. The place is exceptionally an urban staying place with exclusive services to enjoy the vacation. Staying here is nothing less than a moment of joy and happiness, ensuring customers with modern amenities and cultural crafting as well.
The warm, cozy and comfortable environment with friendly staff services make travelers feel like home. Hansar Hotels and Resorts is basically a chain of hotels and also in Bangkok. The resort and hotel are heritage with rooms, suites and private lounges as well with exclusive urban decor and comforts.
Amenities:
The available rooms and suites for staying are however are divided as the luxury, luxury with the view, urban, edge, vertigo, and loft respectively.

Rooms with separate living areas, height partitions and more are some more unique world-class comforting features of Hansar Hotels and Resorts.

In fact, the resort also provides excellent tariff plans and discounts throughout the year related to rooms, dining and luxsa spa offers.
Other Facilities:
Among comfortable living and beautiful dining locations at Hansar Hotels and Resorts, Elefin, Rouge Bar, Arizuki Restaurant, Pool and Fitness Center, Luxsa Spa and Beauty Center, Limousine Service are some extraordinary amenities.

The resort also composed of meeting and event venue halls such as Sky Terrace Floor, Hansar, Papleon, Suksan, Pirom, and Prempree respectively.
5. Renaissance Hotel:
Renaissance Hotels And Resorts in Bangkok is branding place to stay in excellent 5-star facilities to enjoy, relax and entertain. Guest here can enjoy 24-hour room services, delicious food and beverages, sports activities and more.
The place is also enclave with large galleries, the royal offering of comfort and many urban edge features that keeps travelers happy, healthy and relaxed. The corporative staff members with 24/7 services are keen and dedicated to serving with best gestures and amenities.
Amenities:
Renaissance Hotel and Resort building are all designed with 333 rooms and suites offering classic and royal comforts with luxurious services 24/7. All suites and rooms are inherited with advanced equipment and technology.

Among general facilities such as nonsmoking rooms, fireplace, disabled facilities, ATM cash machines, corporative and multilingual staff members, marriage suite, secured environment parking and more.

The resort is also featured with multi-cuisine fine dining restaurants, cafe and bars to enjoy, eat and entertain. In-room service with meals is also added comfort to travelers. The snack bar is poolside, buffet system, packed lunches facility is something new here.
Other Facilities:
Comfortable and cozy life at Renaissance Hotel and Resort is all crafted with great recreational and entertaining activities such as casino, indoor/outdoor swimming pool, jacuzzi, massage, library, tennis court, etc.

Even spa, beauty parlor, massage facility, and fitness and wellness center are some add on amenities to add sporty mood.
6. Siam Kempinski Resort:
This is actually a star class hotel offering a comfortable environment unlike a resort in the heart of the city. Siam Kempinski Hotel cum resort is an ideal destination to stay for both business and vacation plans to explore and recreate the soul.
Amenities:
The resort is crafted with 401 lavish and luxurious rooms and suites, categorized as a superior king room, cabana room, Executive twin bedroom, executive king, etc.

Rooms are all featured with general to outstanding amenities, ensuring customers comfort as prior.

Suites are labeled as the penthouse, royal suite, family suite, executive suite, garden suite and more, with all lavish decor and comforts.

Apart from comforts and cozy atmosphere, the resort is inherited with beautiful dining areas, spacious restaurants and bars offering multi-cuisines and smashing beverages.

To enjoy good meals and breezing drinks, visit Brasserie Europa, Sra Bua by Kin Kin, Niche, Hanuman Bar, Rotunda, Culinary Highlights, Signature Dish.
Other Facilities:
At Siam Kempinski Hotel and Resort is fledged with world class amenities to serve travelers with reliable and quality services with add on facilities of swimming pool, business center, meeting and wedding halls, fitness center, spa and beauty corner, etc. with great offers and tariff plans.