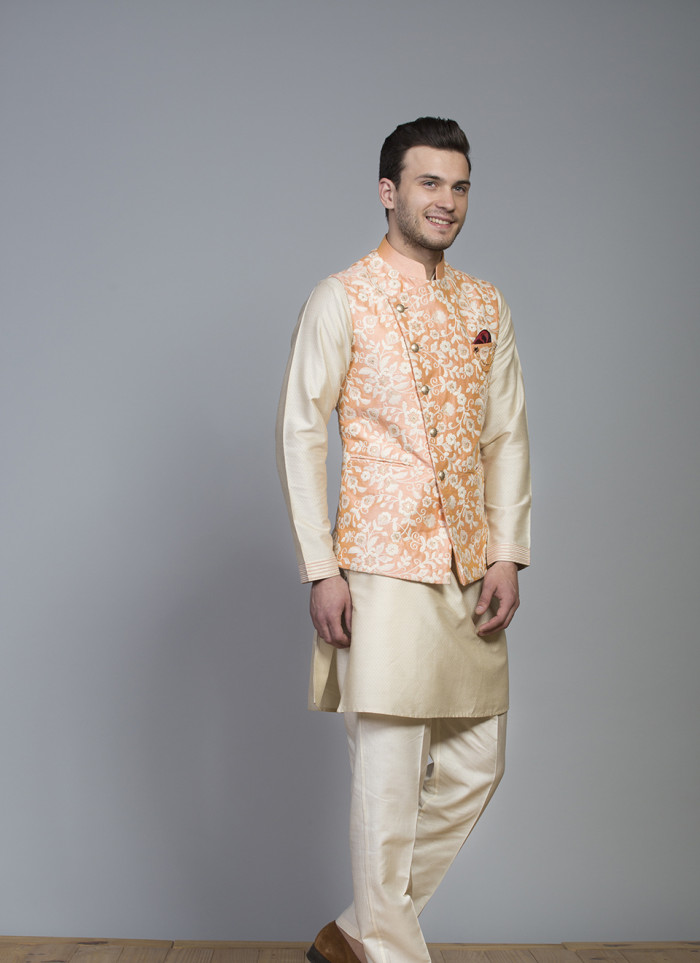 Styling Kurtas in different ways
When it's about Ethnic Indian outfits for men, the most popular is Kurta-Paijama. It's one of the most comfortable outfits. It's a style that never gets old. A common stereotype is that men don't have much dressing and styling options over women. In fact, it is one of the reasons that men tend to ignore paying special attention to their outfits. The truth is that men too have numerous options. Even a simple Kurta-Paijama offers a variety of dressing styles. As time has advanced, the simple Kurta Paijamas have turned into different stylish forms. Investing some time and experimenting your Kurta with different bottom wears, fabrics, colours and embroideries can make you look all handsome and stand out from the rest.
Thus, in this blog, we will tell you how a Kurta can be coupled with different elements. How you can look different by styling your Kurta in different ways.
1. Kurta with Churidar
If you are the person who wishes to retain a classy look along with something different other than a simple Kurta Paijama, then a Churidar Paijama is the best option for you. A churidar Paijama enhances the over-all looks of your Kurta. Compared to other Paijamas, it is tight in its fitting and comes in different fabrics like cotton, silk, brocade silk, and georgette.
2. Embroidered Kurta with Churidar Paijama
Looking for something more? Try Churidar Paijama with an embroidered dark gold colour Kurta. It's an outfit that will give you a complete premium look. Such an outfit is appropriate for the royal wedding and functions. What differentiates it from the rest is its quality to retain the classy look along with a royal look.
3. Kurta with Dhoti
If you are someone who is willing to get completely immersed in the ethnic look, a Kurta with Dhoti is the best option for you. Apart from the simple white or cream, Dhotis are available in different vibrant colours and tones. A Dhoti's colour should be selected keeping in mind the overall design and colour of the Kurta.
4. Kurta with Jodhpuri Pant
When it's about getting a royal appearance. When it's about going to regal parties and weddings, nothing can compete Kurta with a Jodhpuri Pant. This outfit is also known as the price attire and is mostly preferred by young men. It can be coupled with different types of coats and jackets in combination with the kurta and the pant. Some kurtas are such finely crafted and embroidered that they further enhance your looks.
5. Black Kurta with white Paijama
If your style is black and expensive it's certainly a black kurta and a white paijama. The black colour signifies strength, authority and elegance. Along with white, it creates a fierce dominating aura. At the same time, it's a combination that can never go wrong and can be worn on any occasion.
6. All White Kurta and Paijama
All white is another unique outfit idea that never fails to surprise others. A white churidar paijama or a pathani paijama with the traditional Indian white embroidered kurta is suitable for any occasion. What sets it apart from the rest is its simplicity. As it is said that simplicity is the ultimate form of sophistication. Thus, for those who wish to keep it simple, all white kurta Paijama is the best option for them.
7. Kurta with pant
You might be the one who does not wish to keep it completely traditional, rather wish to have an indo-western fusion. Thus, a kurta with pant is the best option for you. They are among the latest fashions in the market in the indo-western outfits and can be worn on any occasion. While going for the colour combinations, it is recommended to select a dark colour for the Kurta and Light colour for the pant.
Previous Post
Next Post