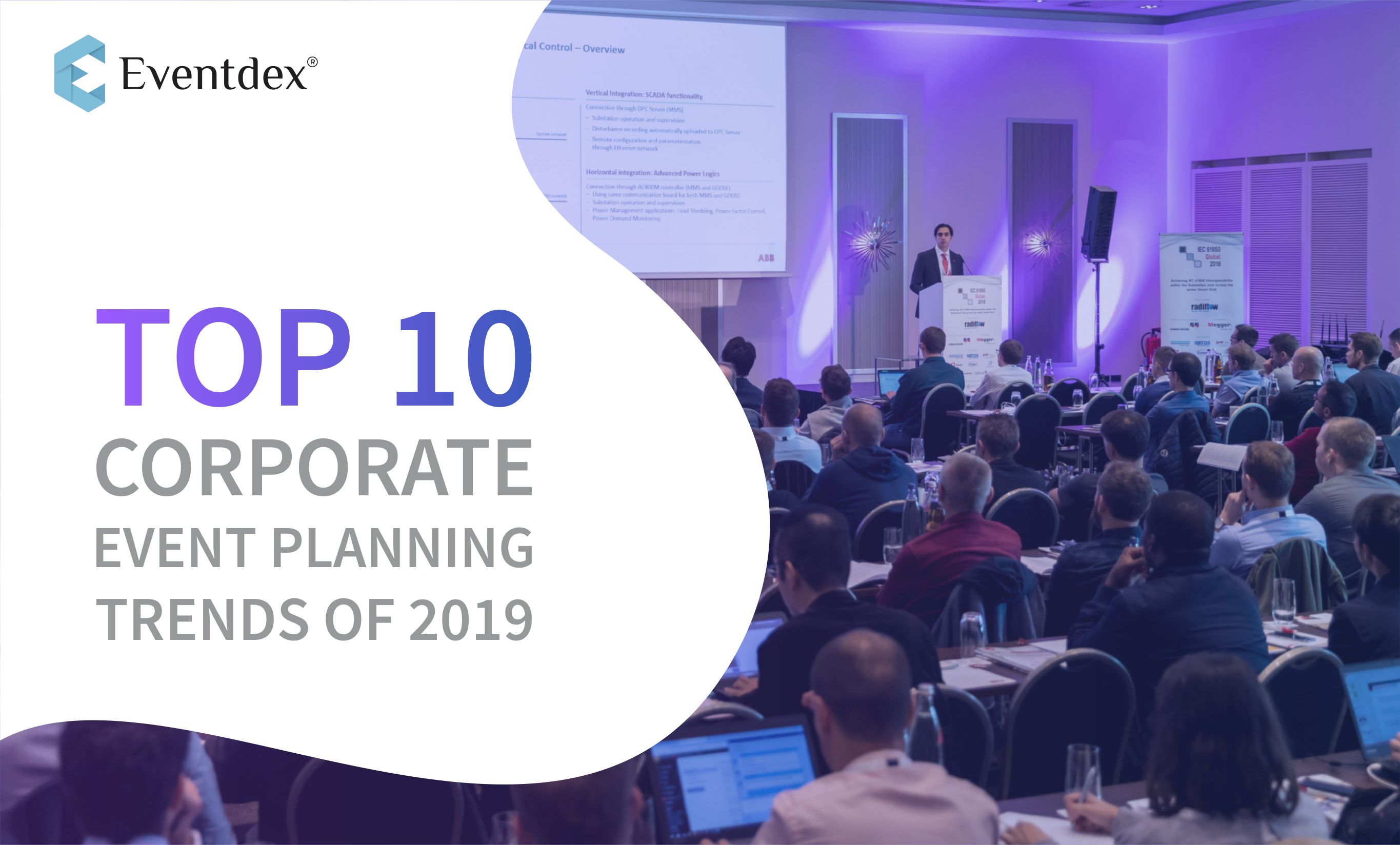 Top 10 Corporate Event Planning Trends of 2019
The meetings and events industry has been rapidly evolving in the last few years. Some of the trends that seemed relevant up until last year might have become redundant or upgraded into something brand new. To help event planners catch up with the rapid pace of change, we have listed the top 10 corporate event planning trends of 2019.
While some of the trends remain evergreen, others have evolved into something extraordinary. For instance, the use of event management software is a trend which is here to stay. On the contrary, the use of mobile apps will evolve into a much more robust solution that will transform the way we think of attendee experience. Other technologies such as augment and virtual reality are on the horizon and expected to make a mark with early adopters using it at their corporate events. Keeping these points in mind, let us look at the top 10 corporate event planning trends of 2019.
Trend 1: Smarter, unconventional venues
If you think sustainable venues are the trend of 2019, you are so in for a surprise. Green venues and events are so 2016! There is a lot more than event planners are doing for creating awe-inspiring events. Unconventional venues with an unexpected twist are the thing of 2019. Creative event planners are booking venues like salt cathedrals, museums and even metro stations to surprise the attendees and sponsors. An important point to remember is to make the venue navigation easy for the participants whether it is through proper signage or mobile apps.
Trend 2: Secure events
In 2019, security will be one of the top priority for event planners. Security nowadays is more than tightening regulations around data and individual privacy. Event security will be well planned and thought off this year, especially with the increase in terrorism around the world. While you make security a priority, just try not to make it very obvious. You don't want to scare your participants or make them think of any impending threats. A good way to camouflage security is by allowing guards to dress up like guests and station them at all the key areas of the venue. You can also communicate the safety risks before the event starts for attendees to come well prepared.
Trend 3: Local flavors
Exotic is a thing of the past. The new accessory at events will be local flavors of the place where your event is happening. Organic, farm produce and seasonal food are set to replace sushi and Buddha bowls in 2019.
Trend 4: Facial recognition
Facial recognition is likely to be the game-changer in the events industry. It is a trending technology that attracts attendees and enhances attendees' check-in experiences. Barcode scanning and confirmation emails are sun setting, as the facial recognition dawns upon the events industry. Facial recognition will also enhance security at events and avoid impersonation of people. This technology works like a breeze, and with a smile checks people in!
Trend 5: Attract sponsors with augmented reality
Teleport your audience into a different realm while physically being at your event with augmented reality. One of the most sought after technologies, augment reality is soon turning into a reality for event planners. Argument reality is an eye catcher and will attract attendees, which in return will encourage sponsors to invest in your events. Augmented reality will also provide opportunities to sponsors to be found by the attendees in a far more interesting way!
Trend 6: Increasing mobile app adoption
Mobile event apps have revolutionized attendee engagement at events. In 2019, they will continue to play a pivotal role in planning, engaging, and calculating the ROI of the event with integrations. With that, event marketers will also invest in Mar-tech to have a 360-degree view of their events. Research shows that Chief Marketing Officers intend to earmark up to 26% of their marketing budgets for marketing tech stack. These technologies will create an ecosystem that will help businesses plan and coordinate events as well as collect data that can give key insights into event participants' behavior, performance, and interactions.
Trend 7: Measuring event data
Picking from our last point, data will be critical to the success of any event in 2019. With companies investing in integrated marketing technologies, data will be collected at every step of event planning and execution. With tools to measure data, event planners will be able to enhance attendee experience while boosting event ROI. They will get key information into their participants' interest and pitch related services/products for effective follow-ups.
Trend 8: Personalized experience
The importance of personalization has not gone unnoticed by event planners around the world. Personalized experiences, be it at events or through digital communication, has become a key element of all marketing activities. Whether it is personalized recommendations, emails, website experience, or at your events, people love to feel special and welcomed. Smart event apps provide a great way to create unique and tailored experiences by customizing event schedules, agenda, content, etc. It empowers participants to cut out parts of events that interest them and satisfy their needs.
Trend 9: Chat bots and AI
With digital disruption affecting every industry, people are slowly leveraging technologies such as artificial intelligence and machine learning. The rising use of chat bots on the website is nothing new these days. But what you can expect from the events industry is the use of chat bots on the event floor. These bots are likely to run the show by helping attendees with their questions and providing them with relevant information. The best way to use bots at events is by giving them a character that is attuned to your brand's values and culture. Such smart chat bot will have an identifiable personality, act as an extension of your team, and make your job a lot less stressful.
Trend 10: Upgrading stage design
Not a lot of people talk about it, but stage design is set to change in 2019. With modern 3D projection and innovative ways of using lighting, stage design will be in the spotlight this year. These modern ways will blend with the old design staples to create something out of the box. Look out for more clear-cut themes that will influence stage designs and appeal to everyone on the floor.
Previous Post
Next Post