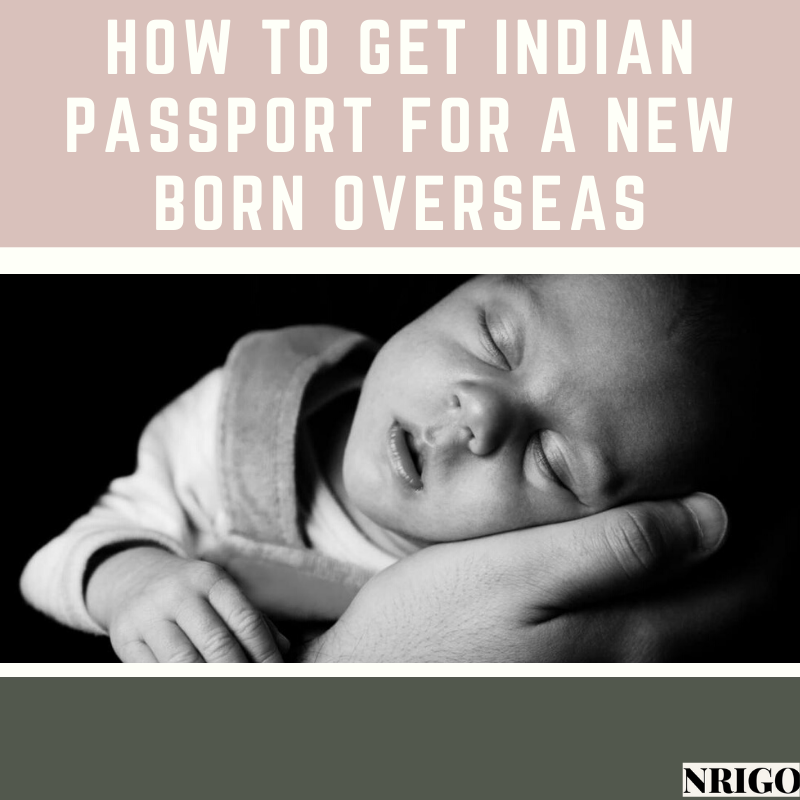 How to get Indian Passport for a new born overseas
Many people think that getting a passport for new born in a foreign country is quite tricky, but it is seamless indeed. In this article, we have enlisted a few nations where Indian expats can get passports for their newborn of Indian origin. Let's take a look.
• Singapore
o Applying for a passport of your newborn is quite easy and a streamlined process indeed. That said ensure that you have already thought about a name for your new born as you will need to fill that in the Birth Certificate which later will be needed for the application.
• Is your newborn eligible?
o As long as both the parents of the newborn sport Indian passports, you're good to avail an Indian passport.
• Things necessary for availing a passport.
o One colored passport-sized photo of your child.
o A filled-out application form with the thumb impression in the designated areas.
Typically, the overall process takes about 10-12 days. But then the entire process takes place offline, and there are a couple of centers such as VFS (Singapore) on either Anson Road or on Rangoon Road, or BLS International Services Singapore on Serangoon Road where you will have to submit the above-given documents. But do ensure that you check the online portal of these enters as each one has a different collection timing.
Dubai
In Dubai, things are a bit different. For newborns, there is a strict regime followed, and obeyed. Such that within one year of delivery, parents have to apply for an Indian passport for the newborns (If the parents hold an Indian passport). Thus, they have to fill in the EAP-I form to request an Indian passport along with the following documents.
Photocopy of the childbirth certificate with English translation. (attested by the ministries of health and foreign affairs).
Four recent passport-sized photographs of the child wearing a black dress against a white background.
Photocopy and original passports of both parents.
Once all the documents are arranged, either one of the parents must and should carry the baby to the BLS Visa center of which there are several across Dubai. But do keep in mind, there are hefty fines imposed after a year of delivery if the parents fail to register for a passport for their newborn. Any negligence could lead to consequences. The below listed are the rates that are charged at BLS for a newborn Indian passport.
For registration of birth – 95 rupees
Passport fees – 171 rupees
For Tatkal – 741 rupees
BLS Service Charge – 9 rupees.
ICWF Charge – 8 rupees
To know more detail you can visit How to get Indian Passport for a new born overseas on NRIGO.
NRIGO is an online information portal providing basic and important information to the Indians outside India or anyone who has some doubts regarding any procedures, documentation, investment, travel, shopping, etc in India.
We at NRIGO, try our best to make things simple. All the articles which are posted are written in very simple english for everyone to understand. The articles related to any topic are verified before publishing to avoid any kind of confusion. In order to make things more convenient, links, contact numbers and addresses are also given of the mentioned organisation or person so that you don't have to go through the hassle of finding the contacts.
Some of our commonly read articles on our site are - Importing Car to India, How To Rent A Car In India, How To Apply For OCI Card,Getting Indian Passport for a NewBorn, Indian Websites Which Ship International, Top 7 Wedding Planners In India, Top 8 International Schools In India and many more.
One can find a variety of topics related to India at NRIGO. Our Team tries to deliver its 100% in providing all the information about a topic and in addition to it in our comment box anyone can write down his doubts or questions which we assure to clarify in minimal time with maximum and relevant information.
We try to cover almost every aspect or doubt which we feel an outsider can have regarding certain things in India. However, we really appreciate any kind of suggestions or feedbacks from our users so that we can help them in a better way.
Enjoy reading our rb_blog and keep yourself updated regarding various topics in India.
Previous Post
Next Post