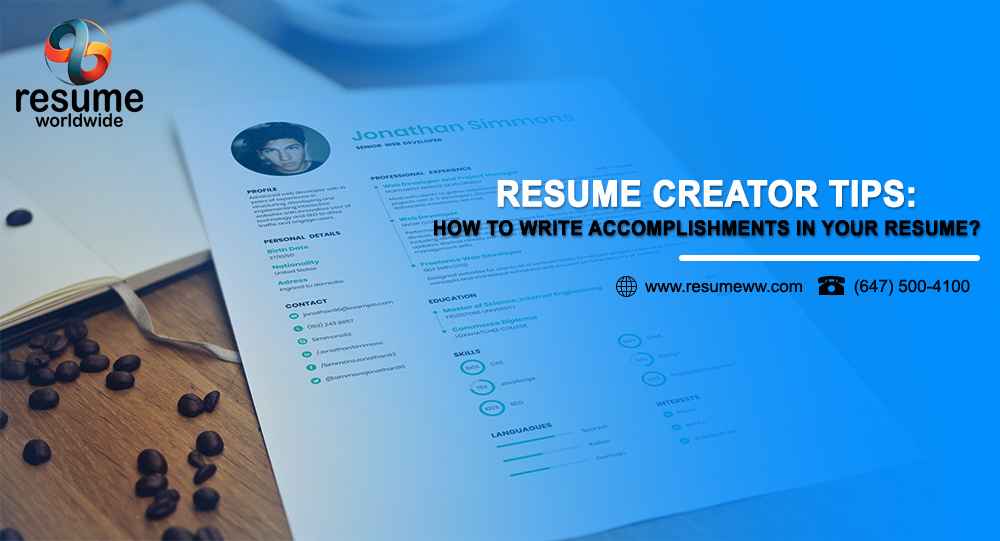 Resume Creator tips: How to write accomplishments in your resume?
Your resume should go beyond duties, and these resume creator tips and strategies will help you determine that accomplishments are what that set you apart from the rest.
Describing your accomplishments in your resume is the key to providing potential employers with tangible examples of how you can impact the organization. You are so focused on performing responsibilities in your job that your accomplishments are often hard to keep track of – or you might not be fully aware of how your work has impacted the company's growth. This makes writing about them in your resume – a daunting task. So how do you craft a resume that is more centered on accomplishments? How do you write a resume that sets you apart from the rest? Below mentioned are some tips to help you.
Understand the difference
"Managed customer billing system" is an example of a task you performed at a job duty, whereas, the accomplishment is the impact it had. For instance, whilst writing your job responsibilities, mentioning that you, for example, "boosted the sales by 13%" is an accomplishment.
Compile job duties and accomplishments
Once you have determined your job duties and accomplishments, you can start drafting a list of those, which are most relevant to the applied job prospect. You need to tailor them in accordance with the applied job in your resume, as it helps showcase you as a good candidate for the job. Where employers only spend a few seconds reviewing resumes, a resume maker can make yours stand out!
Here are a few questions you need to ask yourself, before making the list –
How did you save the company's time or money?

How did you improve processes that weren't working? What impact did it have?

What did you do to help clients and customers?

Did you ever go the extra mile for a specific client or project?

Were you recognized for a certain project? Did you ever win an award for it?

In what ways did you stand out from the rest – in your past organizations?

What kind of problems did you tackle in your previous jobs? What solution or impact did it have?

Were there times when you exceeded sales quota or goals?

What would your boss or co-worker say if asked about what makes you great at work?
Quantify them in your resume
Adding numbers and statistics to your accomplishments in your resume will strengthen them. You need not quantify each of your accomplishments. For instance, instead of stating that you "Boosted the sales for a project," you can say that you "Boosted the sales by 13% for a project". This portrays a better picture of your skills, experience, and accomplishments.
Need resume help?
Having trouble crafting accomplishments in your resume? Writing a resume is indeed a daunting task – if you are not someone who does this daily. This is where Professional Resume Services come in hand. These professional writers and consultants know what the best way to include accomplishments in your resume is.
Since your resume is more of a marketing document and less of a career summary, a professional can help you market your strengths and accomplishments in a way that will appeal best to the employer. Also, these experts can draft a resume that gets past the Application Tracking System (ATS).
You might have excellent accomplishments and work experience – and are the best in the field – but without knowing the right format to include them in your resume – your job-search will lead to dead ends. When looking for a job, your accomplishments play a crucial role. If you're not an expert, it is advisable to work under the guidance of an expert.
Previous Post
Next Post