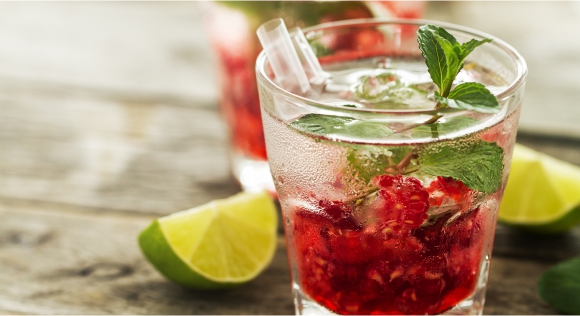 Amazing Health Benefits of The Delicious Thandai Syrup
Temperatures are as high as 40-degree Celsius and people are already feeling deprived of the essential nutrients in their body. Summer is a difficult time for most of us and during this time it is hard for us to coup up with the heat and the unimaginable weather conditions. Tough times do not last long but why should we wait for it to pass when we can really enjoy these tough times... sound insane? Well, let us check out how can you really enjoy this season.
The sun is up and we sneak inside our homes or offices in order to avoid heat strokes, energy drain out and dehydration. Yes, this is the usual story of every person but our refreshments help us to regain that energy while hydrating it. Refreshments can be of any type, a fruit-based refreshment or milk based or even aerated drinks. One should know what he or she is consuming in order to get a feel of refreshment because there are high chances that you can make the wrong choices. So in order to avoid consuming unhealthy drinks let's check out some better healthy options for refreshments.
Thandai and Sharbat are two natural options that can really boost up your energy levels while giving you necessary nutrients. A nutritional start our list is through Badam thandai which is enriched with Badam and vitamin E while giving the goodness of other dry fruits. These drinks are Indian born and are super nutritious helping us satisfying our energy and nutritional requirements.
There are Thandai options that have kesar in it which is very efficient in eliminating cancer and skin diseases while boosting the memory and helping to develop body positively. Brahmi badam is another type of drink which is cool and refreshing. it also helps in building immunity.
Next healthy option is sharbat, there is a various option available for sharbat which is natural as well as a healthy drink. There are various flavours made by natural fruits like lemon, strawberry, masala, pineapple, mango and many more are available in the market. One can easily buy these options from their nearest market. In India, Sharbats are considered as the drink of celebrations. These are pure drinks and that is why these drinks are significant to every celebration and every festival.
The goodness of dry fruits, rare spices and flavoursome taste, that of kesar or badam makes this drink delicious and healthy same time. Dry fruits like pistachios, badam, Kaju, walnuts etc are the source of essential vitamins and nutrients which helps to balance the level which usually drains out in this hot summer season. And kesar has special benefits which can really add up to the list of benefits of having thandai in this summer. Kesar helps protect cancer, increase vitality and also helps in induced hair growth in alopecia. Thandai drink has so many benefits of kesar while it is clear that it's a natural drink and a healthy drink, it is not an ordinary drink. One infamous thandai is Kesharia Thandai Dry Fruit Syrup. People sometimes refer to the thandai drink as god's drink because of its benefits.
There are many options of Sharbats available:
Juicy Rose Syrup, Khus Syrup, Litchi Fruit Squash, Orange Fruit Syrup, Pineapple Fruit Syrup, Mango Panna Fruit Syrup, Lemon Fruit Squash, Brahmi Badam Dry Fruit Syrup, Jeera Syrup, Ripe Mango Fruit Syrup, Masala Shikanji Syrup, and Strawberry Fruit Syrup.
These sharbats are healthy, providing nutrition, taste and health to the consumer. It is a drink which one can have during noon or evening to energize the body and it also refreshes and rejuvenates the body.
A healthy way is the right way to live life and let us not get carried away with the tasty but unhealthy drinks available in the market. Let us choose a healthy and nutritious way to refreshment through thandai and sharbat.
Previous Post
Next Post