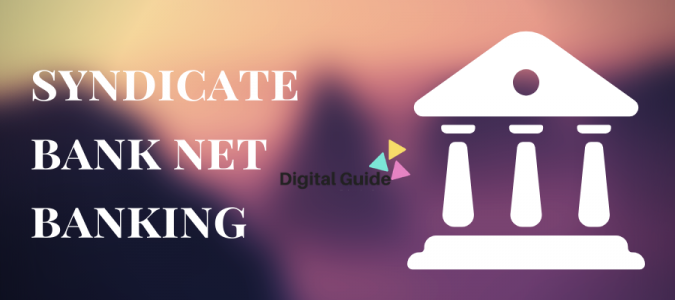 How to do Syndicate Bank Netbanking
In this post, we will talk about how to do Syndicate Bank Netbanking. If you are the customer of Syndicate Band and want to know that what are the ways for Syndicate net banking.
Syndicate bank is the most popular bank in India. This bank provides internet banking for its customers, by which you can do your banking online. You do not need to visit the Syndicate Branch; only you have to visit the official site and follow these guidelines, which are discussed in this post.
How to do Syndicate Bank Net banking?
Follow the steps and do syndicate net banking First of all, you have to register for Syndicate bank online banking.
Here are the steps:
Visit the official site of syndicate bank netbanking
Press 'New User? Register Here' link
A new window will open with terms and conditions. Read conditions carefully and click on the 'I Agree' button.
For login, enter your account number and Email ID.
Then press, Validate button. After your validation, click on the Next button.
On the next page, fill all the information one by one.
Click Generate Login and transaction password option
In the next, select SMS based OTP option for the verification method.
Now you get a temporary password in your registered Email id for syndicate bank net banking login.
Now copy your password and past it for syndicate bank netbanking login.
After this, to change the password, accept all the terms and conditions.
To change your password, enter the old password and enter your new password twice.
Next, If you want, you can pick any nickname for your account and press the Next button.
Last but not least, log in to your account with username and password, which you set in step 12.
Now your Syndicate internet banking registration is done.
If you are the customer of Syndicate Bank and want to know how to block syndicate bank atm card. So in this article, we discuss Syndicate Bank customer care number to prevent ATM card, Syndicate Bank Card Replacement, and many more.
If your ATM card lost or stolen, then you immediately block your card by the following methods given in this article.
You can block your Syndicate Bank ATM card in many ways, one of them is given below:
Block ATM Card by Customer Care Number
To block the ATM card, you need to call 1800-208-3333 or 1800-3011-3333 from your register mobile number. These numbers are toll-free numbers and available 24/7.
You can also call 09483522433; this number is chargeable.
And, before calling customer care, put ready ATM card numbers and other customer details.
Block Lost Syndicate Bank Credit Card
For Hotlisting of Lost Syndicate Bank Credit Card, call 1800225092 or 022-40426003 from your register mobile number, to block the credit card.
When you talk to customer care, you can also request a new ATM/Debit or Credit card.
How to Block Syndicate Bank Cheque
To block your Syndicate Bank Cheque send an SMS to 9210332255
Format: SCHS E.g., SCHS 123455 252625
To the enquiring, the status of a cheque issued send
Format: SCHQ E.g., SCHQ 123455 252625
Syndicate Bank Details
If you have any quire related internet banking, you can visit the official site
Customer care Number
1800 3011 3333
1800 208 3333
080-22260281 (call charges apply)
Email ID: Syndcare@syndicatebank.co.in
Credit Card Customer Care Number
1800-225-092 (Toll-free for BSNL and MTNL landlines)
022-40426003
080-22073800
Debit Card Customer Care Number
1800-208-3333(Toll-Free)
1800-3011-3333(Toll-Free)
080-22073900(debit card is not working)
080-22073835(debit card issues addressed)
Credit Card Email ID:cardcentre@syndicatebank.co.in
Debit Card Email ID: dcc@syndicatebank.co.in
Syndicate Bank Net Banking/ Mobile Banking/ UPI Customer Care Number
If you are facing any issue Syndicate Bank net banking, mobile banking or UPI service Call
1800 3011 3333, 1800 208 3333
These all numbers are available 24/7 for its customers.
Previous Post
Next Post