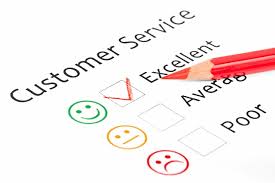 Don't Let Customer Ignorance Breed Complacency, Improve Your Customer Service ASAP
Ignorance of customers has been and still is one of the biggest reasons behind the success of many companies. But, with the evolution of IT and accessibility to information online, the level of ignorance is going down and going down fast. Customers now know what the wholesale price is, the profits you are making; and also what is on offer by your competitors not only in the region but globally as well. This new-found information is wiping out ignorance faster than you can anticipate. And, this receding lack of ignorance amongst customers is the biggest reason why you need to pull up your socks and start improving your customer service.
Why Prioritize Customer Service Improvement?
Although it has become essential to improve both product and customer service at the same time, the need to enhance customer service is more urgent. As it is your first and most frequent point of contact with your customer, it is very easily highlighted when it is not up to the mark. Therefore, you should pay special attention while running an in-house customer service operation.
In case, you feel like you have limited funds and not enough time to ensure proper quality assurance in your customer-facing tasks, customer service outsourcing to a competent vendor provides a very good option.
Why In-House Customer Service Operations Fail?
There is no denying the fact that a well-run in-house operation is mostly sought by major players in the market. However, it has been seen that in-house customer support becomes a major burden in most of the cases. The biggest reason for this is the time an entrepreneur has to spend on fine-tuning the operation. As call center operations evolve over time, the burden of scaling and managing the process grows manifolds. This mostly results in inefficiency, which further down the line turns into a major pain point for any business. And, your customers are the first to recognize this slacking off in your support services.
Such a scenario is often seen in many businesses. And, when such situations develop and customers' outlook towards your customer service operation changes, it also reflects in the sales. The customers view this inefficiency as your indifferent attitude towards them and hence, they start shifting their allegiances to other providers and your business suffers.
How Customer Service Outsourcing Improves Your Service?
In the past, customer service outsourcing posed a great dilemma for entrepreneurs who wanted an alternative to their in-house department. Even back office outsourcing was looked at with great doubts as it required one to hand over vital customer data to a vendor.
However, with the evolution of ITES industry in countries like India and China, we are seeing an emergence of serious players that are well-capable of pulling off tough projects. Also, as these customer services and back office services providers exclusively deal in outsourced projects, they realize the importance of customer data. They know that any security lapse can be detrimental to their very own progress. Hence, they take special care in safeguarding customers' information and use latest software to provide better services than most in-house call center.
Some of the ways in which customer service outsourcing improves your customer service are listed below:
Operations are carried out using latest and the most relevant software

: Unlike an in-house operation where it is hard to justify the cost of an expensive software solution for customer care support, a dedicated outsourced call center vendor only employs the best software solutions (as call center is its single area of focus). Therefore, you get access to some of the best software without even making a capital investment.

Access to real call center talent

: Everyone from agents to managers in an outsourced call center operation is dedicated to one cause only: making customers' experience special. Hence, your customers feel better about the support you are providing. On the other hand, it is seen that in an in-house operation the agents and managers are not always the best. This happens because the best call center talent only wants to work at the best call centers, not some quickly assembled in-house venture, which is not the core competency of an organization.
Previous Post
Next Post