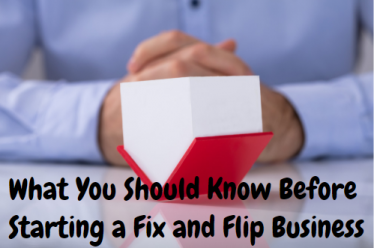 What You Should Know Before Starting a Fix and Flip Business
Real estate is a great market to invest in because you can make a substantial amount of profit—after all, property values are always on the rise, in most places. Fix and flip investing is a great way to earn short-term profits, and you can even start a lucrative business doing only that. Before you quit your day job to begin home flipping, here are a few important things that you need to know.
Learn How to do Great Market Research
Market research is the key to any successful real estate business, but it's especially important if you're going to be doing fix and flips. There's a tighter turnaround time for fix and flip homes, so you need to do an ample amount of market research to make sure that you're able to make a profit.
A property's value may be significantly tied to the value of the neighborhood that it's located in. If you're buying a run-down home in a more affluent area, then you're more likely to get a huge return on investment. If you're buying a run-down home in an equally run-down neighborhood, it's going to be more difficult to make a profit because there are going to be fewer people who want to buy a home in a less-desirable neighborhood, even if the home has been fixed up.
"Location, location, location," as they say.
But there are some instances in which it may be profitable to buy a fix and flip in a cheaper neighborhood. You might be able to turn a significant profit if the neighborhood is going to be extensively redeveloped, in which case most of the property values in the area could get a large boost.
Make sure that you're prepared to study the market like a surfer studies waves. You've got to be good at studying market trends and betting a good deal of money on that forecast.
Know How to Get Financing
Fix and flip homebuying requires a different kind of financing method than your typical 30-year mortgage. The goal of a fix and flip is to make short-term profit by selling the home as soon as you've boosted its value. Major financial institutions don't give short-term loans because they make less profit on them. You're going to have to familiarize yourself with fix and flip loans, also called hard money loans.
Most hard money loans have a repayment period between 1-2 years, which gives you that amount of time to get your home fixed up and on the market. Securing a hard money loan is generally easier than securing a standard 30-year mortgage, but it's also a little more stressful because you have to get the loan paid off in a shorter amount of time. Most fix and flip companies sell the home and use the profits to pay off the loan—you could have difficulty repaying the loan if you don't get the home sold as soon as possible.
It's important that you budget extensively for your fix and flip home. Don't merely calculate what your contracting costs will be. Figure out how much money you're going to owe each month on your hard money loan, and be sure you're able to make the payments until the home is sold. Your home could sell earlier than expected, but it's best to budget for a later closing date.
Don't Put All Your Eggs in One Basket
If you're going to do fix and flip investing as a side hustle, then you could probably get by on doing one property at a time. But if this is going to be your full-time business, then you might need to work on several projects at once. This is for practical reasons—like making enough profit to earn a living—but also for financial security. It's never guaranteed that you're going to make a significant profit on a fix and flip. In fact, there's always the possibility that you're going to lose money.
For that reason, it's important that you don't put all your eggs in one basket. Don't rely on a single home to make ends meet. Always be working on several properties so that if one fails, you'll have other properties that can make up for it.
Be Prepared for Tight Deadlines
As we've mentioned before, fix and flip investing requires that you work quickly so you can get the home on the market as soon as possible. Get used to working on tight turnaround schedules if you're going to run a fix and flip company. Make sure that you keep your company well-organized and always set daily, weekly, monthly, and annual goals.
Teach Yourself the Basics of Home Improvement
To make the highest amount of profit on your fix and flip, you'll want to keep your contracting costs to a minimum. You won't have to spend so much money hiring contractors if you're able to perform most of the home upgrades yourself.
Save money by learning how to do basic things, like painting the walls, installing new flooring, and replacing old fixtures, like faucets and toilets. You should also try and do yard improvements by yourself, like replacing dead lawns or planting trees. Only hire contractors for the more advanced repairs, like those having to do with electricity, plumbing, roofing, and window replacement.
Hire the Right Way
It's best to assemble a list of contractors that you can go to whenever you need professional work done on a home. Try and find best-value contractors who can provide quality service for the most affordable price. Look online at reviews and compare rates among all the contractors in the area.
You should also be very selective if you're going to be hiring employees for your company. Make sure that you run background checks on all your applicants—you might not want to hire anyone who has an extensive criminal record.
Have a Realtor On-Call
Once you've fixed up a property, you'll need to sell it fast—but selling a home can be a difficult process and it's one of the most overlooked parts of fix and flip investing. Consider enlisting a realtor to help you sell the home faster. It might cost you a small stipend, but you'll also save money on your loan interest if you're able to sell the property sooner.
If you're ready to tackle all of these obstacles and procedures of home flipping, then you're ready to get your business started.
Author Bio





Samantha Rupp holds a Bachelor of Science in Business Administration and is the managing editor for 365businesstips.com. She lives in San Diego, California and enjoys spending time on the beach, reading up on current industry trends, and traveling.
Previous Post
Next Post