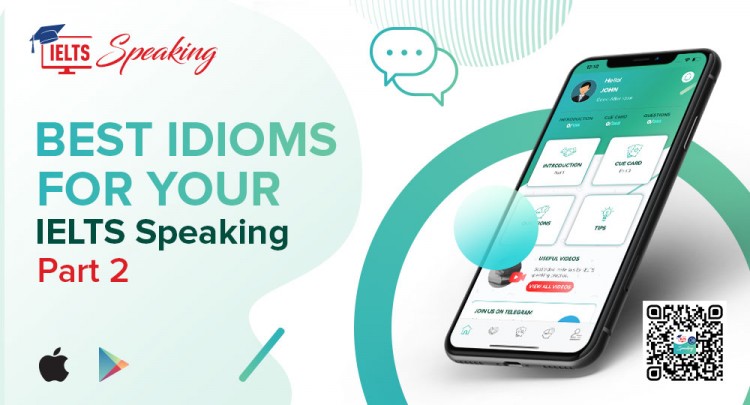 Enhance Your IELTS Speaking Test with the Best Idioms
Have you ever wondered if using the best idioms for IELTS Speaking Part 2 to describe your thoughts?
IELTS Speaking Part 2 is a Cue Card section where the examiner will give you one topic and ask you to describe your thoughts.
The task can be on describing a person, place, event, activity or thing that often keep featuring in the IELTS Speaking Test.
Many IELTS candidates find it difficult to express their experiences and thoughts using a wide range of vocabularies. They use some simple words in their sentences and lose their IELTS speaking score.
Enhance your knowledge of vocabulary with some idioms that can best describe your feelings in the exam for the IELTS Speaking Part 2. This will help you to impress the examiner with your knowledge of vocabulary.
However, use the words of the idiom if you are sure with the right context and know how to use them. This is only possible if you do a lot of practice because you cannot use idiomatic expressions in your every sentence.
Here is the list of feelings that IELTS candidate uses in their sentences:
Excited
 I could hardly wait to…
 I was on the cloud 9…
 I was thrilled to go…
Impressed
 It amazes me
 It blew me away
Angry
 It makes my blood boil
 It pushed my patience to the limit
 I was fuming
Frustrated
 It got on my nerves
 I was banging my head against the wall
Impatient
 I had enough of his tantrums
 I was running out of patience
Bored
 To be bored to death
Happy
 On could nine
 Over the moon
Thankful
 I was grateful
 I couldn't thank enough
Nervous
 I was agitated
 To have butterflies
 To be on the edge
Relaxed
 I was chilling out
 To unwind
Sad
 To feel blue
 To feel down in the dumps
In case you don't find the perfect idiom for your sentence, then you can use the opposite of that emotion.
For example, You want to mention that you are sad and you are not sure how then use the following trick for your IELTS Speaking Exam.
Instead of saying 'I was sad', you can mention 'I wasn't at all over the moon'.
It is not difficult if you continuously do practice for idioms and such type of questions.

You could also download the IELTS Speaking App offered by IELTS Tutorials which is exclusively designed for the preparation of IELTS Academic and IELTS General Training students who wish to achieve the desired IELTS Speaking score.
This app comes with various IELTS Speaking topics with their model answers so that you know what is required to get a high score band.
All the topics are divided separately to avoid any kind of confusion, and also it will help you to overcome your challenges in your grey areas. Practice with all the questions and boost your confidence.
Recording feature will help you to record your voice, and you can self-analyse yourself. You can also refer to the tips section and model answer section if you require any help to deal with a question.
Also, get access to the blogs and informative videos so that you learn tips and strategies directly from the expert tutors who has years of experience in this field. Learn in the real-time to avoid regular coaching classes at this moment.
Previous Post
Next Post