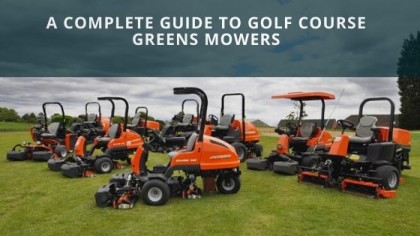 A Complete Guide to Golf Course Greens Mowers
Golf is a popular game that requires expensive maintenance equipment. When it is expensive equipment, you want to make sure that you are making the right purchase and have the required resources for maintenance. Whether you want to buy a playing club or Jacobsen golf course mowers, you have to be aware of the factors to be considered while purchasing particular equipment. Before that, you have to be aware of the different types of equipment you need. 
Mowing is an important maintenance practice that has a great influence on the playability of the turf. Mowing different areas require different types of Jacobsen golf course mowers. A greens mower is an important type of mower as it is used to prepare the putting surface. This is the most important playing area that requires intensive management when it comes to cut height. 
Following are the two types of green mowers used for mowing putting greens: 
       1. Walk-behind mower
      2. Triplex mowers 
Triplex mowers are riding mowers with three cutting blades and three wheels. Walk-behind mowers are preferred because of the maximum conditioning of putting greens and cut quality. However, the problem is that mowing with a walk-behind mower requires significant time. 
On the other hand, riding mowers are highly efficient, but you have to adjust three cutting blades to achieve the same cut quality, putting quality and appearance. 
Most of the golf course mowers, including greens mowers, are reel mowers. The mower you use in your lawn is a rotary mower. Rotary mowers are used in many other sports. A typical lawn mower uses a single blade. The blade is sharpened on both edges. It is horizontally fixed under the mower deck. A Quick moving blade creates a vacuum effect that makes the grass stand up and the blade cuts it. However, the blade often tears the grass. This is not acceptable in golf courses.   
On the other hand, a reel mower, also known as cylinder mower, catches grass between the reel edge and the bed knife. It is just like using scissors for cutting paper. Moreover, no damage occurs to the grass during the mowing process.  
Most of the reel mowers provide an option for mounting a roller. The roller neatly puts down the grass while mowing. This is how a mower produces stripes.   
Today, we have green mowers that can cover large areas. They can have 1 to 5 reels. You can also invest in automatic mowers. Reels moving in cylindrical motion provide you with a perfect cut at a specific height. 
As they use the most recent mechanism, rotary mowers are becoming more popular. Manually operating models of rotary mowers are also available. Although manual models are easy to operate, but electronic and fuel supporting engines are preferred. The rotary blades of the mower trim the grass from upward. They achieve a specific height by rotating horizontally at rapid speed. Rotary mowers are much faster than reel mowers. 
Before you visit a website for turf equipment for sale, you should make some comparison to choose the right golf course maintenance equipment. Check the below table for making the right choice.  
| | |
| --- | --- |
| Locations Compatibility  | Rotary Mowers  |
| Perfection  | Reel mowers  |
| Time Consumption  | Rotary mower  |
Following are the important considerations while choosing a golf course mower: 
Fast operation 
Compatibility of blades with all lengths 
Ease of use 
Blades expansion
Availability of replacement parts
Previous Post
Next Post