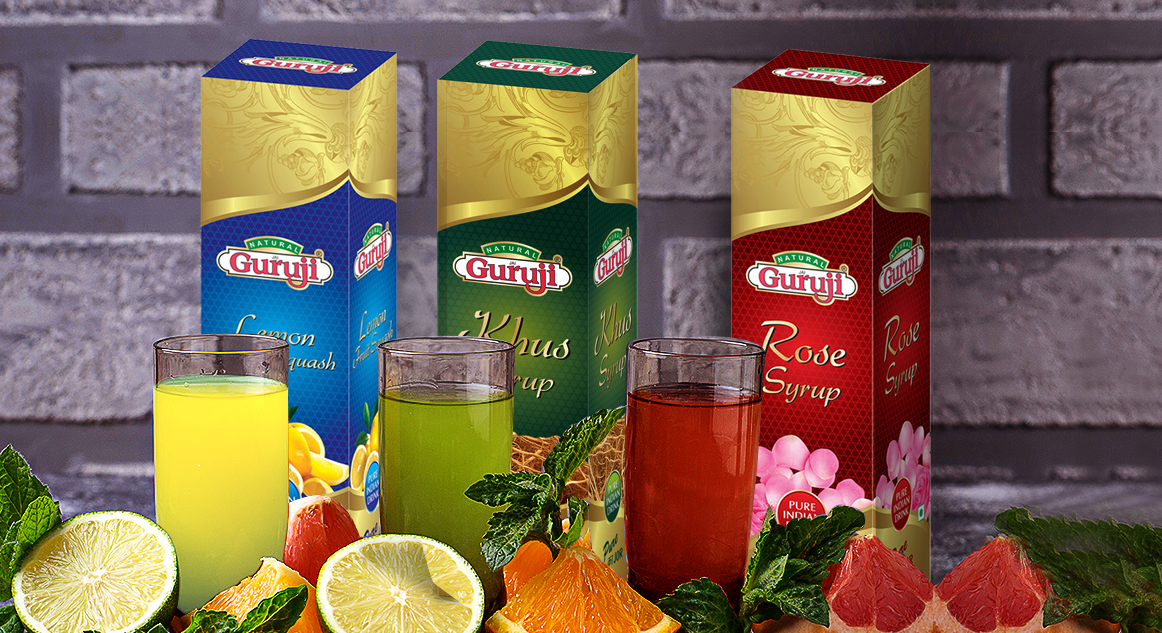 Natural Drinks in the month of July
July Drinks, have you ever heard about having exotic drinks according to the months? What if we suggest, what healthy drinks you can have in the month of July for an ultimate refreshing experience. Yes, it is true we have come up with exotic drinks to freshen you up. The month of July is hot humid and full of unpleasing weather conditions. but a wee bit excitement of monsoon makes it happening. In such a weather condition your only way to make yourself adjustable to the weather is the liquid you take inside your body. Refreshing drinks such as sharbats are natural ways to ultimate refreshment. The temperature has shot up to 50-degree Celsius and in this excruciating heat, sharbats provides us with a natural way to dehydrate and energise our body.
Let us talk about the first sharbat in our list of July!
Guruji Rose syrup, a special kind of refreshment extracted out of rose flower. red in colour and has a special ability to refresh you. Rose sharbat is often considered as a drink which is very common in central and East Asian countries. It nourish skin by hydrating it, have anti-ageing qualities, mood enhancer- fights depression, relieve digestion, helps to heal from cold and flu, calm nerves and relieve fluid retention and inflammation.
Next in the list is
Guruji Lemon syrup, another way to refreshing summer experience.
July hit us hard, and let us fight it back with the goodness of lemon. lemon is well known for its antioxidants quality and vitamin c concentration helps to fight different summer problems. we all know nothing is more refreshing than a lemon drink. benefits of having it are proper hydration, vitamin C intake ensure improvement in skin quality, it aids digestion, and it also freshens breathe.
Next in the line is a special green drink which is made out of a special green grass.
Don't cringe! its a super delicious drink which is made out of khus khus grass. Guruji Khus syrup, an escape to the most wonderful experience which will freshen you up fro the head to the toe. Green in colour it is almost impossible to resist this one.
These drinks in July will surely make you feel refreshed. In fact, they will not only just refresh you, but they also provide a list of benefits as discussed above. The mantra of three natural drinks for an exotic July experience.
Kesar helps protect cancer, increase vitality and also helps in induced hair growth in alopecia. Thandai drink has so many benefits of kesar while it is clear that it's a natural drink and a healthy drink, it is not an ordinary drink. One infamous thandai is Kesharia Thandai Dry Fruit Syrup. People sometimes refer to the thandai drink as god's drink because of its benefits.
Next segment is little light fruity and refreshing. Sharbats are common in Asian countries because these countries are near the tropical region in which people ought to feel fatigued and energyless because of temperature and humidity.
Litchi Fruit squash has sweetness and good amount of glucose to provide energy while drinks made from citric fruits like orange fruit syrup, pineapple fruit syrup, lemon fruit syrup have vitamin C which really helps in detoxifying body as well as gives a refreshing and rejuvenating experience.
And the other range is of the king of all fruits, Mango. Drinks made from mango syrup, ripe mango fruit syrup and Aam panna fruit syrup are blissful. These drinks are pure and natural, made of high quality fruit syrups for a refreshing experience.
North India loves to celebrate, and this is the time of ICC world cup. How can this hot summer restrict Indians from celebrating? Fill your fruit syrups for healthy and refreshing experience of cricket.
Previous Post
Next Post